29 Jul

Duterte Wants an Explanation on NPA Ambush or He'll End Ceasefire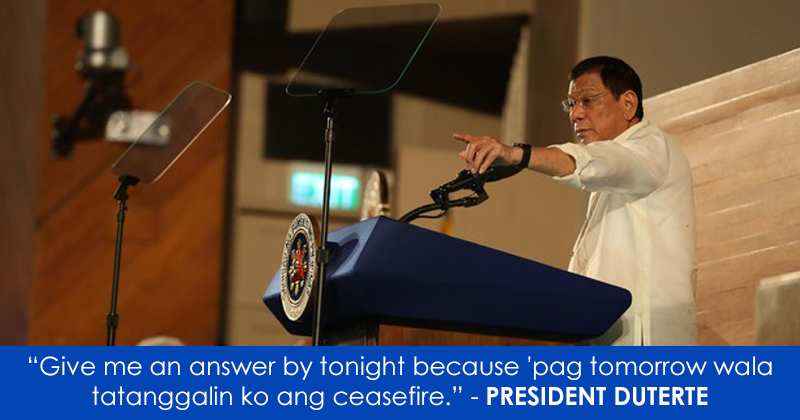 On Wednesday, July 27, the New People's Army (NPA) in Kapalong, Davao del Norte ambushed the government military, just two days after President Rodrigo Duterte declared in his first State of the Nation Address (SONA) a unilateral ceasefire between the government troops and the NPA.
The President was angered after hearing the news on Thursday. He said, "Are we in this truce or are we not? Give me an answer by tonight because 'pag tomorrow wala tatanggalin ko ang ceasefire."
Following the President's orders, the government troops suspended all offensive operations against communist rebels the day after the SONA, yet the other side misbehaved two days after.
"If you do not honor and you kill a single soldier or CAFGU which is also a soldier of the Republic, sabi ko kalimutan ko na lang ito. Fight na lang," said Duterte.
Duterte is enraged on the undisciplined act by the NPA. He demands an explanation about what propels the act despite the truce between them and the government.
He said, "I am demanding an explanation from the Communist Party of the Philippines. Just like us, kung nagkasala kami dito we punish our men and women sa serbisyo. Expect the same and I demand an answer na kung sino 'yung nagkasala they must be also brought under disciplinary action otherwise wala tayong pinag-usapan."
Secretary Silvestre Bello III, GPH Panel chair also said, "It is disheartening that the NPA failed to respect the unilateral ceasefire declared by President Duterte last Monday during the SONA."
The recent ambush might derail the peace talks between the Philippine government and the National Democratic Front, which is set to resume on August 20 in Norway.
This insurgency in the Philippines is the longest insurgency in Asia.