06 Jul

Duterte Warns Corrupt BIR and BOC Employees to Stop Their Fraudulent Acts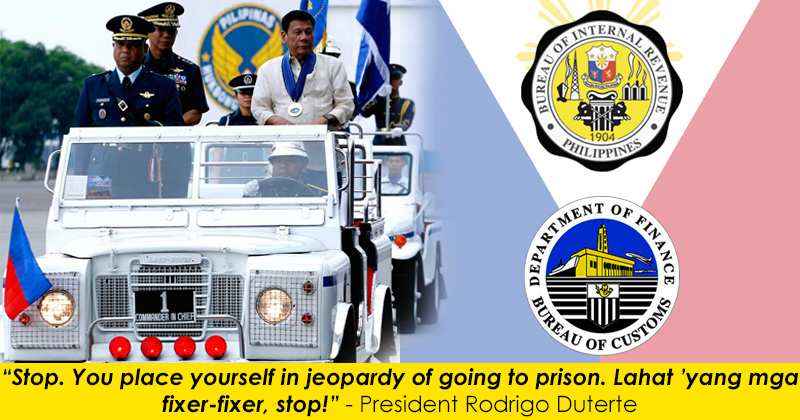 On Tuesday, July 5, during the Philippine Air Force's 69th-anniversary celebration, President Rodrigo Duterte warns both the Bureau of Customs (BOC) and Bureau of Internal Revenue (BIR) that an ousting of their corrupt employees will be done if their fraudulent acts won't be reformed.
"I still have to validate it, but I already have the raw information," he said.
New customs Chief Nicanor Faeldon and new Internal Revenue chief Cesar Dulay have already been instructed to get rid of these unwanted employees.
Duterte said. "I hope Faeldon would do his thing, stop corruption in customs. And Billy Dulay, I know him. He's very good, he's honest, I hope he can deliver."
He demanded the fixers to stop the use of their positions in demanding money from citizens for faster processing of documents they need.
"Stop. You place yourself in jeopardy of going to prison. Lahat 'yang mga fixer-fixer, stop," he said.
"Kayong mga BIR, stop, because I will make a trail out of you. Lahat ngayon binabantayan," he added.
Another strong warning from the President followed after this, he said, "E 'pag hindi ko presenta 'yung evidence sa korte, ayaw kitang ipakulong, patayin kita, 'di tabla rin? Mahirap kasi 'yung ganon."
He also stressed his want of lifestyle check among the employees, he said, "The lifestyle checks would be all the year round. And I would know from your garage, kung tingnan ko, kung ilan ang kotse mo."
One of Duterte's most iconic promises is his suppression of crime and corruption within 6 months. It seems like the longshot promise is now slowly materializing.
Duterte has previously released last week a 24/7 government hotline for citizens to call if they have any complaints about any government agency.