24 May

Duterte Will Give a '5-Minute' inauguration speech, Yes '5-Minute'!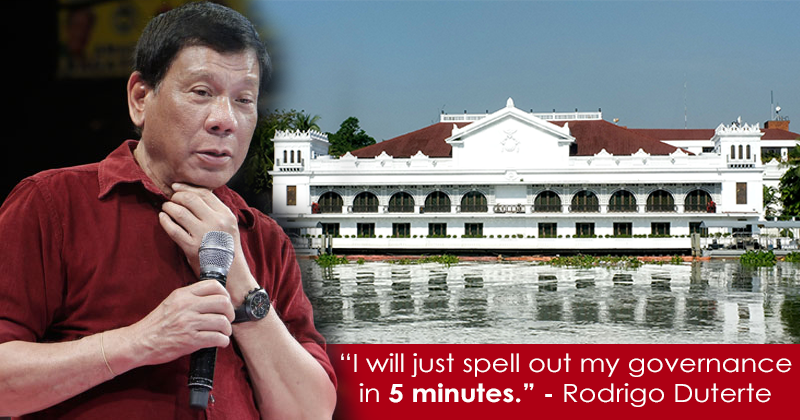 Known for his hour-long speeches, the president-elect Rodrigo Duterte plans to have his inauguration speech on June 30 to only last for 5 minutes.
He said during a press conference on Monday, May 23, that he will "go nationwide on TV and I will just spell out my governance in 5 minutes."
Long speeches aren't needed according to Duterte for he can appoint his Cabinet secretaries to explain administration's policies in their areas of concern.
He also told reporters that his oath-taking is scheduled to happen in the Office of the President in Malacañang. His reason is simple, "kasi walang gastos." The office can hold up to 500 people, but he want to "keep it to as low as 150."
Finger food will be prepared for the guests who are coming off from his family, generals, and members of the diplomatic corps. For the record, Duterte is often late in his speech appointments.
Duterte said that "I'll go there on the day of my oath of office, not before." Then he added a joke, saying, "Pag na-delay 'yung flight, walang oath-taking."
For the National Board of Canvassers' proclamation of winners in Congress, he plans to opt out in joining the event. He said, "No, I will not. Ayaw ko. Bakit ako magpunta doon, para lang ma-proclaim sino nanalo?"
1 week to go before the awaited '5-minute' speech of the next President of the Philippines, on June 30, let's hear it together.