04 Oct

Governor Emano Vows to End Illegal Swertres in MisOr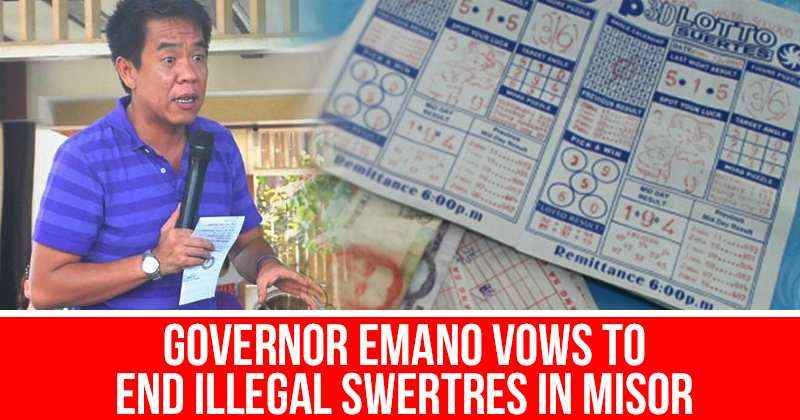 Misamis Oriental Governor Yevgeny "Bambi" Emano assured that they will establish a task force against illegal gambling operations to put an end particularly to the illegal swertres in the city and other areas of Misamis Oriental.
On October 3, Monday morning, Gov. Emano assures that the task force will be formed as he met with the Cagayan de Oro-Misamis Oriental Legal Lotto Outlets President Astrid Bana who urged the government to stop illegal gambling in the city.
The governor said that he will surely appoint prosecutors who will lead the task force to strengthen cases that are to be filed against illegal swertres operators.
Gov. Emano asked Bana to provide him the list of individuals especially government officials who were involved in illegal gambling.
The association hopes that this task force will really terminate illegal gambling in the city and in the province as they met with Gov. Emano yesterday.
Bana said that they are hopeful as Gov. Emano strongly supports them in their campaign against illegal swertres operations, adding that there are no reasons that could hinder this campaign to be unsuccessful.
Bana also added that their group will gather and discuss today to finalize the list of government officials who are alleged financiers and protector of illegal swertres in the city and province.
News Source: Bombo Radyo