17 Aug

Emergency Drug for Stroke Available for Free in Northern Mindanao Medical Center Here in CDO!

On Tuesday, August 16, the Department of Health (DOH) announced that the emergency drug for stroke medication called alteplase will be available to the public for free in 26 government hospitals nationwide, including one Hospital here in Cagayan de Oro City, which is the Northern Mindanao Medical Center (NMMC).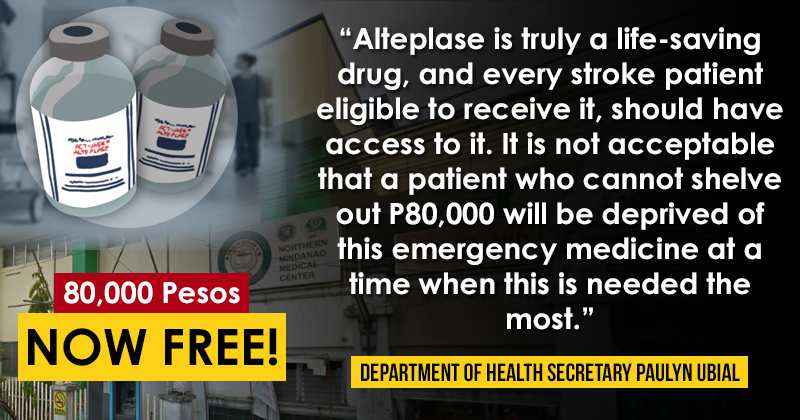 The Health Secretary Paulyn Ubial said that the government hospitals have tied up with the private hospitals to provide these vials for free to poor patients.
The vials are originally priced at P80,000 per vial, but due to the government's initiative, they have purchased it for only P30,000 and will be given for free to those who will suffer an acute stroke.
Ubial said, "Alteplase is truly a life-saving drug, and every stroke patient eligible to receive it, should have access to it. It is not acceptable that a patient who cannot shelve out P80,000 will be deprived of this emergency medicine at a time when this is needed the most."
This drug must be applied in the first 3 hours upon the attack of the stroke.
Here is the complete list of the 26 government hospitals that will be provided by this emergency drug against stroke:
Metro Manila
East Avenue Medical Center
Philippine Heart Center
Jose R. Reyes Memorial Medical Center
National Kidney and Transplant Institute
Quirino Memorial Medical Center
Las Piñas General Hospital & Satellite Trauma Center
Philippine General Hospital
Luzon
Ilocos Training and Regional Medical Center
Mariano Marcos Memorial Medical Center
Baguio General Hospital and Medical Center
Cagayan Valley Medical Center
Southern Isabela General Hospital
Jose B. Lingad Memorial Regional Hospital
Paulino J. Garcia Memorial Research & Medical Center
Batangas Medical Center
Bicol Regional Training & Teaching Hospital
Bicol Medical Center
Visayas
Gov. Celestino Gallares Memorial Hospital
Corazon Locsin Montelibano Memorial Regional Hospital
Western Visayas Medical Center
Eastern Visayas Regional Medical Center
Mindanao
Zamboanga City Medical Center
Cotabato Regional and Medical Center
Northern Mindanao Medical Center
Mayor Hilarion A. Ramiro Sr. Regional & Teaching Hospital
Southern Philippines Medical Center
The basis of the distribution of the vials is based on the Hospital's capacity to use the vials. These hospitals have acute stroke units that can aid the use of these vials.
But despite the free offer by the government, Ubial warned the doctors, he said, "It is very important that the attending doctor distinguishes the type of stroke, whether ischemic or haemorrhagic, as alteplase will just worsen the stroke if given to those with the haemorrhagic type since this will just promote more bleeding in the brain."