19 May

#EndHunger summit goes to CdeO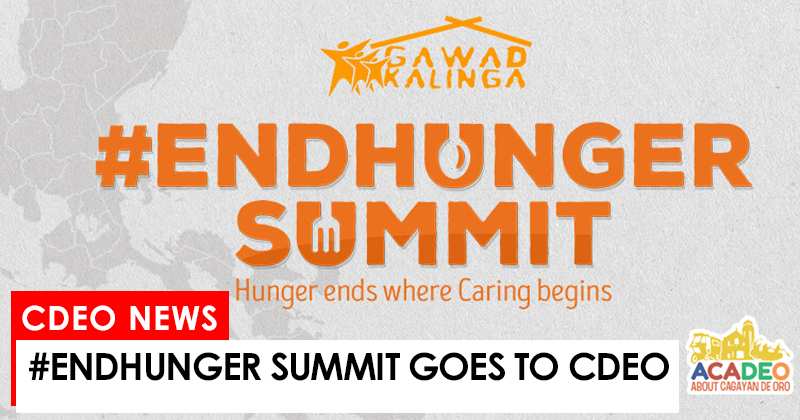 With the banner statement "Hunger ends where Caring begins", the #EndHunger summit goes to its third part of the discussions in Cagayan de Oro City for its Mindanao leg which will be held at the Xavier University-Ateneo de Cagayan Auditorium this coming May 23, 2017. The series of discussions started in Cebu for its Visayas leg followed by San Fernando City, La Union for its North Luzon stop over.
In an article from wheninmanila.com, #EndHunger is an initiative to impart awareness and knowledge on how to eradicate hunger in the Philippines was spearheaded by the Gawad Kalinga Community Development Foundation Inc. (GK), a movement committed to end poverty in the country.
One of the keynote speakers in the recently concluded Visayas discussions in Cebu was Fr. Bienvenido Nebres, former President of Ateneo de Manila University (ADMU), said that poverty indeed can be eliminated but the issue lies on how intent we are in eliminating it.
He also shared during the summit that even if the country is the best-performing economy in ASEAN yet it has to do something to cut the poverty rate even by half, which is somehow a far cry from what the neighboring countries have improved on their education and health sectors to build capability among its people.
On the same event, different feeding programs from various organizations like Jollibee Foundation's Busog Lusog Talino School Feeding Program (BLT) and Gawad  Kalinga's Kusina ng Kalinga (KnK) were discussed and scaled up on how to effectively conduct them by creating kitchen centers where nutritious meals and snack are prepared before distributing to schools, street children, and relief goods operations in disaster-stricken areas.
As a conclusion, the different area clusters of the attendees have set out their action plans in conducting their own feeding programs at specific barangays identified to be needing the most attention in their areas.
Aside from this initiative, other local government units are helping in the cause and have already allocated budgets for feeding programs.
In fact, if Senate Bill 1279 otherwise known as the "Pagkaing Pinoy Para sa Batang Pinoy Act" is a consolidation of the various bills proposed by Senator Honasan (SBN 23), Senator Zubiri (SBN 123), Senator Poe (SBN 160), Senator Trillanes (SBN 548) and Senator Aquino (SBN 694) gets the approval of the next congress, millions students from Kinder to Grade 12 will be allocated food budget for their school's feeding programs.
The series of discussions has four legs at different parts of the country in VIsayas (Cebu), North Luzon (San Fernando City, La Union), Mindanao (Cagayan de Oro City), and South Luzon (Legaspi City, Albay).