04 Jul

Executive Order on Freedom of Information Will be Released Weeks from Now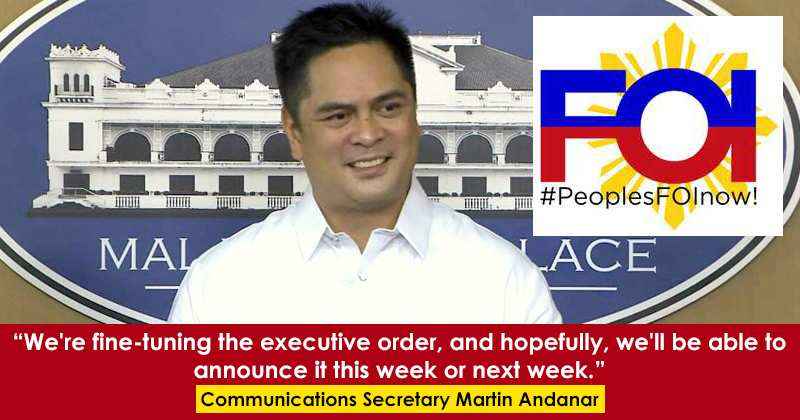 On Sunday, July 3, the Malacañang declared that they will be releasing an executive order (EO) on the Freedom of Information (FOI) bill.
Communications Secretary Martin Andanar said in a radio interview on dzRB that it will be delivered soon, for they are rushing it. He said, "When we spoke to the President during the turnover ceremony at the Philippine National Police, we had the chance to remind him of his promise to the media and to the public. And so, we're drafting it now. We're fine-tuning the executive order, and hopefully, we'll be able to announce it this week or next week."
"This is now being drafted by our lawyers in the legal department of the Presidential Communications Office, and even in the Office of the Executive Secretary," Andanar added.
If the memory is still vivid to us, President Rodrigo Duterte promised during his campaign for the presidency that his first act once he assumes office will be to issue an EO on the FOI. He is very enthusiastic on passing the bill.
Andanar also said that they are also working on the creation of a presidential task force against media killings. This is to "give members of media peace of mind" and to end the extrajudicial murders of media personalities.