28 Sep

Experience the Tasty Difference of Barney's Burger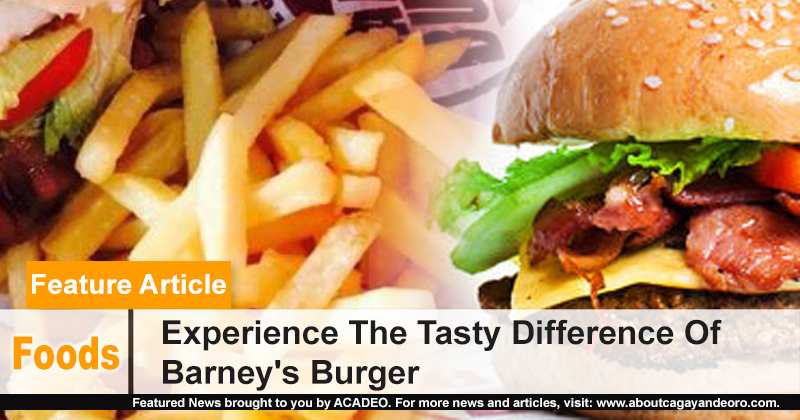 It's amusing how a simple piece of meat and a bun can fill so much happiness to our tummies. True enough, it is always satisfying by even just picturing ourselves enjoying these delightful, juicy and mouth-watering wonders. But have you ever wondered how these burger cafes make such a perfect burger? To open you up from all the perplexities that have been going on in your mind as to how your favorite burger was made, we bring you simple cooking tips from the experts of burger grilling in Guagua, Pampanga and now in CdeO, Barney's Burger.
Pro Tip #1: Start with the right beef
The best burgers are made with 100% pure beef that is freshly ground and is a high-grade chuck beef.
Pro Tip #2: Making the patties
To make sure you serve the right amount of patties, scoop 5 to 6 ounces of meat and let it form with the scoop.
Pro Tip#3: Get grilling
It is important to preheat your grill to the proper temperature before placing the patties on the griddle. Burgers normally have a lot of fat content and it's not the good kind of fat, allow these fat juices to drip out of the bottom to set the patties in the cooking.
Pro Tip#4: Pat those patties into the griddle
Pat the patty into the griddle at least as wide as the bun while making sure you don't press them too hard and should be about ¾ to an inch thick. This would also allow the patty to be juicy while it is being cooked.
Pro Tip#5: Time to flip
It's time to flip when the patties are properly seared and are released from the griddle without sticking.
Pro Tip#6: Prepare the buns
It is time to set those fluffy buns in the bun warmers. Toast the buns into everyone's desire.
Pro Tip#7: Done yet?
Once the burger is done, remove the burger from the griddle and allow the burgers to settle down from the heat for a few minutes. After that, add flavors and toppings, and assemble the perfect burger.
Pro Tip#8: Flavors
There is a wide range of burger flavors you can enjoy from Barney's Burger's menu. Experience the difference and feel delighted with the flavors of cheeseburger, bbq burger, and bacon bbq burger.
Pro Tip#9: Serve!
You can also pair the burger with your favorite cold drink or pair it with its all-time favorite partner, FRENCH FRIES! You can also request for extras like extra cheese, bbq, sauce and the like.
Pro Tip #10: Enjoy!
Smother the burgers with ketchup, mayonnaise, and mustard according to your taste. Eat the whole burger at your heart's desire.
Pro Tip#11: Visit
Don't waste your time and experience the difference! Visit Barney's Burger at Cagayan Town Center, Brgy 27, Gen Antonio Luna, Corner Capt., Vicente Roa. You can also dine at their humble but cute burger shop at Pabayo Hayes St., beside Grand Central.