08 Aug

Facility Center for Brgy. Camaman-an at NHA-CDO Bayanihan Village

NHA-CDO Bayanihan Village, located at Sitio Macapaya, Brgy. Camaman-an, Cagayan de Oro City, will have a facility center that would help the residents in Brgy. Camaman-an.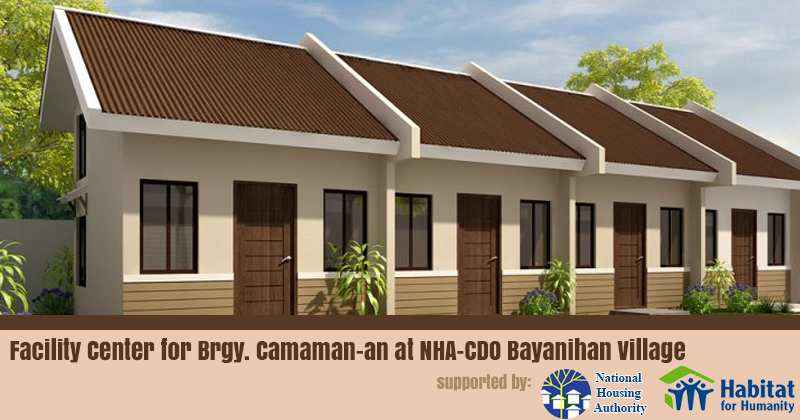 A Memorandum of Agreement with Charlito S. Ayco, managing director and chief executive officer of Habitat for Humanity Philippines Foundation, Inc. and lawyer Sinforoso R. Pagunsan, general manager of National Housing Authority for the implementation of the facility center. And Vice Mayor Raineir Joaquin Uy approved an ordinance authorizing the city mayor to sign the memorandum.
Relocation and resettlement assistance under the Republic Act 7279, for those who are informal settlers, residing in danger areas and no-build zones, and the urban poor families. This project will help and provide livelihood opportunities for the beneficiaries residing in Camaman-an.
Habitat for Humanity Philippines Foundation, Inc. shall provide the needed budget and identify associates that would construct the facility center, as what is stated in the MOA.
Assistance from other government agencies to facilitate the release of funds, permits, and other resources are to be contributed by the National Housing Authority. They shall also provide the land designated for community facilities.
The city shall also do their part by assisting the foundation in securing the needed permits, clearances, and licenses. And NHA agrees to the architectural and engineering plans.
Councilor Zaldy Ocon, chairman of urban and rural poor and Councilor Ian Mark Nacaya, chairman of laws and rules, reviewed and endorsed the legislation.