31 Oct

FAKE NEWS: Viral "Tsunami Advisory" Due To Magnitude 7.2 Earthquake In Mindanao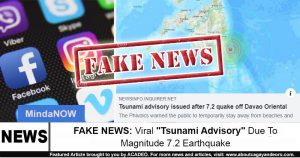 Mga higala! BEWARE OF FAKE NEWS and avoid spreading fear among Mindanaoans with this outdated "tsunami advisory" from Inquirer, which is now being shared by thousands on social media!
This article states that the Philippine Institute of Volcanology and Seismology (Phivolcs) is warning the public about a possible tsunami due to a 7.2 earthquake that hit Davao Oriental.
However, those who shared the report seemed to forget (or ignored) to check the article's date which says: 01:06 PM December 29, 2018
Although this report was factual at the time of its original posting, this is being spread as "fake news" right now and is causing panic among netizens.
Please thoroughly read what you share higala!
LINK: newsinfo.inquirer.net/1067513/tsunami-advisory-issued-after-7-1-quake-off-davao-oriental