03 May

Famous Picnic Spots in Cagayan De Oro: 6 relaxing places to enjoy an outdoor meal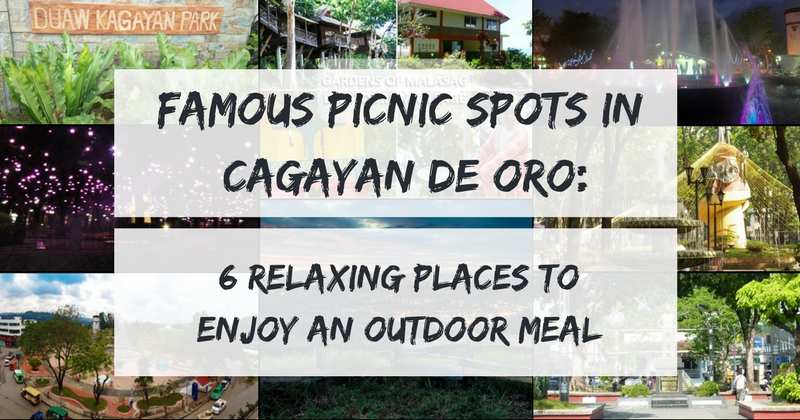 Do you want to go out with your friends and family but you're out of the budget and cannot think of a place to go? Are you finding a way to enjoy summer without spending too much? Well, the good news is, you don't need to spend too much money and you don't have to go far because the City of Golden Friendship has lots of beautiful places that one can visit even with a low budget. We've listed some of the places in the city that we are sure you'll love to visit to spend time with your family. Let's check them out.
MALASAG ECO VILLAGE
Malasag Eco-Village is located in Sitio Migtugsik, Barangay Cugman, Cagayan de Oro City. Aside from the surrounding traditional houses and beautiful gardens, it also features a diverse wildlife that spreads in a wide array of land of Malasag. Aside from the leisurely purpose, it was  also created to raise awareness to the life and culture of the ethnic groups in Northern Mindanao.
The green scenery, cold wind breeze, soothing ambiance is good for reflection while spending time with your loved ones. Plus the amazing view of the hills of Malasag is a breathtaking view, all for a very cheap entrance fee.
Inside, you can find the Alfresco Restaurant where you can enjoy delicious Filipino cuisines.
The place can be reached by riding a Cugman jeepney from the city to Malasag road for 15PHP, then riding a motorcycle or "habal-habal" to Eco-Village for 30PHP.
EDEN SOLACE
Eden Solace is located in Barangay Indahag, Cagayan de Oro City which offers a magnificent view of the sunset and the overlooking buildings of the city.
This is a place where you can chill out at a very affordable price of only 20 PHP. They also have mini resto bar inside where you can order meals and drink aside from the foods that you can bring inside with corkage.
A chillaxing place where everyone can afford! You can get there by riding a "habal-habal" for 30-50PHP (if you don't have a car).
PLAZA DIVISORIA FRIENDSHIP PARK
Plaza Divisoria is also called the "Golden Friendship Park", this was famous years ago as being the location of Night Cafe where people love to spend their nights strolling, buying, drinking with live bands and other shows. Now, the park has been utilized for doing picnics, meeting place for friends, practicing area for dancers, and even for religious gatherings.
Plaza Divisoria is situated at the heart of the city where you can also find a huge LED screen for the people to watch TV programs when they are bored or when they happen to pass by. It is also surrounded by fast food chains and other business establishments for you to eat in and buy something from.
If you want to do some reflections on something or you just want to marvel at the mystery of things, this is the place to visit.
Riding a motorcycle and jeepney to Divisoria is all you have to do to get to this place since it is located at the heart of the city.
VICENTE DE LARA PARK
Formerly known as the McArthur Park, the area was built in honor of General Douglas MacArthur who landed in Cagayan de Oro after escaping from Corregidor enroute to Australia. This was redeveloped and was named after a provincial governor, Vicente de Lara.
It is located in front of the Provincial Capitol of Misamis Oriental and can be reached by riding a jeepney or motorcycle from your respective barangays. The park is surrounded by trees, making it beautiful and refreshing for a picnic and other leisurely activities. Normally, people visit the place to relax and do sorts of activities like a morning jog or walk, dance practices, zumba dancing, chess games and even a venue for dating couples. It is even more romantic when the dark sets because of the dramatic display of  lights hanging on the trees
There are also food stalls displayed along the sidewalks for street foods like proben, kwek-kwek, tempura, balut, penoy, etc.
GASTON PARK
Gaston Park is usually the destination of most Kagay-anons after hearing mass from the nearby St. Augustine Cathedral. It is also a good place to have a picnic with your kids, family, and friends, have a romantic date with your partner while gorging on different delicious street foods displayed around. You can also take photos with your phone around or you can have a photographer take some photos for you.
The park is famous for its fountain in the middle of the park which looks like an ordinary landmark during the day but becomes a dancing colorful water during the night with matching upbeat songs and music.
You can have your picnic here anytime you want but bringing your own food is better than buying so that you can save some money.
DUAW PARK
This park already existed since 1987 but wasn't sustained until the re-launching last February 2016.
Located on the right side of St. Augustine Cathedral, the park houses a replica of the Birhen sa Kota sa Cagayan de Oro (Our Blessed Lady of the Holy Rosary) and landscape garden. Sometimes, the park is a famous venue for bazaars and other celebrations. There are benches on the area where you can sit, relax, and appreciate the landscape of the park.
The place is best visited during the morning and during the afternoon to witness the sunset.
Appreciating and loving our very own city before visiting other places is one quality that Kagay-anons should aspire for. Traveling to different places and even to other countries is fine, especially if you have the money, why not? But it's better that we get the feel of how it's like to visit the places which make up the beautiful city that we are living in now.