17 Apr

Fantastic Beach Resorts & Pools and Where To Find Them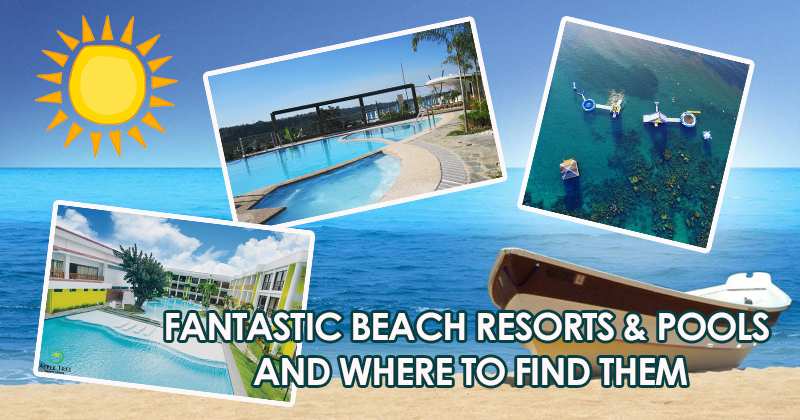 Summer is here! It's the warmest season of the year and we love to just hang out on cool places just to get our bodies relax and for our kids to enjoy their summer vacation. Summer brings in the family bond and we just love to get away from our jobs and busy schedules to have fun and enjoy.
Of course, one of our top destinations are beach resorts since we can soak our bodies in the sea's cold water and we can watch our kids frolic in the sand. However, some of us are on a tight budget while others are looking for new places to spend time to.
So, where can we find these beaches, resorts, and pools that are affordable, convenient, close to our areas which save our time for travel?
A lot of these breathtaking places can be found in "The City of Golden Friendship", perhaps these places are not yet popular but let us be the first ones to explore on what we've got!
Blueview Resort Inc.
Located at Barangay Dapong, El Salvador, this resort is surrounded with a great view that is suited for relaxation.
Entrance fees for 3 years and above is P250 per pax and 20% discount for the senior citizens, just present a Senior Citizen ID to avail it. The entrance fee gives you access to the swimming area and tent area.
Further, bringing food is allowed but there is a corkage fee for every item. And there are things prohibited in the area such as alcoholic drinks, deadly weapons, pets, breakable items, cooking and grilling materials are not allowed to be brought inside. No need to worry, because they have a restaurant inside the area where you can dine in while simply viewing the place. For queries, contact them at 09258762491 or 09173022658.
Country Village Hotel CDeO
Located at Villarin St., Carmen, Cagayan de Oro City you can enjoy the stunning pools by paying the entrance fee of P150 per pax. With their other facilities, 5 indoor function halls that can accommodate 500 pax, 4 outdoor function areas for 200 pax and 4 swimming pools including a jacuzzi for adults, kids, and infant.
For car owners, they have a special parking area and they also have corkage fees when you bring food inside. For queries, contact them at (088) 858 3004.
Stargate Dream Vacation Resort
This resort is located at Box 1 Upper Macasandig, South Diversion Road, Cagayan de Oro City. Stargate Dream Vacation Resort, "a paradise within the city" as what they call it that has an overlooking view of Cagayan River and offers various activities such as horseback riding, hiking, and trekking.
There are also other facilities such as their resto bar and gym. For more queries, you can contact them through (088) 855-0002, 09328788196 or 09175826946.
Timoga Swimming Pool Complex
It will take you 2-3 hours to get here. But know that it's worth the travel. This has been a favorite place for various events such as reunions, special gatherings but often during the summer season. This is located in Barangay Buruun, Iligan City which consists of 5 spring pools.
These 5 spring pools are lined up from the El Lauriento (Holiday) Swimming Pool, Timoga Spring Pool, Dela Mar Resort, Mimar's Springway Resort, and Marvilla's Swimming Pool. These 5 resorts are mostly full during holidays, especially during summer.
Apple Tree Resort & Hotel
One of the premier resort and hotel in the city which is located in Opol, Misamis Oriental. This 7000 sqm property boasts its facilities and services, may they be for business or leisure.
for function spaces for social and corporate events, 39 luxurious guestrooms and suites, indoor and outdoor dining outlets, 2 swimming pools and a private beach, plus you can get to enjoy the view of the Macajalar Bay and Camiguin Island. For more queries, you can contact them through 0917-714-4040.
After visiting these places that the Kagay-anons boasts, you can also go to places that more likely a paradise near the city.
Agutayan White Island
Agutayan, a preserve not only for marine lives but also for fishermen. This is located Jasaan, Misamis Oriental which can be traveled by a "bangka".
From Cagayan de Oro, go east towards Jasaan and look for the Jasaan Port. If you're a small group you can negotiate with the local fishermen to take you to the island and back from P700 to P1,000. And if you're a large group, go to Barangay Jampason and hire a motorized boat for around P1,200. Agutayan is a crescent-shaped and naked island uninhabited off the coast of Jasaan, Misamis Oriental.
Scuba divers love this island for its constant sighting of eagle ray, surgeon fish, starfish and other marine lives that live around the coral reefs.
Mantangale Alibuag Dive Resort
This resort is located in Balingoan, Misamis Oriental, before reaching Camiguin Island you can ask in the direction of Balingoan.
The resort is a large 5.5 hectares with duplex cottages, private veranda, and 4 executive suites, landscaped gardens, lanzones, and coconut trees.
The resort also offers services and facilities for corporate seminars, team building, swimming, snorkeling, scuba diving (PADI accredited divers and instructors), kayaking, and even fishing.
Calamcam White Beach
This is located in Talisayan, Misamis Oriental which can be traveled for 2 hours from the city. It is a generic beach that anyone can go to, bring a picnic basket, some blankets, and find a nice shady tree to sit under.
These resorts are open to the beach and also have their own swimming pools. The resorts usually charge fees for the entrance, a picnic hut, and to use the swimming pool.
Del Carmen Beach and Swimming Pool
It's an hours' drive from Cagayan de Oro to Lagonglong, Misamis Oriental which is a beach, swimming pool, and aqua park all rolled into one.
They offer rooms good for 2 persons and can enjoy swimming in the pool or on the beach. They also got an aqua park, banana boat, stand up paddle, tandem kayak, wooden Bangka, and jet ski, all have separate fees and charges.
Swimmers are advised not to wear any type of jeans and cottonette shorts since the slide are inflatables and vulnerable to sharp objects like buttons and zippers.
Blu Sands Beach Resort
This new resort is located at Tubigan, Initao, Misamis Oriental, and traveled about an hour from Cagayan de Oro.
The hotel has screened and roofed beach side cottages on the beach front which make it different from the other common cottages; foods are not exposed to flies and other elements for safety.
Beach cottages are good for families and group of friends who can enjoy the large swimming pools for day and night swimming with kids pool for children.
The hotel rooms are air-conditioned and can accommodate from 2 up to 12 persons.
Going to beautiful places with our love ones for this season always end up with good memories. Thus, preparing for a trip is a must in order for us to be ready so that we can enjoy the trip wholeheartedly.