30 Nov

The Father of Philippine Revolution: Supremo Andres Bonifacio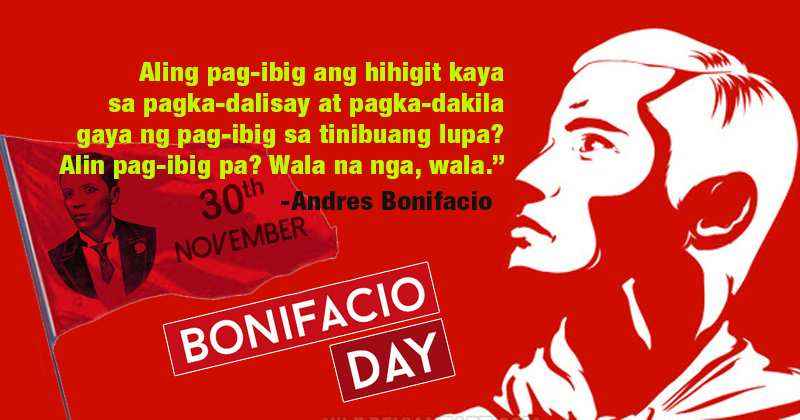 We often see his images on historical textbooks and often see his great statue in parts of our country. The Great Supremo they say, the bravest hero of our time.
Andres Bonifacio is one of the greatest and fiercest heroes in Philippine History. He was born last November 30, 1963, and became the Father of Philippine Revolution against Spanish Colonisation. He, along with other members, started a movement known in history as "Katipunan" o Kataastasan Kagalanggalangang Katipunan ng Mga Anak ng Bayan (KKK) in 1982. Their group was a secret revolutionary society that instigated revolts against the Spanish colonizers. He became the Katipunan Supremo (Supreme Leader) and president of the first revolutionary government.
Bonifacio had humble beginnings, he was born in Tondo, Manila the son of Santiago Bonifacio and Catalina De Castro. He was the eldest of Santiago's children. In his late teen years, he had various work with British and German trading firm although he did not finish his education. Bonifacio enriched his natural intelligence through self-education. He read books such as French Revolution and novel such Les Miserables.
Bonifacio was married twice: first to Monica Palomar, however, she died of leprosy, she then married Gregoria de Jesus and had a son who died of smallpox in infancy.
He was one of the founding members of La Liga Filipina, an organization which called political reforms in the Spanish Rule. When the league was disbanded following Jose Rizal's arrest and deportation, Andres officially founded KKK.
The Spanish authorities discovered the existence of KKK on August 19, 1986. Members of KKK were arrested and charged with treason which led Bonifacio to start the uprising by tearing their cedula which were later called the "Cry of Pugadlawin."We celebrate today the birth of one of the greatest hero of our time.