21 Jun

LOOK: Female Call Center Agent Gets Slashed & Stabbed In CDO

Mga higala! A female call center agent in Cagayan de Oro City was allegedly slashed and stabbed last June 20, 2023, while going home after her late shift.

According to her Facebook post, she finished work at around 12:00 am, rode a PUV, got off, and had a quick snack at a certain Jollibee branch.

She then finally decided to go home but noticed that her phone already lost power, making her unable to book a ride online. After waiting a bit near a Shell gas station, a bao-bao tricab stopped in front of her and offered her a ride.

While riding in the said vehicle, the female call center agent felt worried but tried to hide it from the driver. However, after a short while, the driver stopped in a poorly lit area and rushed to her side, while holding a knife.

Scared to death, she then tried to grab the knife but allegedly got stabbed on her side instead. She also got several slashing injuries before finally being able to escape the suspect.

She ran away while bleeding and hid in an area with houses.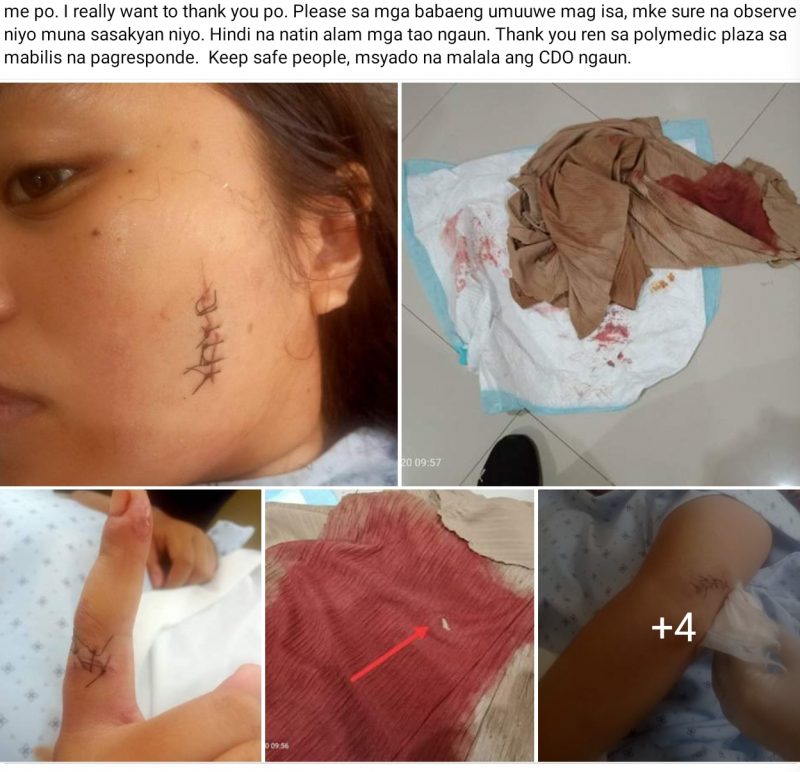 Thankfully, she then got help from a passing male delivery rider, who was warry at first, but immediately rushed after noticing her bloodied clothes. He bravely brought her to the nearest hospital (Polymedic) and got her proper medical attention
She is now in a stable condition.
Below are photos from her post:
Source: Hannah Rezcah
(This incident is now being verified but should still serve as a warning to all who work late. Always be extra careful and make sure that you have a safe way to go home.)