26 Mar

Let's Help In The Fight Against COVID-19: Donate For Our NMMC Healthworkers Now!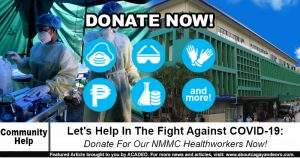 Mga higala! Our dedicated doctors, nurses, and other healthworkers are now fighting tirelessly against COVID-19 to protect everyone!
Sadly, the whole country is suffering in this crisis and there is a lack of medical supplies and equipment, especially at the Northern Mindanao Medical Center (NMMC) here in Cagayan de Oro City.
As citizens, we can stay at home to avoid catching or spreading the virus and follow safety measures. However, we can still do more!
Due to this, we here in About Cagayan de Oro-ACADEO are now conducting a fund-raising initiative, and you can help!
If you have anything to DONATE, financially or otherwise, please message us.
All of the funds that we can gather will then be used to buy or make equipment, supplies, and anything else that can help our healthworkers.
For donation updates, visit the link below:
https://docs.google.com/spreadsheets/d/1ZSO-lgyrsb2np_6fSyda6puNfoFROQseAe3g2pFC-EY/edit?usp=sharing
If you want to donate cash and/or face masks, face shields, alcohol, and others. Check out the following contact details and bank accounts: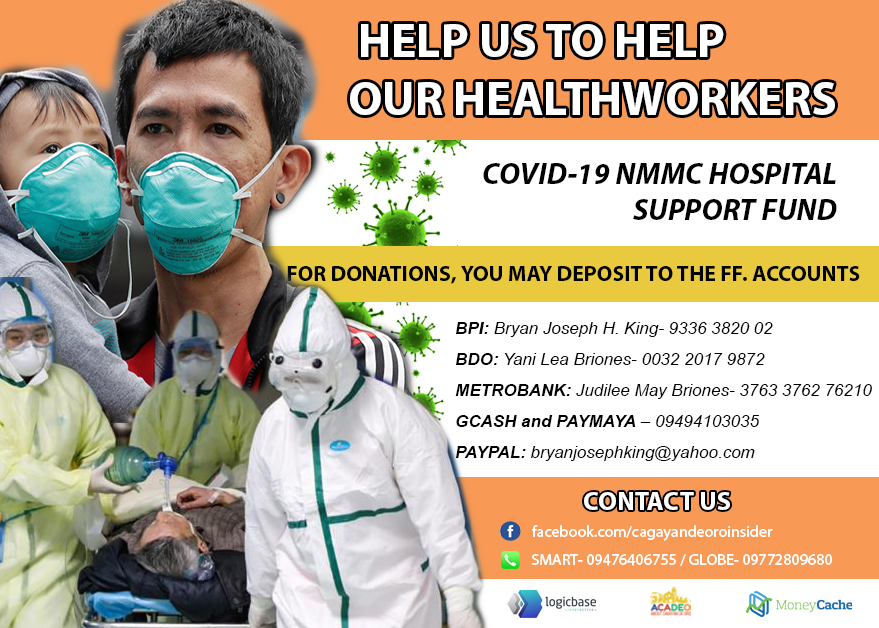 CONTACT US
For Donations, you may deposit to the ff. Accounts
(BPI) Bryan Joseph H. King- 9336 3820 02
(BDO) Yani Lea Briones- 0032 2017 9872
(Metrobank) Judilee May Briones- 3763 3762 76210
GCASH and PAYMAYA – 09494103035
PAYPAL: bryanjosephking@yahoo.com