05 Feb

Filipino Father Counts Coins To Save Up for Baby's P5 Million Liver Transplant

Jeric Trestre, who recently went viral on social media, is a father to his sick 11-month-old daughter. He has been literally counting mounds of coins for a liver disease treatment and liver transplant that costs millions of pesos.

According to a report by GMA News, Jeric discovered their daughters' illness last year after they rushed her to a hospital in Manila. This was when they noticed that her skin and eyes have turned yellowish in color.

Jeric's daughter, Baby Zhianna, nicknamed Esang, is now diagnosed with Biliary Atresia– a rare disease of the liver and bile ducts that occurs in infants.

To save Baby Esang, the Trestre family has been advised that the only way was to conduct a liver transplant since her liver could fail anytime.

This transplant will cost not less than P5 million which crushed all hopes for Jeric and his family.

"Napanghinaan po kami ng loob tapos inisip po namin na parang isuko po namin 'yung parang susuko na lang po namin 'yung bata, hindi naman po namin alam kung saan kukunin 'yung pera tapos milyon po ang halaga kahit nga po isandaang libo di namin alam kung san kukunin. Kaya sobrang sakit po. Nawalan po kami ng pag-asa," Jeric said.

Moreover, he has been recently joining Facebook groups in order to seek monetary help.

"Mahal na mahal po namin 'yung bata. Kahit mamalimos po kami sa daan para lang po mabuhay 'yung bata," he said.

To all our concerned netizens out there, please give the effort to donate even a peso this month of LOVE for the Trestre Family.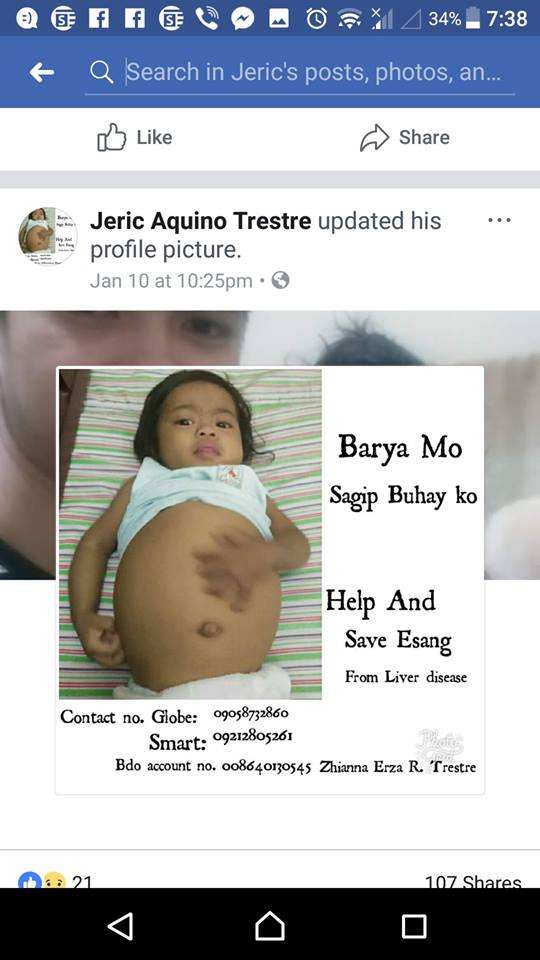 To donate, contact them through their Facebook Page at https://www.facebook.com/jeric.trestre.
Source: GMA News