23 Dec

Filipino Noche Buena Favorites That is Always Present on Philippine Christmas Dinners

Undoubtedly, Christmas is the favorite holiday season that all Filipinos love and enjoy. The best time of this holiday season is Christmas midnight dinner, or simply, Noche Buena. It is that time of year for family reunions that brings family together, some very close friends, bonding time with the children, laughter, merrymaking, and of course, the food.

With the increasing trend of the culinary arts now being spread even to the masses, a single household today may have more cooks than what the kitchen can handle, but this also means that the menu lineup cooked up for Noche Buena will turn out to be a veritable salad of wonder dishes and delicious concoctions. In spite of this, many Filipino Noche Buena Favorites will always remain on Philippine Christmas dinner tables because they have stood the test of time for edibility.
A Tradition from Spain
The tradition of Noche Buena came from our former colonial masters since the words in Spanish mean "Christmas Eve." In Spain and other Latin American cultures this is the biggest feast celebrated on December 24, or Christmas Eve, culminating in the traditional midnight dinner or feast to welcome Christmas day. This tradition dates back to the 15th century when the Catholic Church began adopting the Christmas Eve feast taken from pagan religious practices as a way of integrating new converts into the Catholic religion. Part of past pagan religious practice was to hunt down wild pigs and roast them to celebrate during the closing months of winter the good harvests of the past months. The practice became cemented tradition when paired with the late evening mass or Misa de Gallo just before the Noche Buena.
Here are some Filipino Noche Buena Favorites:
Christmas Ham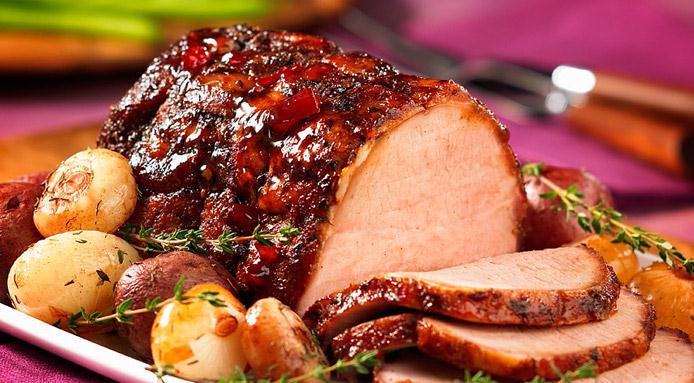 It can be the ball type, the brick type, or the large boneless 1 kilo slabs; it doesn't matter because Christmas won't seem complete unless the family members get to sink their knives into the ham to cut out pieces that are served on a plate. Some families even go to lengths to cook the slices so they're crispier and more delicious. Companies even give ball hams as corporate gifts to their employees. Some ham versions are sweet or honey-cured to give the ham a more luscious taste.
The Lechon
The so-called "star" of the dinner table, though we think the pig would disagree to this moniker. No Filipino in their right minds would forget ordering the lechon especially for large family reunions. The lechon lying prone on the table to be prodded and stabbed continuously by family members has become the Filipino equivalent to the American Turkey on thanksgiving as a way of being thankful for another bountiful and blessed year of being together to share momentous occasions such as the Noche Buena. All the more so if the Christmas dinner is a grand celebration for OFW's or migrants coming home on vacation and who have missed eating lechon.
Fruit Salad
Like the lechon and ham, a Christmas dinner table will seem empty without the time-proven fruit salad. It may come in a variety of forms depending on who is preparing it, but Filipinos will always crave for the fruit salad during Noche Buena. The generous amount of salad cream and condensed milk only further highlights the salad. Some people rationalize that the salad is a kind of "balancer" for the copious amounts of ham and lechon consumed.
Keso de Bola
It is a ball-shaped edam cheese coated with red paraffin wax. When you see the keso de bola displayed in the supermarkets then you really know that Christmas is just around the corner. Some families will replace this cheese delight with other cheese alternatives, but there is something about the red ball of cheese that makes the Noche Buena feel so, well, Christmas-y. The keso de bola goes very well with the ham, lechon, and macaroni salad.
Macaroni Salad
Unlike its close cousin that is considered a dessert, the macaroni salad is a meal on its own. It is the pasta recipe on that table mixed with chicken or pork strips, vegetable slices, and mayonnaise, or whatever variety the cooks come up with. Some use ham strips to make it more inviting.
Leche Flan
This dessert is still a favorite during Noche Buena in spite of the presence of other desserts on the table. It is a concoction of egg yolks, condensed milk, fresh milk, and sugar. It's the dessert for those with real sweet teeth or for those who get to indulge only during the holidays.
Crema de Fruta
Another popular dessert found on Noche Buena tables, this frozen dessert consists of layers of Graham crackers, cream, and fruit slices, chilled, and best served cold. It is sometimes referred to as "mango float" if mainly mangos are used.
Paella
Those into the culinary arts (often now there's at least one in a large family) and who love to cook, given a lot of preparation time before Noche Buena usually include this grandiose Spanish rice dish that can be mixed either with different seafoods or meats like chorizo de bilbao. The Spanish consider this flavorful dish to denote blessings and thanksgiving for a bountiful year. In can also denote wealth because of the rich mixtures of the dish.
Lengua Estofada
It is stewed ox tongue cooked in tomato sauce then served with fried potatoes. When prepared and cooked right family members are known to request this dish at every Noche Buena.
Embutido
The Philippines version of the meatloaf, it can be eaten either hot or cold. Depending on who is doing the preparation, the added flavor of the Embutido will depend on what has been placed inside the roll. The normal fare is usually carrot bits, hotdog, meat slices, and sliced eggs.
Conclusion
So there it is, and if you're not hungry by the end of this article you must not be from this country. There are, of course, hundreds of other Noche Buena dishes out there that have been slowly introduced on midnight dinner tables, however, the lineup mentioned above have been tested by time (and millions of taste buds and palates) and have become traditional staples for Christmas Eve. Happy Holidays to everyone and happy eating on Noche Buena!
Feel free to comment below and share your Filipino Noche Buena Favorites.