04 Dec

First LGU-Owned Corn Grains Storage Silos To Be Built In Baungon, Bukidnon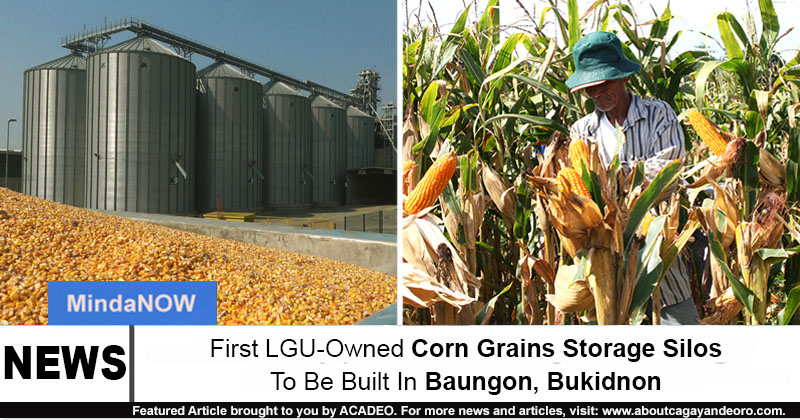 Mga higala! The first local government-owned "Corn Grains Storage Silos" in the country will soon (around 2021) be built in Baungon, Bukidnon– Cagayan de Oro's neighbor.
According to a recent post by Mindanao Development Authority (MinDA) chair Manny Piñol, Baungon, under the leadership of Mayor Giovanni Dahino, attended a 3-day workshop with MinDA last week and applied for a P100-million loan for the said storage silos.
These silos will have a storage capacity of 4-million kilos per cropping and aim to address some of the problems of farmers in Mindanao:
Absence of Drying Facilities which affects the quality of the corn production and deprives farmers of a premium price
Absence of storage facilities at peak harvest season which results in the manipulation of corn prices by traders
Absence of a system that could protect farmers from predatory trading practices
But, with the help of Corn Grains Storage Silos, farmers will have a refuge from very low prices during peak harvest season.
Piñol explained that "Using the 'Quedan' system used by the Sugar Industry, a corn farmer may opt to deposit his produce in the MinCOGSSS facility (Mindanao Corn Grains Storage Silo System) and just get a partial payment based on the prevailing market price or a price set by the Economic Enterprise.
Assuming that the farmer deposits 20-metric tons, he could get an advance of P10 per kilo or P200,000 and a 'Quedan' document covering his corn deposit.
At off-harvest when the price of corn is expected to rise to say P15 per kilo, the farmer could surrender his "Quedan" and get the difference between the advanced amount and the selling price, less the drying and storage fees to be charged by the Economic Enterprise."
Piñol also said that with Baungon serving as a pilot area and model, MinDA's Mindanao Corn Industry Development Program will aim to establish Corn Grains Storage Silos with dryers in Mindanao's corn-producing towns.
For more details: