08 Apr

Halo-HaLove: Food Places for Delectable Halo-Halo in Cagayan de Oro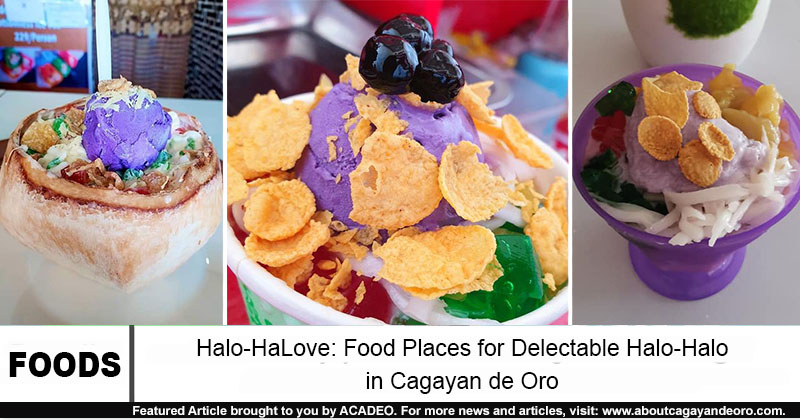 Who hasn't tried halo-halo? Bet none as it is a staple in Pinoy food culture.
In most Filipino restaurants, there's always halo-halo that arrives after having a good meal. A sweet treat that's very well loved by all ages.
During hot days, it also serves as a refreshing dessert that can make everyone's day.
Usually consists of shaved ice, sweetened beans, flavored jellies, fruits, milk, ube halaya, leche flan, and topped with special ice cream, halo-halo sure is every sweet-toothed Kagay-anons' craving.
Here are local places where one can find delectable halo-halo in Cagayan de Oro.
JEMMA's Hang-Out Corner
Location: BraveHearts Arcade (beside GSIS), Carmen, Cagayan de Oro
Buko Halo, anyone? Good for 2-3 persons, JEMMA's Hang-Out Corner buko halo-halo is your go-to refreshing dessert.
Prynzejames halo-halo
Location: Max Suniel Street, Carmen, Cagayan de Oro
If you need a refreshment quick fix, try Prynzejames halo-halo. If you are looking for a healthy option, get their fruity halo-halo that's full of real fruits.
Bords' Sizzling at Inihaw
Location: Tiano-Mabini Streets, Cagayan de Oro
Thirsty for something cold and sweet? Dine at Bords' Sizzling at Inihaw. If you are in for some unli rice feast, they also got you!
Mahalo Halo
Location: Chill Corner, Rotunda, Nazareth, Cagayan de Oro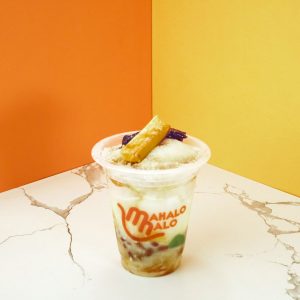 Craving for a cold treat? Mahalo Halo makes it creamier and flavorful for you! Indulge their variety of flavors!
UnoHalo
Image Source: Laag Kagay-an fb page
Location: Zone 3, Tablon Highway (fronting Petron Gasoline Station), Cagayan de Oro
UnoHalo offers smooth shaved-ice desserts that can be perfectly paired with their house specialties such as batchoy, chickbun, crispy fries, and more.
Hanbe's halo-halo / snacks
Location: Market Place Gaabucayan Street, Agora (across Duplexx Gym), Cagayan de Oro
Beat the heat with Hanbe's halo-halo / snacks creamy Halo halo pearl.
Just ordered halo-halo and I can't wait for it to arrive later for merienda. How about you? Let us know your experience in the comments below.
To learn more about these businesses, go to Cagayan de Oro Directory. Want to be added? Contact us!