15 Nov

Free Ride For Marawi Evacuees Will Start On November 22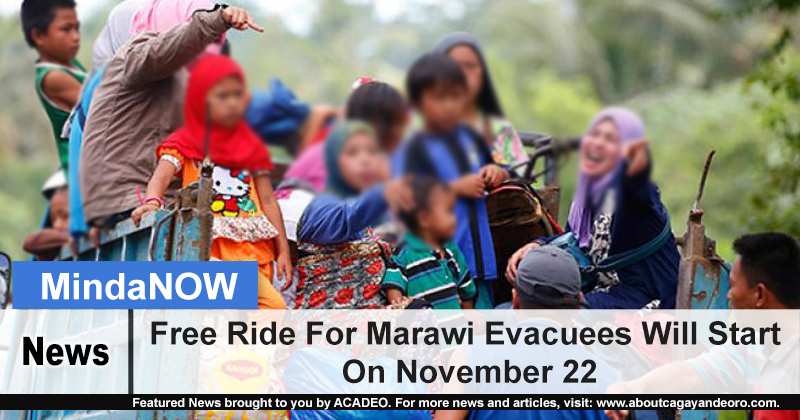 Task Force Marawi will be conducting a send-off activity called Kambalingan or "to return" to welcome the Marawi IDPs.
In line with this, since it was announced that Marawi is declared safe to live, the city government of Cagayan de Oro is offering a free ride for the Marawi evacuees who wish to be back to Marawi City.
In an article from Sunstar PH, the city government will be the ones providing vehicles for a number of internally displaced persons (IDPs).
City Social Welfare and Development (CSWD) Office Teodor Sabuga-a Jr, revealed that this November 22 will be the first batch of IDPs schedule to be transported back to Marawi City.
Accordingly, there will be no required number of IPDs that should take the travel. As long as a group of IDPs wishes to be transported back to Marawi on the said schedule, they can start the trip directly.
It was also revealed that the IDPs will be receiving help from the Department of Social Welfare and Development (DSWD) such as sacks of rice, hygiene kit, kitchen utensils and P5,000 worth financial assistance per family.
However, Sagub-a clarifies that for those who already received a financial assistance worth P1,000 during the Ramadan, would only receive a balance of P4,000.
IDPs authenticity would be certified by the Barangay Officials. As such, IDPs who will be transported back to Marawi are those who were residents or homeowners in the barangays.
Evacuees will be transported into two clustered barangays of Marawi.
1st Cluster: Matampay, Tampilong, Pangao Saduc, Barrio Green, Marawi Poblacion, Datu Saber, East Basak, Basak Malutlut and Luksa Datu.
2nd Cluster: Poona Marantao, Amito Marantao, Dayawan, Pindolonan, Tuca, Lumbaca Toros, Toros, and Bacolod Chico