28 Nov

Get to know the entries of the Metro Manila Film Festival 2016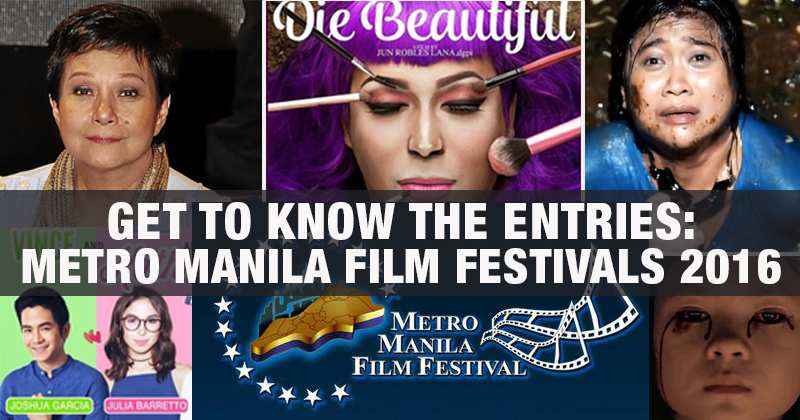 MMFF fans will surely miss Vice Ganda and Vic Sotto this coming Christmas season as the festival's committee chose not to allow their films in the eight coveted entries. Metro Manila Film Festival is an annual film festival in the Philippines that seeks to uplift local-produced movies in the country. During December 25 to January 7, cinemas in the country will only allow local-produced movies the eight entries in the film fest, disallowing international movies to go onscreen.
This allows local-produced movies to earn rather than to compete against international films.
This is the 42nd MMFF yet this is the most controversial to date, as judges of MMFF 2016 disallowed the movies coming from major producers. There have been minor changes in the criteria for choosing the final entries. This has saddened a lot of movie producers and actors who have already invested and have always been part of MMFF. Despite the controversies, eight films will be featured in the upcoming festival that audiences will surely love and enjoy this Christmas Holidays.
"Saving Sally" by Avid Liongoren
This animated movie is about a young talented comic artist who falls in love with his best friend, Sally, the gadget inventor. In order to save Sally from her bully boyfriend and parent monsters, Marty drew his fantasies. The movie is about love and friendship, and how to push your limit fight for something you love. Starring Rhian Ramos as Sally and Enzo Marcos as Marty. See the full trailer below.
"Seklusyon" by Erik Matti
Seklusyon is a horror film directed by Eric Mati. It revolves around a story of a tradition of the Catholic Church to send their deacons, those who aspire to be a priest, to a remote convent and live a week of seclusion before they become a priest. A young girl was sent to the convent with a mischievous intent unknown if she was sent by the devil or God. Starring Ronnie Almonte and Rhed Bustamente,  the movie will surely give movie fans a suspenseful adventure. See the full trailer below.
"Die Beautiful" by Jun Robles Lana
One of the entries of the recently concluded Tokyo Film Festival is Die Beautiful, which Paolo Ballesteros won Best Actor. The movie focuses on the life of a transwoman Trisha Echeverria from Bacolod, who wants to live and die beautifully. When she was young she would join beauty pageants and often times she gets ridiculed and bullied. Starring Paolo Ballesteros, who went viral after he posted makeup transformation on his Instagram account. Ballesteros went to Tokyo Film Fest Award dressed as Angelina Jolie and accepted his award dressed as Julia Roberts. See the film trailer below.
"Sunday Beauty Queen" by Baby Ruth Villarama-Gutierrez
A documentary film set on a journey of our OFWs abroad who would have a great gathering every Sunday. It talks about their lives and their struggles just to dream about giving a bright future for their children. Directed by Baby Ruth Villarama-Guiterrez, this documentary will surely pierce through every Filipino audience. See the film trailer below.
"Ang Babae Sa Septic Tank 2" by Marlon Rivera
After "Ang Babae Sa Septic Tank" indie success, Director Marlon Rivera is bringing once again Eugene Domingo's reprise role as herself. The movie talks about how a film is made and how it is formulated to cater every audience in the Country. Funny and satirically satisfying, this movie will definitely be a sure hit. Watch the full trailer below.
"Kabisera" by Arturo San Agustin & Real Florido
Nora Aunor – that's the only thing you need to know to watch this Film. Once again Movie Superstar of all time, Nora Aunor, is back with a movie of seeking family justice in the country. This socio-political drama centers around a seemingly perfect family and their struggle for justice and violent crimes. See the film trailer below.
"Vince & Kath & James" by Ted Boborol
The only entry from Star Cinema, this movie centers on the story of two lovestruck teens Vince and Kath through text messages. It is an adaptation of an online text series which became viral. Starring Julia Baretto, Joshua Garcia and Ronnie Alonte. This teen romance film will surely touch young film audiences. See the trailer below.