30 May

Gil Macaibay's Strike a Pose 3 2016: Modelling Workshop and Culminating Fashion Show

Last May 28, 2016, Saturday, witnessed once again Gil Macaibay's Strike a Pose Fashion Show now on its third year. As in the last two fashion shows before it, the show is the culminating activity for the Strike a Pose Summer Modeling Workshops that started almost a month ago. The show was staged at the Mall Garden of the Ayala Centrio Mall, to the thrill of hundreds of mall goers who flocked to see the show and its guests.
Concept and Theme
The show started at around 4:30 p.m. In typical Gil Macaibay fashion as Cagayan de Oro's Prince of Haute Couture, the Mall Garden was transformed into something out of a spring forest setting for fairies.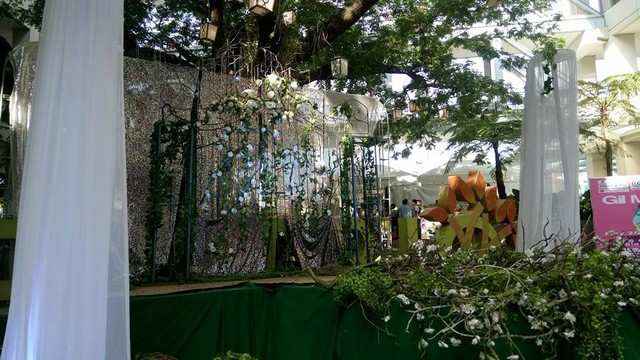 It was only natural since 75 models of the Strike a Pose 3 2016 Workshops would strut Macaibay's spring collection.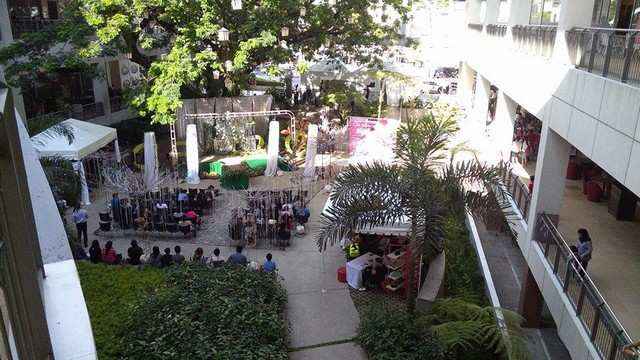 The little rain that came was even jokingly referred to as "part of the props" for the forest spring scene. In fact, one can imagine a forest spring scene with the models looking like fairies. One can only wonder how Macaibay and his crew were able to truck in all the live flowers, vines, leaves, and bushes in and around the stage, with a "shimmering" curtain to boot.
Special Guests
A show this big wouldn't be without its guests, and so, singer, actor, model Laurence Mossman, from ABS-CBN's Dolce Amore, and a New Zealander by birth, sang a song for the crowd.
It was in fact, Mossman who opened the show with his rendition of Josh Groban's "The Prayer" serving as the prayer-invocation.
GMA-7 star and Olive Cologne endorser and campus model Karl Aquino was also there to offer his dance steps and wear a Gil Macaibay outfit to strut down the ramp. He even brought along his backup dancers from Manila.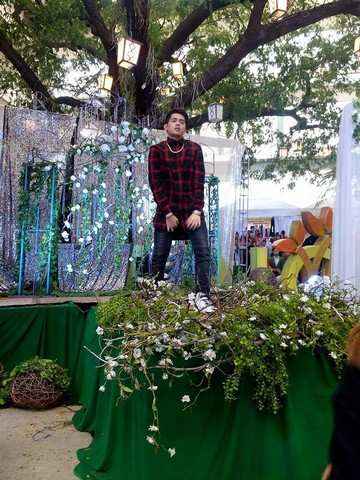 There were also guest performances from Cagayan de Oro's very own Oreo Vamenta and Pilipinas Got Talent 3 Finalist Muriel Lomadilla.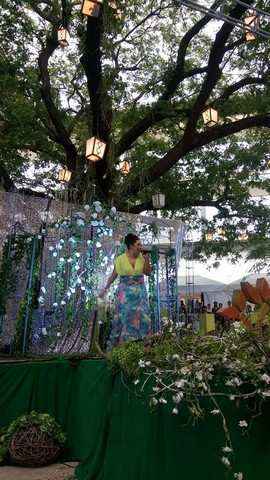 Some of the models were serenaded while they walked down the runway by a female duo and an all-male group from Cagayan de Oro as well.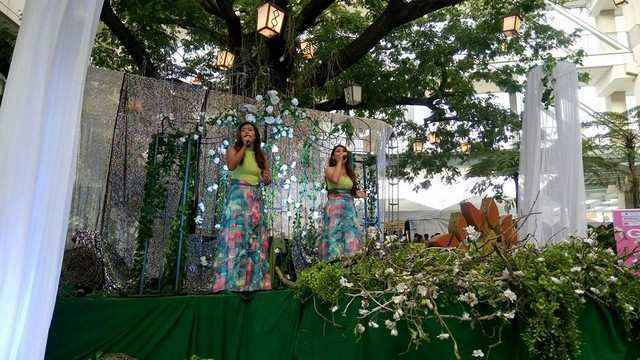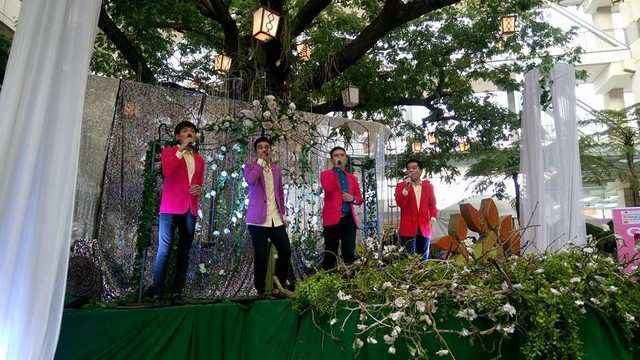 In a promotional video during the show, top CDO models and past graduates from Strike a Pose Maxine Monasterio, Jamie Joy Batingue, Paola Pilapil, Essa Santos, Nicole Floirendo, and Gob Uriarte shared their past experiences and testimonials on how Gil Macaibay shaped their modeling careers.
The Workshop Graduates Strut their Stuff
Naturally, the workshop graduates were the first to ramp up the catwalk (or in this case, forest walk), followed by Gil Macaibay's professional models. The highlight wear was of course, Macaibay's summer and spring collections.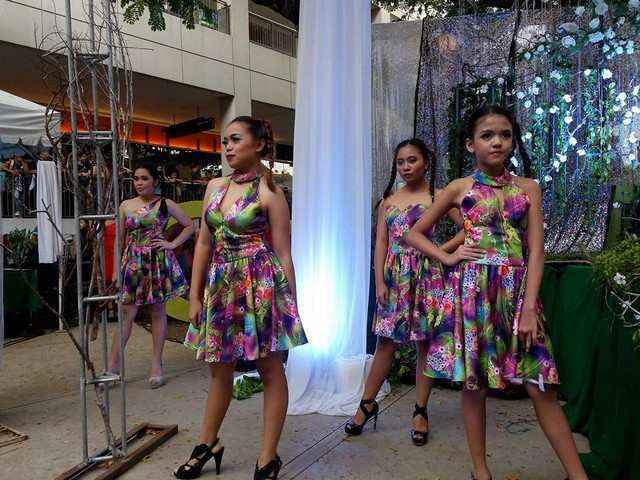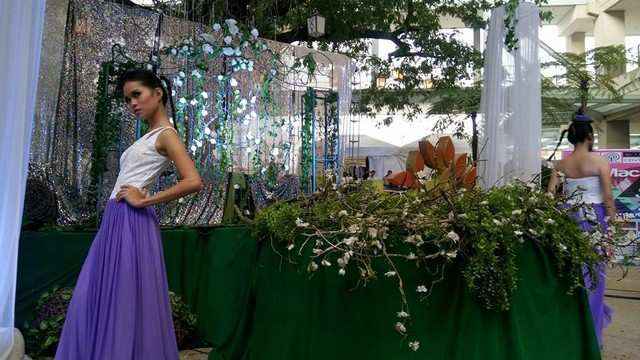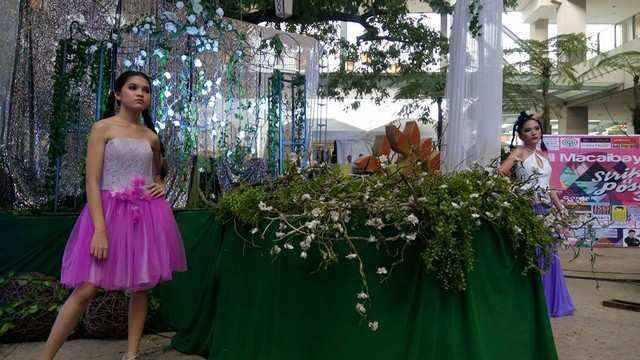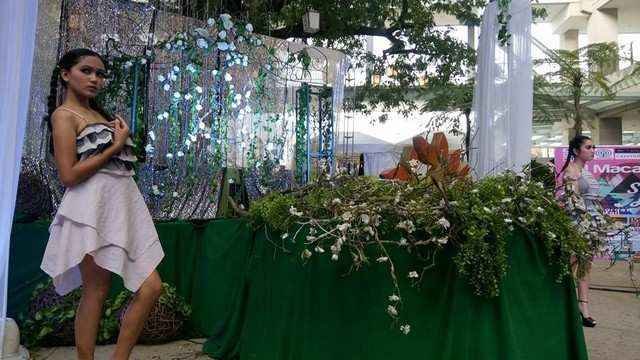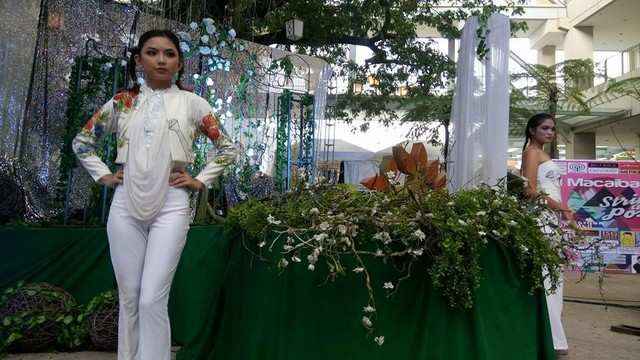 To analyze Macaibay's creation's, they actually come out as lightweight and functional, cost-effective and yet never giving up quality for cheapness. They may look classic but they still retain touches of modernity and contemporary concepts. Some of Macaibay's designs seem to dabble into silhouette fabrics.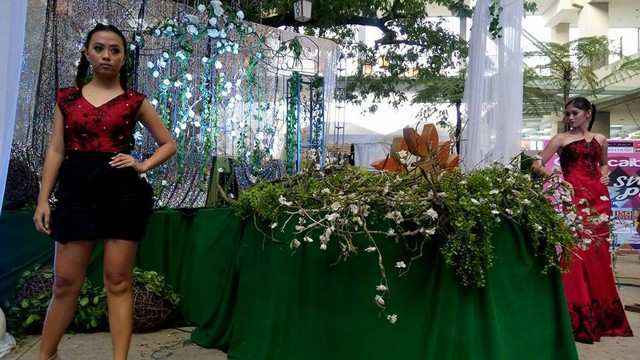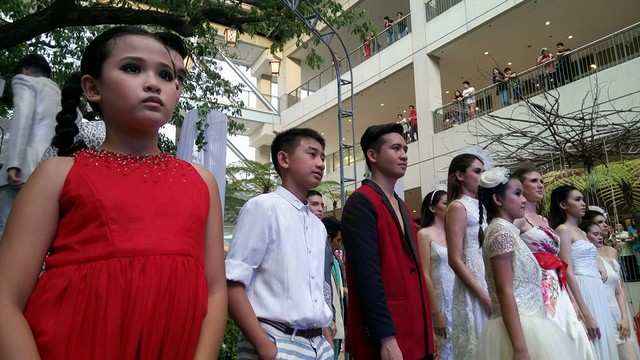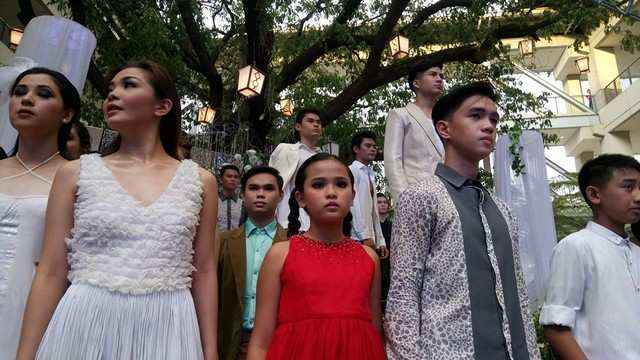 In the collection, his designs ranged from elegant wedding clothes to simple but casual trendy wear. The floral designs in the women's clothes were to emulate spring and summer. A few of his designs even showed some trendy and chic pieces that can be used for daily wear even with their very Filipino themes.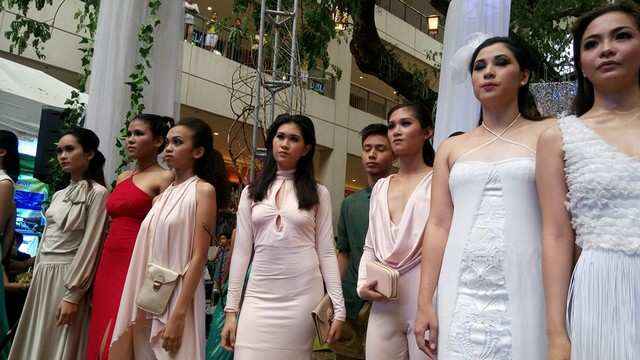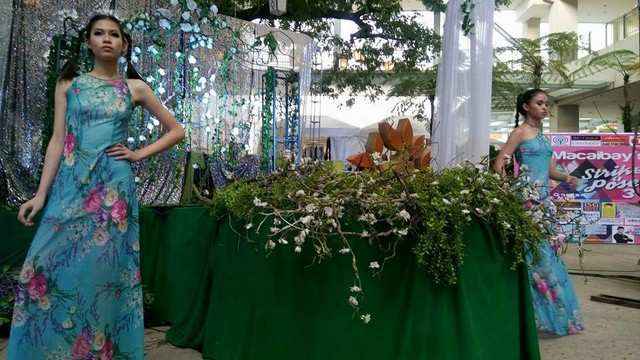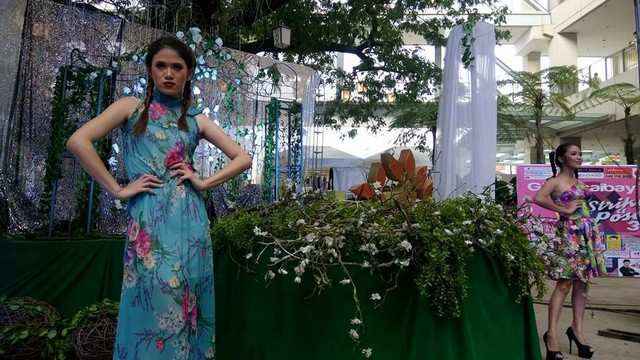 Of course, there will always be daring and risky designs, like the leather collection that's made for the rainy season. Generally, not many Filipinos like wearing leather, so perhaps this was one way for Macaibay to introduce or educate the fashion into the market and get Kagay-anons interested towards leather.
There was even a small collection perfect for youngsters as well as some modern impressive male casual wear suitable for young professionals.
Karl Aquino himself modeled an outfit consisting of a mustard colored blazer, a floral polo button down shirt underneath, and brick red shorts. Stylish, modern, and preppy just for today's young generation, with a nice mix of colors that can be eye-catching but not too overbearing or too extravagant.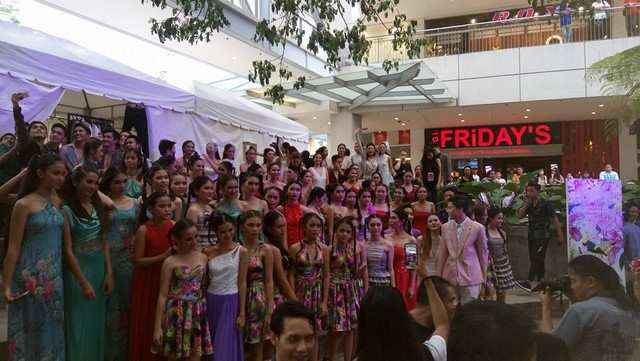 The fashion show is directed by Vincent Aranas and Dennis Almazan, with Robbie Pamisa as technical director. The show naturally ended with Gil Macaibay himself walking the runway flanked by Mossman and Aquino and being given a bouquet of flowers.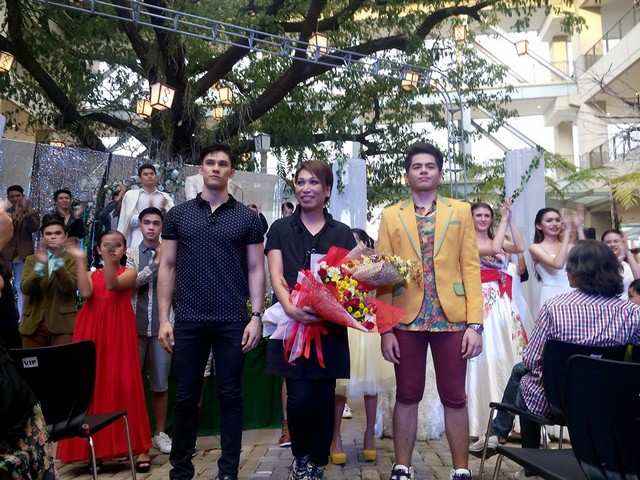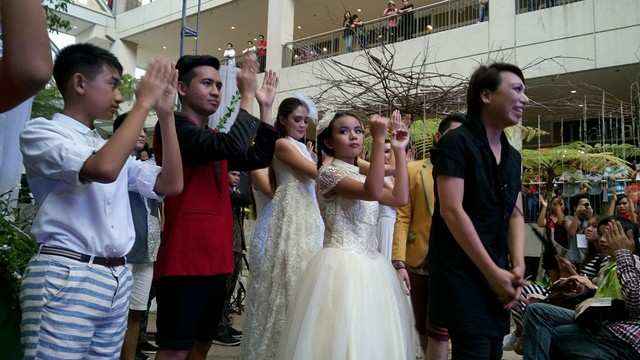 After the show, Macaibay, Mossman, Aquino, and all the models gave opportunities for group pictures for the media, family, and friends. Macaibay gave all media participants a surprise token as his appreciation for covering the fashion show.
What You Need to Know About Gil Macaibay III
Gil Macaibay III is a pure Kagay-anon and one of the most well-known fashion icons of the city. Gil was mentored and trained no less by the Manila fashion designers Fredrick Peralta and Dong Omaga-Diaz. In time, Gil set up his own shop, the Gil Macaibay Fashion Studio. Briefly, he even went international through a European brand that had their fashion campaign in Thailand in 2013. He is also an official member of the Oro Fashion Designer's Guild (OFDG). Many local media writers have even given him the moniker, "CDO's Prince of Haute Couture."
Who is Laurence Mossman?
And to all those pundits of Laurence Mossman is the younger brother to the more popular actor, Francis Mossman. Although still a learning actor, he has made his mark as a young actor playing a mature role alongside veterans Liza Soberano and Enrique Gil. Laurence's father is from New Zealand while his mother is a Filipino. He was raised in New Zealand, but two years ago, he decided to try his luck with an all-male singing trio called The Primo, doing regular shows at the Resorts World Manila.
Who is Karl Aquino?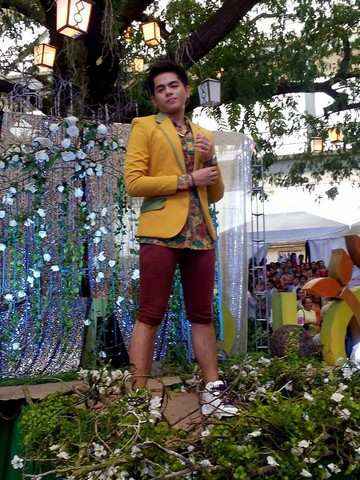 Karl Aquino is a mainstay with GMA-7 as one of their actor and models. He was one of the finalists with the Olive Cologne campus models and is one of the cologne's major endorser. He is more well-known for his dancing prowess especially on the noontime shows on GMA-7.