25 Apr

Gil Macaibay's Strike a Pose 3 – The 2016 Summer Fashion Workshop and Fashion Show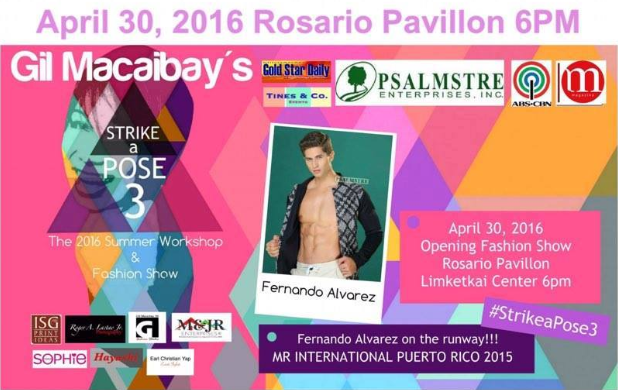 Running on its third year, Gil Macaibay, one of Cagayan de Oro's premier fashion designers and couture, will once again feature Strike a Pose 3 – 2016 Summer Fashion Workshop and Fashion Show on April 30, 2016, at the Rosario Pavilion, Limketkai Center Mall. Opening fashion show starts at 6:00 p.m. and will also feature Mr. Fernando Alvarez, Mr. International Puerto Rico 2015.
This annual fashion workshop is considered the region's top interactive fashion and modeling workshop. Of course, based on past experiences from former participants, the fashion and modeling workshop is certainly no cake walk, as Gil Macaibay demands only the best to come out from the participants. This may involve hands-on ramp modeling in heels (for the ladies only, of course) for three to four straight hours. Sometimes it involves hours of walking back and forth in front of large mirrors to get that perfect cat walk. Another aspect of learning the modeling cat walk is trying to keep that stiff upper lip and face, or what they call the "poker face" since models don't usually smile while doing the cat walk, unless instructed to do so.
Past participants were often as young as 14, while the average participant age was usually 17 to 18. For the past two years, a guest supermodel would often join the workshop and fashion show and participate in teaching some basic modeling. Last year, it was Ria Bolivar. This year, it will be Fernando Alvarez.
For those with an interest to participate, the registration fee is P3,500. Registrants also need to submit one 5R sized whole body photo and one 5R sized close-up photo. Roger Lactao Photography remains the official photographer for the event and is always featured in Launchpad Magazine.
Who is Gil Macaibay III? 
Gil Macaibay III is a pure born-and-raised Kagay-anon and one of the most well-known fashion icons of the city. Even as a youngster, Gil already showed a serious interest in sewing and fashion designing. He would often use different materials and combine them to create a dress. After college, Gil was turned around to follow his fashion designing passion after a friend asked him to design a bridal gown, the groom's wardrobe, as well as the wardrobe of the entourage. It became such a stunning success that Gil decided that this was a turning point in his life. In time, more and more people approached him to design wardrobe for their events, and soon these people became his regular clientele. To improve his skills, Gil mentored and was trained no less by the Manila fashion designers Fredrick Peralta and Dong Omaga-Diaz.
In time, Gil set up his own shop, the Gil Macaibay Fashion Studio. Briefly, he even went international through a European brand that had their fashion campaign in Thailand in 2013. He is also an official member of the Oro Fashion Designer's Guild (OFDG). Many local media writers have even given him the moniker, "CDO's Prince of Haute Couture."