03 May

Gil Macaibay's Strike a Pose 3 – The 2016 Summer Fashion Workshop and Opening Fashion Show

Running on its third year, Gil Macaibay, one of Cagayan de Oro's top fashion designers and original haute couture creators, once again featured Strike a Pose 3 – 2016 Summer Fashion Workshop and Opening Fashion Show last April 30, 2016, at the Rosario Pavilion, Limketkai Center Mall.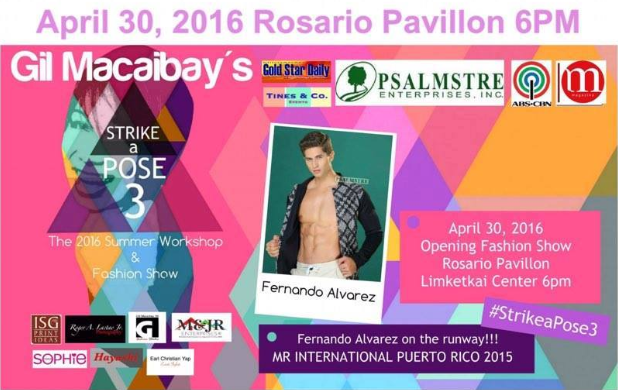 The opening preview fashion show started at 6:00 p.m. and also featured Mr. Fernando Alvarez, Mr. International Puerto Rico 2015.
The Opening Fashion Show preview featured Gil Macaibay's top summer dress collection for the ladies in hues of pink, blue, green, and white.
Part of this collection also featured dresses that could be used for wedding entourages, what with the approaching month of June.
The men also showed off Gil's wedding collection for Men.
Even if it is only May, what sort of turned heads were the men's leather and rainy day / cold weather collection, some created out in leather.
Of course, Fernando Alvarez strutted his stuff by showing off a few of Gil Macaibay's summer and men's fashion for weddings.
At the end of the show, Alvarez and Macaibay were interviewed by the ABS-CBN local TV Patrol.
Who is Fernando Alvarez?
The sexy-Adonis-like Fernando Alvarez was Puerto Rico's representative to the recent Mr. International 2015 contest held last November 2015 at the Resorts World Manila. Alvarez turned many Pinoy heads in that recent contest when he won the corporate award as the new Mr. New Placenta for Men. Though he failed to grab the top spot during the finals, many were impressed with his graceful stance and he has since received many invitations to many shows here in the Philippines.
Who is Gil Macaibay?
Gil Macaibay III is a pure Kagay-anon and one of the most well-known fashion icons of the city. Gil was mentored and trained no less by the Manila fashion designers Fredrick Peralta and Dong Omaga-Diaz. In time, Gil set up his own shop, the Gil Macaibay Fashion Studio. Briefly, he even went international through a European brand that had their fashion campaign in Thailand in 2013. He is also an official member of the Oro Fashion Designer's Guild (OFDG). Many local media writers have even given him the moniker, "CDO's Prince of Haute Couture."
Team members from Team ACAdeO together with members of CDO Bloggers and Gold Star Daily were also able to meet and greet with Gil Macaibay himself and take some group photos with him at the conclusion of the preview fashion show.
Fernando Alvarez was also around for those who wanted any group photos with him. Many most certainly obliged.