11 Aug

Gilas 5.0 Officially Announced 24-Man Lineup, CDO's Jiovani Jalalon Included!

It has been announced that the Gilas Cadets has now been officially elevated as the Gilas 5.0 squad! The 24-man list that has been released by the Samahang Basketbol ng Pilipinas (SBP) includes the Cagayan de Oro native and current best collegiate point guard in the Philippines, Jiovani Jalalon.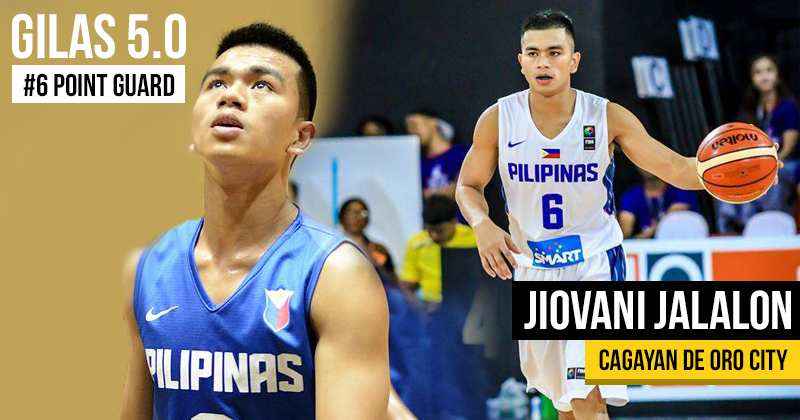 The Gilas 5.0 squad is led by two former UAAP MVPs; Kiefer Ravena and Ray Parks Jr. Parks has his debut in the Philippine team during the FIBA Olympic Qualifying Tournament in Manila last July.
Most of the members of the squad are amateur players, which includes the country's best basketball players. There are only 3 PBA players who are included in the list. They are TNT KaTropa's Matt Ganuelas-Rosser, who played for the Philippines in the 2015 FIBA Asia Championship; and Blackwater Elite's JP Erram and Almond Vosotros.
The Fil-Canadian Matthew Wright is also included in the list who hasn't been seen in the PBA, but had played in the ASEAN Basketball League (ABL) overseas.
Notable players also included were Gilas cadets members Mac Belo, Kevin Ferrer, Von Pessumal, Mike Tolomia, Roger Pogoy, Russel Escoto and Jiovani Jalalon who all won a gold medal at the SEABA Cup last May.
Here are the complete list of the 24-man Gilas 5.0 pool:
1. Abundo, Mon Alvin
2. Andrada, Yutien
3. Belo, Rey Mark
4. Cariño, Kemark
5. Cruz, Carl Bryan
6. Daquioag, Eduardo Jr.
7. Erram, John Paul
8. Escoto, Russel
9. Ferrer, Kevin
10. Ganuelas, Matthew Allen
11. Gotladera, Alfonzo
12. Grey, Jonathan
13. Jalalon, Jiovani
14. Javier, Christopher Joyce
15. Parks, Bobby Ray Jr.
16. Perez, Jaymar
17. Pessumal, Von Rolfe
18. Pogoy, Roger Ray
19. Ravena, Kiefer Isaac
20. Tolentino, Arvin Dave
21. Tolomia, Cris Michael
22. Van Opstal, Arnold
23. Vosotros, Almond
24. Wright, Matthew
Gilas assistant coach Josh Reyes is tapped to head the coaching in the upcoming FIBA Asia Challenge scheduled from September 9 to 18 in Tehran, Iran.
The list is expected to be round down to 12 players before the start of the tournament. With only the PBA player Vosotros as the pure point guard ahead of Kagay-anon Jalalon based on experience, achievement, and skills; he is expected to reach the 12-man lineup that will fly to Iran this September.
The Philippines need to finish at least the 5th spot with 10 teams competing in the competition, for them to book a ticket to the 2017 FIBA Asia Cup (Formerly FIBA Asia Championships). The competition that was once included only Asian teams will also combine Australia and New Zealand in the mix.
Let's hope for the best for Cagayan de Oro City's Jiovani Jalalon that he can make it into the 12-man list. News updates about this will be served soon once the list will be released by the SBP.