09 Jun

Gilas Pilipinas Defeats Iran in Their 2nd Tune-Up Game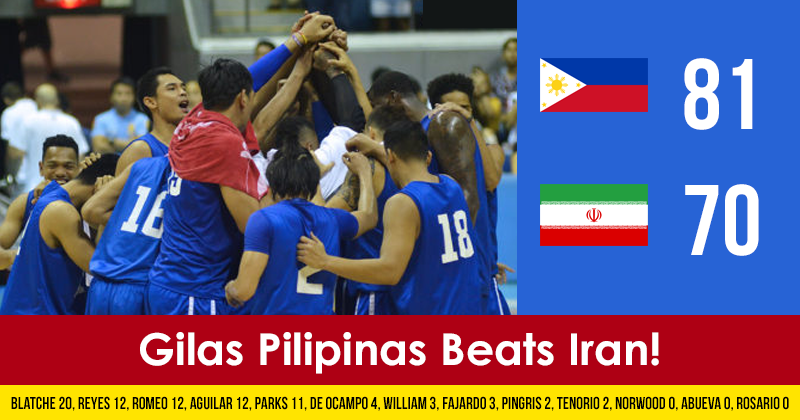 On Wednesday, June 8, the Gilas Pilipinas defeated the Iran National Basketball team 80-71 in their second tune-up game led by Naturalized big man and Ex-NBA player, Andray Blatche.
Gilas had a comfortable lead in the middle of the game, mounting up to 23 points. At the start of the 4th Quarter, where Blatche is seated, Iran slowly inched closer to Gilas and has cut the lead to just only 2 points, 72-70 with only 2:58 minutes left in the game.
Yet, Gilas have shown their "gilas" in the court, finishing the game with a 9-0 run, anchored by Blatche's 2 consecutive defensive stops.
Blatche ended up with 20 points, 11 rebounds, and 4 steals. For the locals, it was Japhet Aguilar and Ryan Reyes who topped both scoring 12 apiece. Aguilar shoots the ball from the field with a perfect 5-for-5, while Reyes hits 3 out of 4 shots from beyond the arc.
The returning RayRay Parks coming off from the NBA D-League playing for the Texas Legends displayed an impressive game with 11 points, 3 rebounds, 5 assists, and a steal.
It was Norwood who leads the team in the +22 plus/minus that Baldwin made sure to acknowledge. He made that plus/minus stat without even registering a score in the game, showing that Norwood is the leader of the team when it comes to intangibles (Deflections, aggressive defense, shot bothering schemes, assists and secondary assists, rebounds, and other hustle plays.)
The Gilas Pilipinas team manager Butch Antonio announced on Thursday, June 9, the 14-man lineup of the Gilas Pilipinas, cutting Marcio Lassiter in the process.
The lineup consists of Jayson Castro, Ranidel De Ocampo, Troy Rosario, Gabe Norwood, Jeff Chan, June Mar Fajardo, Marc Pingris, Calvin Abueva, Japeth Aguilar, LA Tenorio, Ray Parks, Terrence Romeo, Ryan Reyes, and Andray Blatche.
Iran played the tune-up game without their 3 strongest players; Haddadi, Kamrani, and Bahrami.
FACT: Iran is Asia's second strongest basketball team ranking 17th in the FIBA World Ranking. China is in the top spot, which ranks 14th overall worldwide. The Philippines meanwhile, is at the third spot ranking 28th worldwide.
Previously, the Philippines ranks 8th in Asia, but for the past 4 years of impressive basketball campaigns, Team Philippines is now near the top echelon of Asia's greatest.
Most basketball analysts and enthusiasts believed that the Philippine national team will topple Iran in the rankings before the next FIBA World Cup on 2019 in China, believing that the Fajardo-Blatche combination is a formidable duo that other teams may face, add that with a Ray Ray Parks coming off from the NBA D-League, and the Los Angeles Lakers' second-leading scorer (Behind the legendary Kobe Bryant) Jordan Clarckson who is poised to join the Gilas team in the next FIBA Asia and FIBA World Cup.