21 May

Google Play, Gmail & Other Google Services To Keep Working On Existing Huawei Devices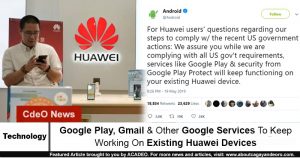 Mga higala! Are you a HUAWEI smartphone user? Did you hear about the news that Google has cut ties with the brand? Are you worried? Well, don't be!
Even though Google suspended the transfer of their hardware and software services to Huawei after they were added to a trade blacklist by the Trump administration, Google assured users yesterday, May 20, that services will continue to work on existing Huawei devices.
All of our needed services like Google Play, Google Drive, Google Docs, Gmail, and more will still be available functional higala!
Check out the post below:
For Huawei users' questions regarding our steps to comply w/ the recent US government actions: We assure you while we are complying with all US gov't requirements, services like Google Play & security from Google Play Protect will keep functioning on your existing Huawei device.

— Android (@Android) May 20, 2019