13 Jul

Grab Great Opportunities & Programs In Germany With BNAC Language Center CDO

Mga higala! Avail a German Language Scholarship at the BNAC Language Center in Cagayan de Oro City and take the chance to grab great opportunities and programs for Germany!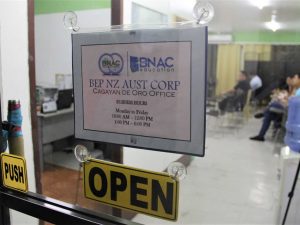 If you're a registered nurse, this scholarship is perfect in helping you prepare for amazing career possibilities in this Western European country.
But, don't worry, if you're an unlicensed nurse, engineer, accountant, someone with a Business Administration degree, or even an undergraduate student, you can still have a chance to go to Germany under the Dual Training Program, where you can earn your German Language certificate or diploma for FREE and get paid at the same time!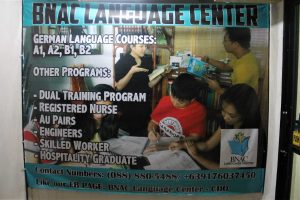 Moreover, you can also live with Germans and learn their culture while earning a few bucks on the side, by being an Au Pair.
All these are possible when you enroll in BNAC Language Center CDO, located at the heart of the bustling City of Golden Friendship! One of the best and one of the pioneers of language centers here in Cagayan de Oro City!
They have an in-depth and well-prepared curriculum presented in their classes, taught by their dedicated and accommodating teachers.
Check out photos of their class and some of their students below: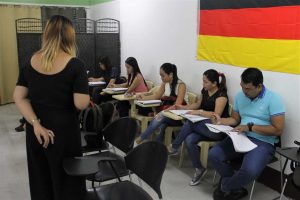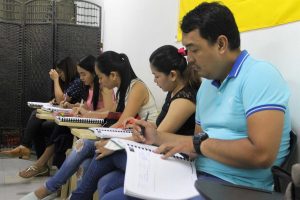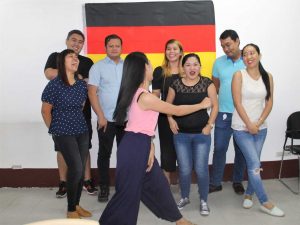 Assessments for the scholarships are conducted for FREE, Monday to Friday, 9:00 am-6:00 pm in the center.
BNAC LANGUAGE CENTER CDO is located in Room 304, 3rd Floor, of the Knights of Columbus Building, along Capt. Vicente Roa Street, near Centrio Mall, beside the Graphic All-In Store (main branch).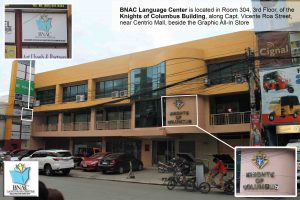 Programs are also offered in their branch in Iligan City, at the Room 1-4th Floor of JGC Building, Badelles corner Lluch Street, in Brgy. Poblacion.
How to avail? Check out the requirements below:
NURSE SCHOLARSHIP
If you are between 20 to 35 years old

A registered nurse here in the Philippines (or a former OFW)

With or without clinical or hospital experience

Willing to learn the German Language courses A1 to B2

Willing to undergo assessment here in the Philippines.
DUAL TRAINING PROGRAM
(Earn your German Diploma for free & get paid during your On-The-Job Training in Germany.)
18 to 30 years old

At least high school graduate

With or without work experience

Willing to learn to speak up to B2 Level German Language

If degree holder, preferably on any of the fields mentioned below;
IT Specialists

Nurses (without experience, under board & undergraduates)

Caregivers

Engineers

Hospitality Courses Graduates/HRM

Automotive Workers

Business Administration

Food Production

Economics

Logistics/Warehouse Logistics Specialist

Vehicle mechatronic engineer

Retail trader

Industrial Technician

Electrician

Installation Mechanic

Salesman and Saleswoman

Wholesale & export Trader

Chef

Medical & Dental Assistant

Office Clerk

Industrial Manager

Hairdresser

Office Communication Clerk

Shop Assistant

Bank Clerk
Moreover, they also offer visa assistance for Au Pairs and to those who want to acquire a Fiancé Visa, Student Visa or a Family Reunion Visa.
For more details and other inquiries, contact BNAC Language Center CDO with the address and numbers below:
E-mail: luchella@bnac.com.ph
Telephone #: (088) 880-5488
Mobile #: 0917-603-7450
(Ask for Ms. Luchella Pasion)
You can also visit their Facebook page: facebook.com/BNACLanguageCenterCDO and website: https://bnacedu.com/