25 Aug

Feature Article: Great White Water Tours – Putting Cagayan River Rafting on the Tourism Map with their Extraordinary Water Adventure and Safest River Rafting in the Philippines

It All Started in 2006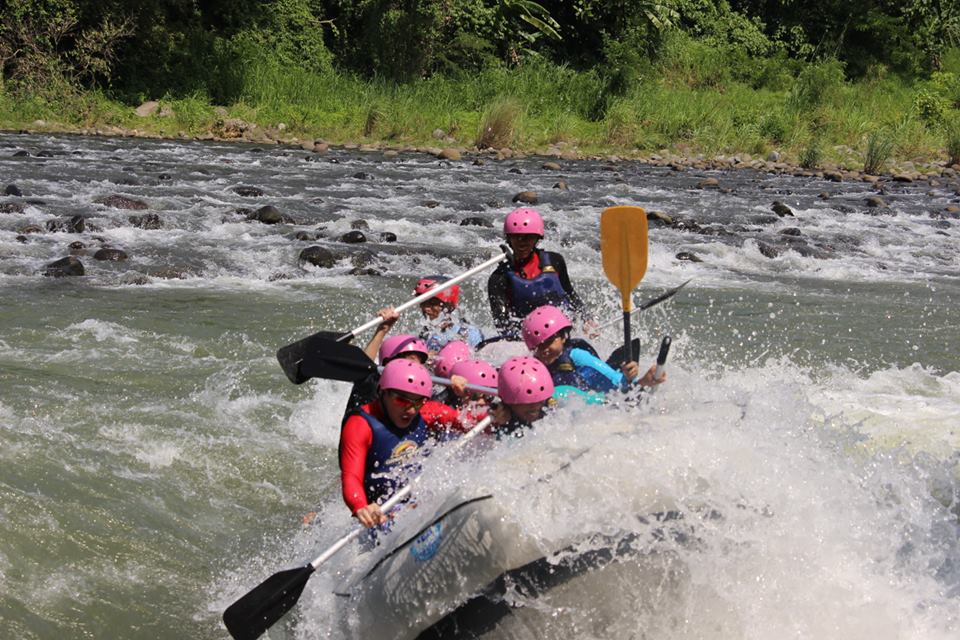 Great White Water Tours is one of the first rafting outfits to open in Cagayan de Oro. Although two others had taken advantage of the potential for rafting on the Cagayan River, the proprietors saw the need to improve river rafting in terms of facilities, services, safety equipment, and guides.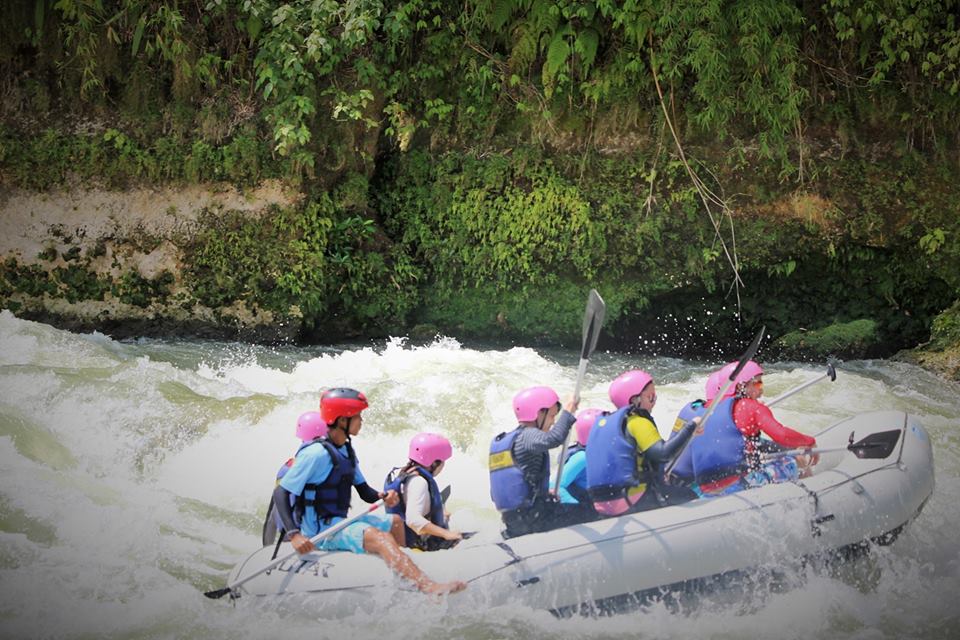 With the present crop of rafting companies in Cagayan de Oro, Great White Water Tours stand out because they truly invest in rafting safety equipment purchased from top brands in the U.S.A. They would rather invest in quality safety equipment than compromise with cheaper alternative brands that may not sit well with the rafting client's safety. In fact all their equipment are all from top quality brands rather than cheaper "made in China" alternatives that may compromise safety.
In terms of innovation, Great White Water Tours is the first rafting outfit to introduce a mobile-friendly website for rafting services in Cagayan de Oro for purposes of online booking or inquiries.
The Great White Water Master
Great White is owned and operated by Mr. Christian "Bimbo" Uy, a management graduate from De La Salle University. It's no surprise that Bimbo loves rafting since he is into extreme sports like cycling, marathons, and triathlon. He was in fact one of the participants in the recently concluded IRONMAN 70.3 in Cebu. His wife, Roxanne Paras-Uy helps run the business.
The River Rafting Experience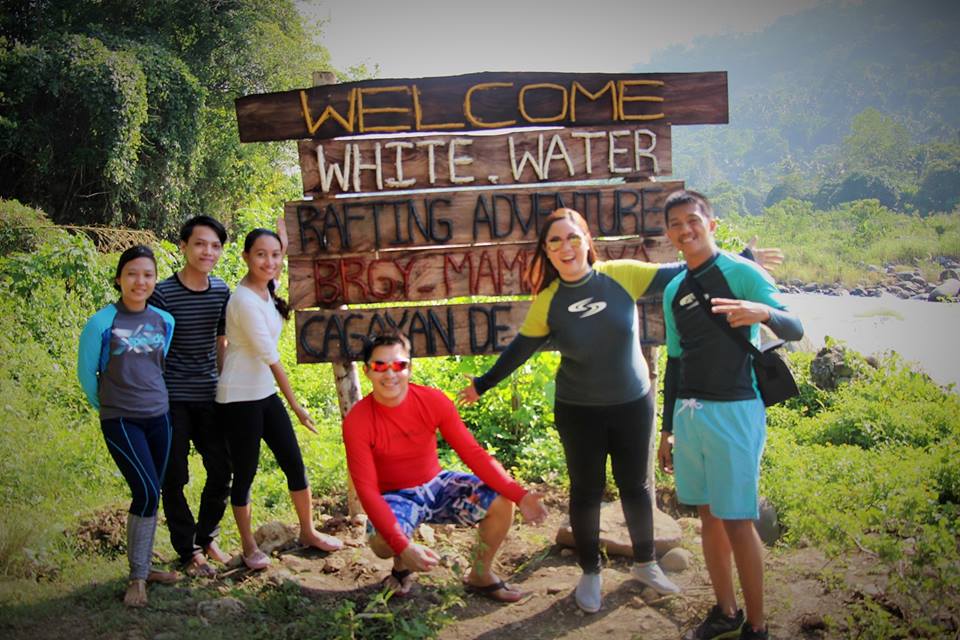 Short Course – Lasts up to 3 hours; starting point is from Mambuaya and ends at Cabula; P900 per person including free meal and snack.
Long Course – Lasts up to 5 hours; starting point is at the Uguiaban Bridge and ends at Cabula; P1,200 per person including free meal and snack.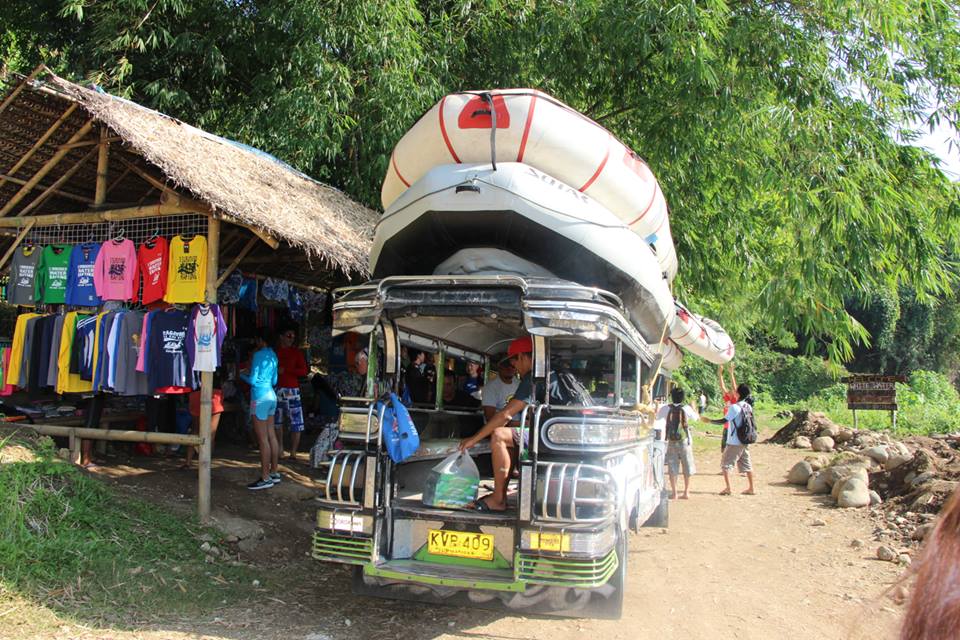 There are two trips during the day; the morning rafting starts at 7:00 a.m. while the afternoon trip starts at 1:00 p.m.
Rafting participants from outside the city may be picked up from their hotel so long as it is located in the city proper. Locals go to a pre-arranged pick-up center at the Limketkai Center. Foreign and local tourists may also opt for the pre-arranged pick-up area.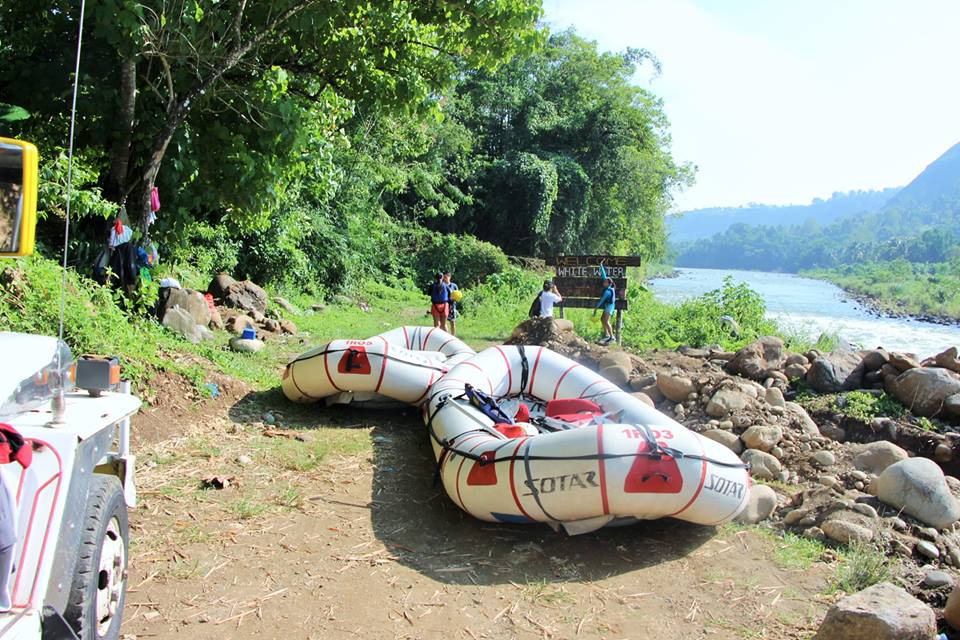 Once at the launching point, the guides give a detailed 10-15 minute safety briefing on what to do, what to expect, what not to do during the river rafting trip. This includes explaining all the safety equipment and measures involved during the experience. As the rafts are launched at a starting point with calm waters, participants get to practice paddling for about 5 minutes. In a team of 7 participants, only 4 will be allowed to paddle while the rest hold on to the raft's safety grab lines. A minimum of 5 participants in a raft is needed, with 7 being the maximum.
Rates are based on what is known as "industry rates" and is the average standard pricing for all rafting outfits in Cagayan de Oro. River rafting rates here are the actually the most affordable in the whole Philippines and in the entire globe for that matter. River rafting rates in other parts of the country and in other countries usually charge double as compared to CDO rates. The multi-person rubber safety rafts used can normally sit 10 persons. For safety reasons, only a team of 7 clients are ridden on the rafts since there will always be two rafting guides at the rear portion. There is no compromise to this as two guides are guaranteed by the rafting company for all intents and purposes of maximum safety. And for every two river rafts, a guide riding in a kayak always rides as an escort.
Naturally, the company disallows pregnant women (at any stage of the pregnancy), those with extreme back or spinal conditions, those with extreme high blood and hypertension conditions, and persons with a history of myocardial infarction. The age limit for children is set at 4 or 5 years old, depending on the child's physique so long as they fit into the life vest. There is no maximum age limit, but senior citizens will be quizzed for any permanent ailments that may hamper their safety during the rafting trip.
About Cagayan de Oro Team Had an Amazing Great White Water Experience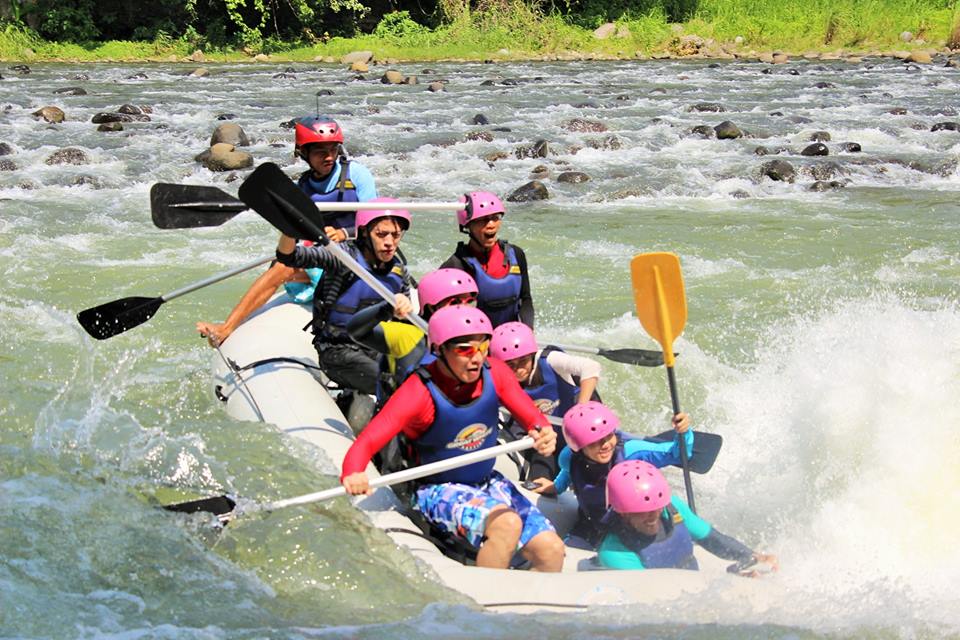 To be called a certified Kagay-anon, you must be able to experience white water rafting in Cagayan de Oro. And white water rafting we did, thanks to Mr. Bimbo Uy, Ms. Irene Aserios and the entire team of Great White Water Tours.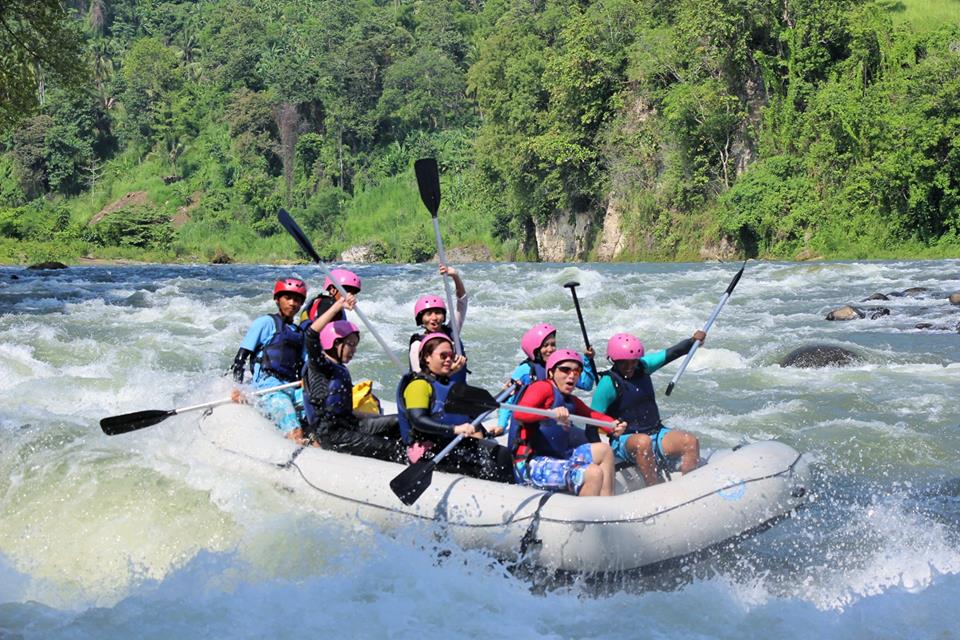 We are so thankful for being able to experience this one of a kind, heart-pumping water adventure! Now we know why it is indeed something that must not be skipped when you're in CDO. Even celebrities and foreigners come to the city just to be able to experience the Great White Water Tours water adventure!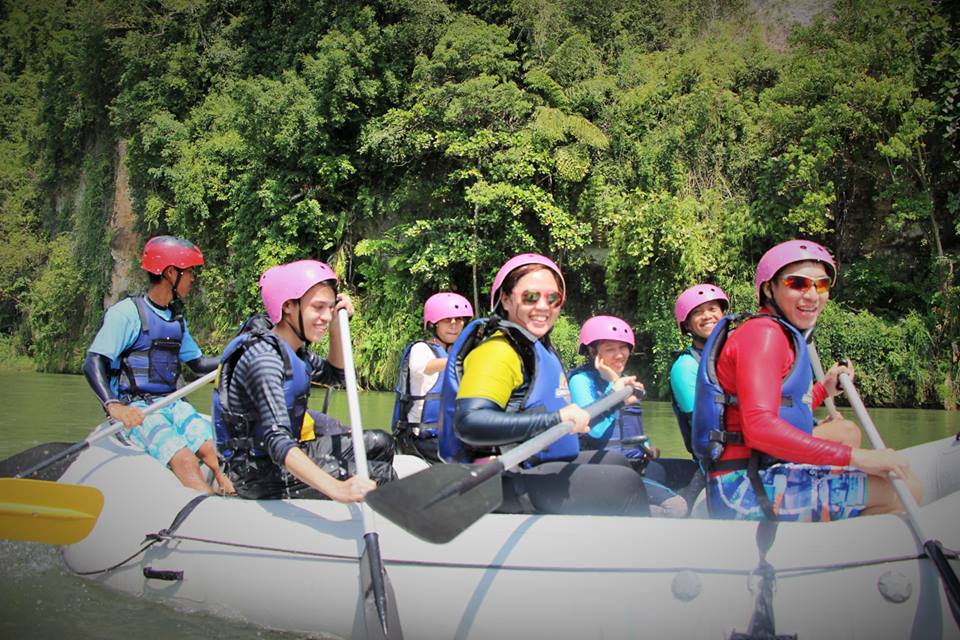 Let me describe how our trip went from the moment we met-up with their team in the morning til the end of our trip:
We met our jeepney ride at around 6:30 – 7:30 at McDonalds Divisoria which was supposedly at McDonalds main branch, Limketkai.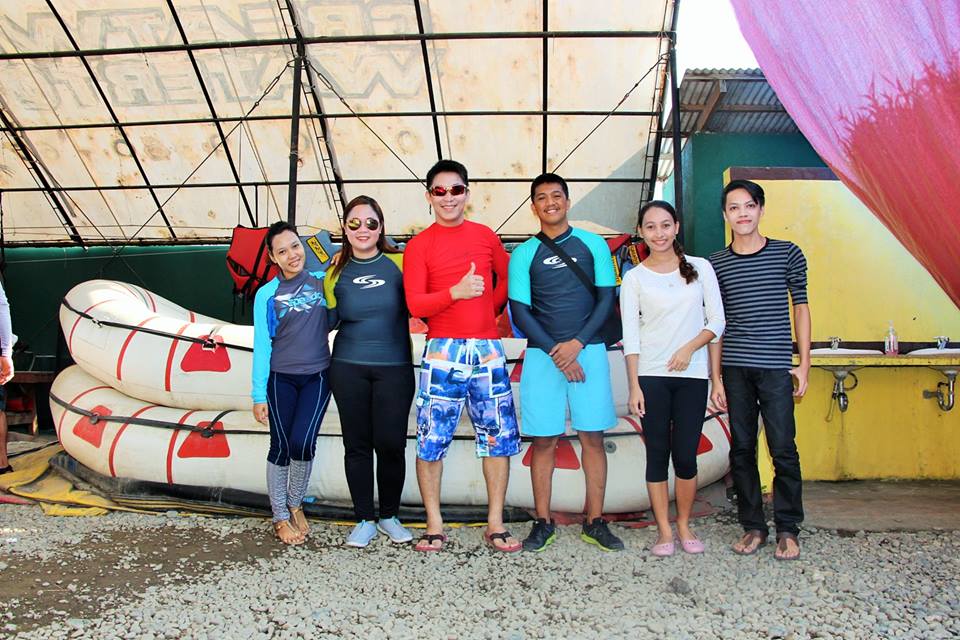 The ride took at least 30 minutes before we got to the Great White Water Tours office where we dropped off our things, signed waivers for us and our cameras. Once we're all set, we rode again for another 30  minutes til we arrived at the rafting site.
At the site, we were made to wear our safety gear, life vests, helmets and were given an orientation on how to go about the rafting trip, we were taught the commands and how to do paddling. We were also given some safety tips in case we fall off the raft.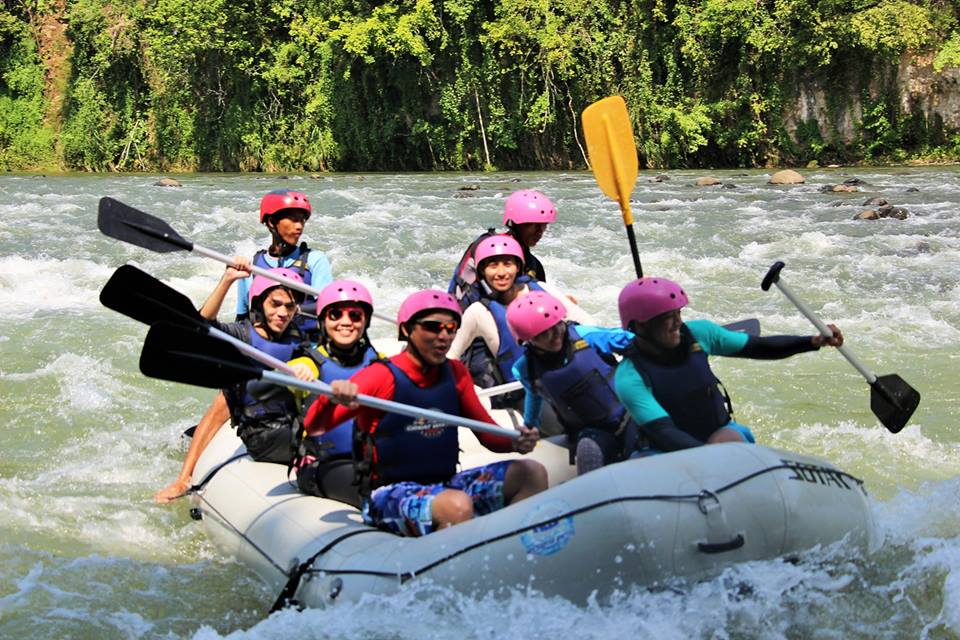 Our guide led us to our raft and directed us to our seating. Then the excitement began as we took off and came across the first rapid! My, it was as if our hearts skipped a beat at that particular moment!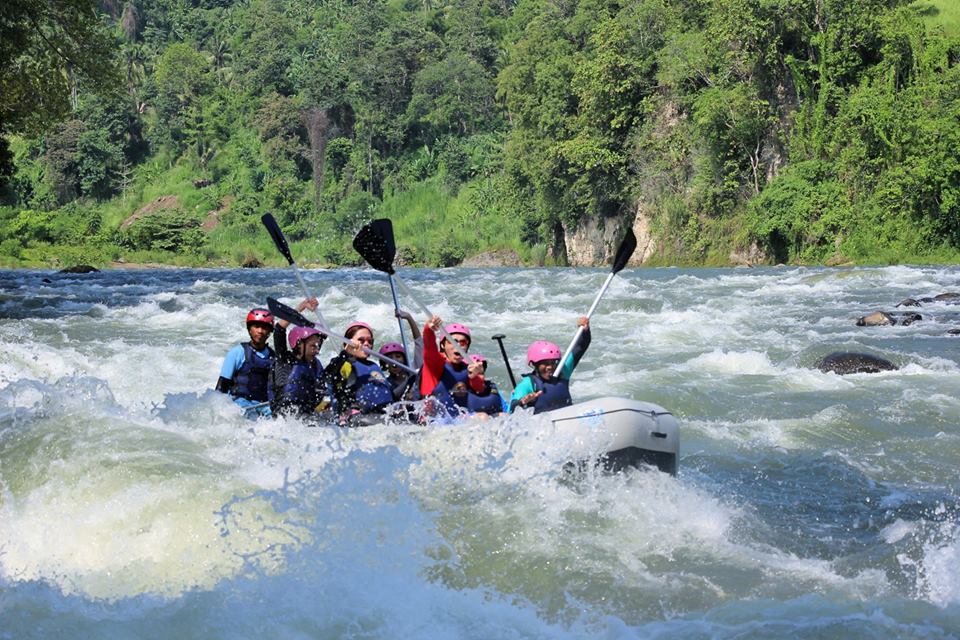 Each time we're about to come across a rapid, our guide "Kuya Dodong" would tell us the name of the rapid and who fell on that rapid, it's as if teasing us and to add to the thrill of the ride.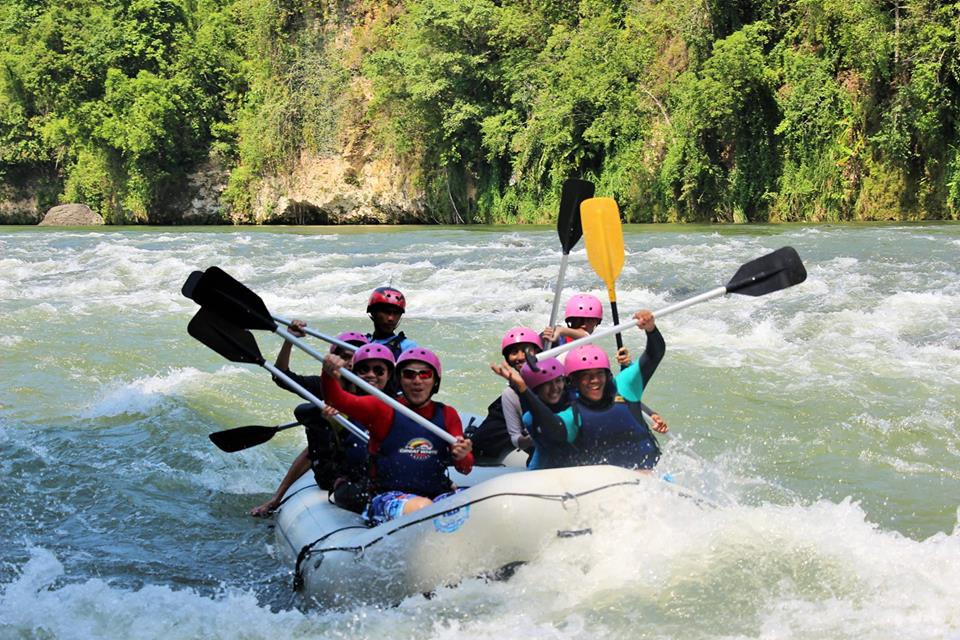 We paddled as hard as we can but were not able to hold on to our paddles whenever a strong rapid came upon us. We had no choice but to hold on to the rafts to protect ourselves and avoid falling off. So the guide reminded us that this sport requires teamwork and that we just had to paddle whenever told no matter how strong the rapids get. That's one lesson we learned and will never forget.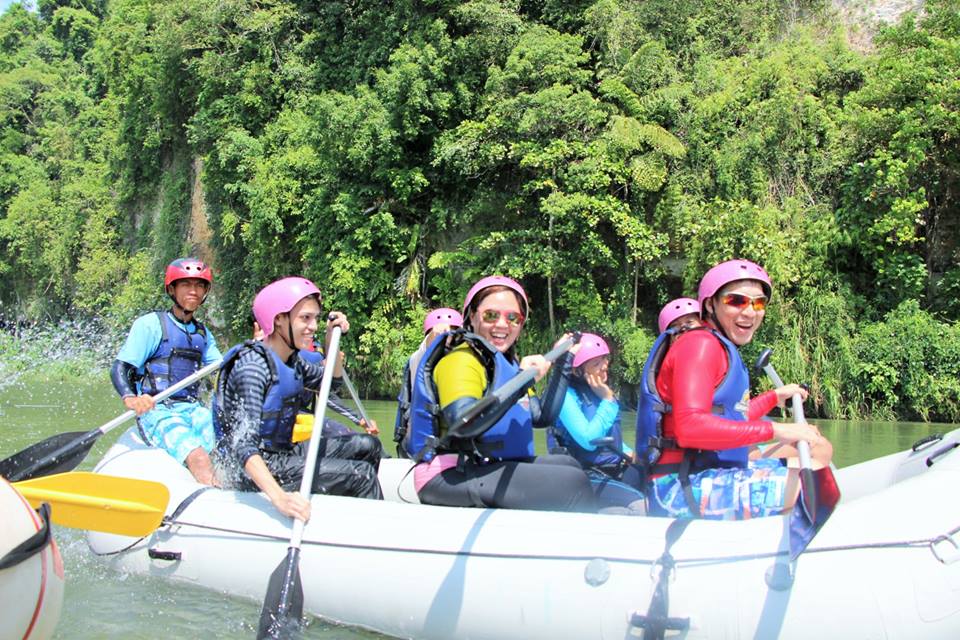 Our awesome and cool guide Kuya Dodong told us plenty of jokes so as to make us feel relaxed during the trip and to make it more fun. He even gave us a few historical facts about the corals, the stones, the Snake Wall, the difference of the rapids before and now, the hanging bridge, etc.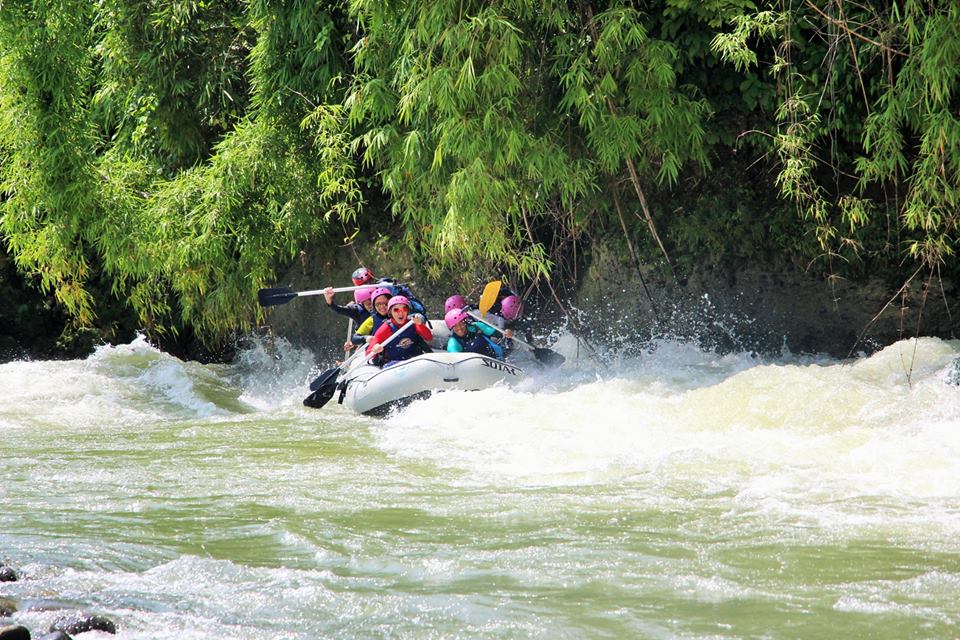 We had plenty of unexpected moments throughout the trip cause there were exhibition stunts that Kuya Dodong made us experience like the one we were all made to move at the back part of our raft and bumped into a huge stone, it was like a roller-coaster ride! Another one was the "stand-on-the-raft" exhibition stunt. That was really exciting cause we were standing on the raft while passing through a strong rapid! We really felt the adrenaline rush at that time!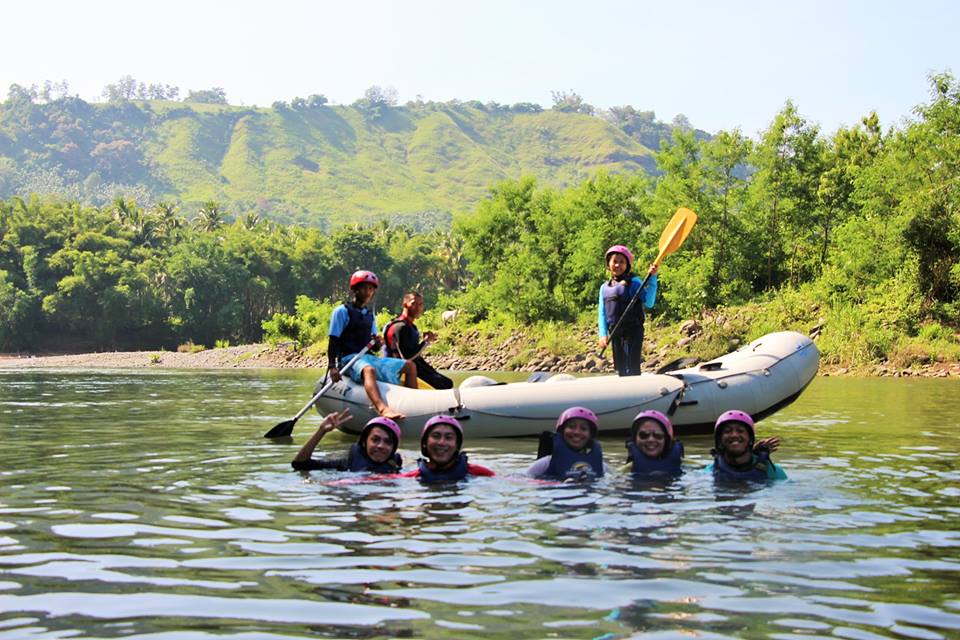 Our favorite part was when we came by still waters, Kuya Dodong allowed us to enjoy the water and go swimming. I was really amazed about how safe my life vest was cause when I fell off the water, I immediately rose up just around 5 seconds after falling. The guide has an easy pull-up method to bring us back to the raft so coming back was not a problem for us.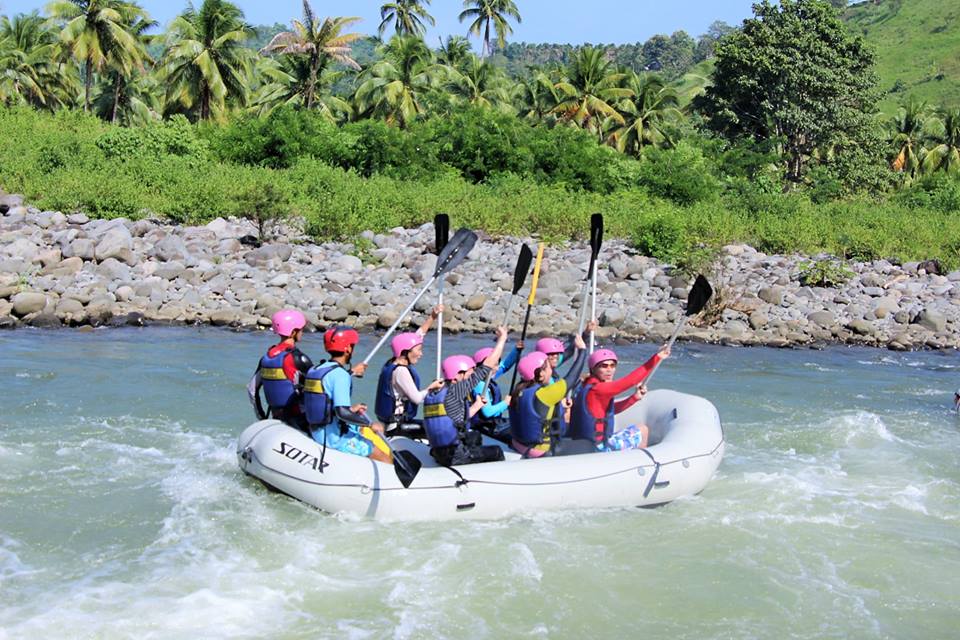 For every rapid we successfully came across, the guide made us scream "Ahoo!" to acknowledge our accomplishment of what we went through. It was like congratulating each other for a job well done.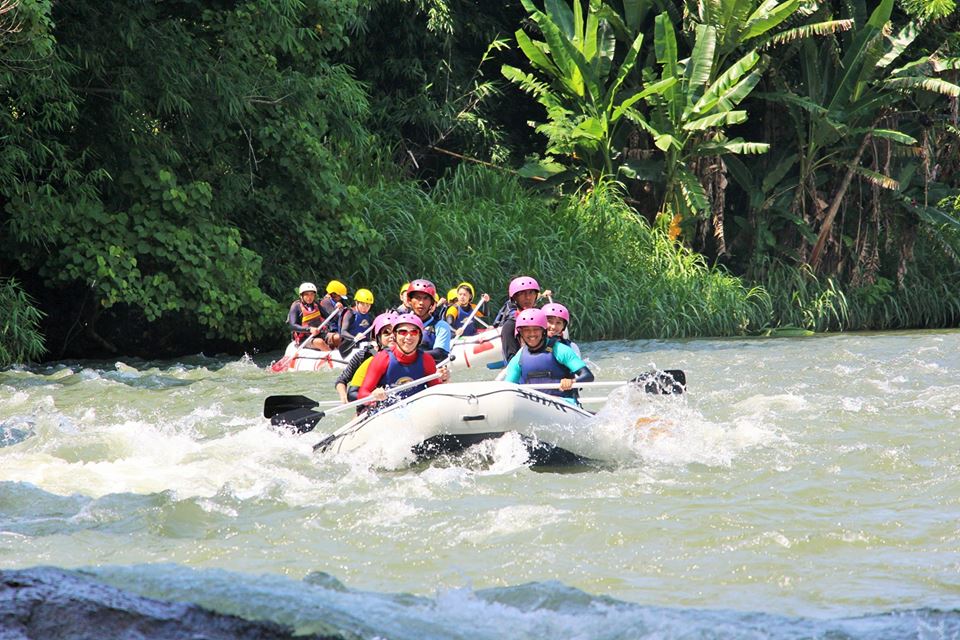 At the middle of the ride, we were provided with delicious snacks and drinks. We were able to enjoy the view and the beauty of nature in the entire trip. The camaraderie of our team and amazing guide is one of the best things of our trip. Most especially the whole rafting experience. It was really priceless, the experience is something very unforgettable for us.
When our rafting trip was about to close, we thanked our guide and were so happy to have been able to survive the rapids. Upon reaching the shore, we took pictures with our guide and our team then rode the jeepney back to the Great White Water Tours office where we changed clothes, bought some souvenirs and had a delicious grilled lunch.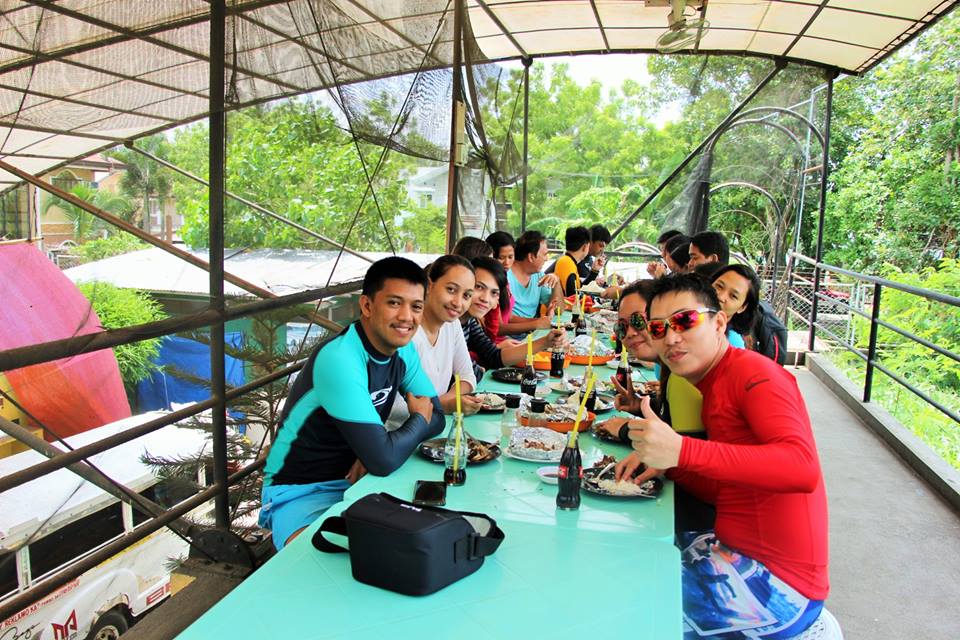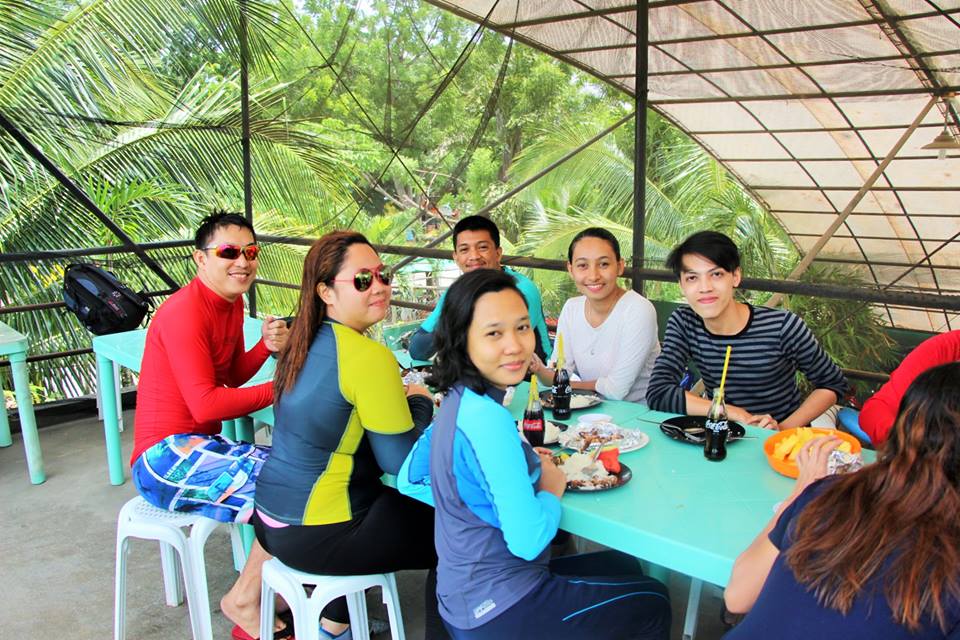 We took our final ride back to the city with the experience permanently etched in our hearts and minds. It was definitely a marvelous ride!
Acadeo Team Testimonials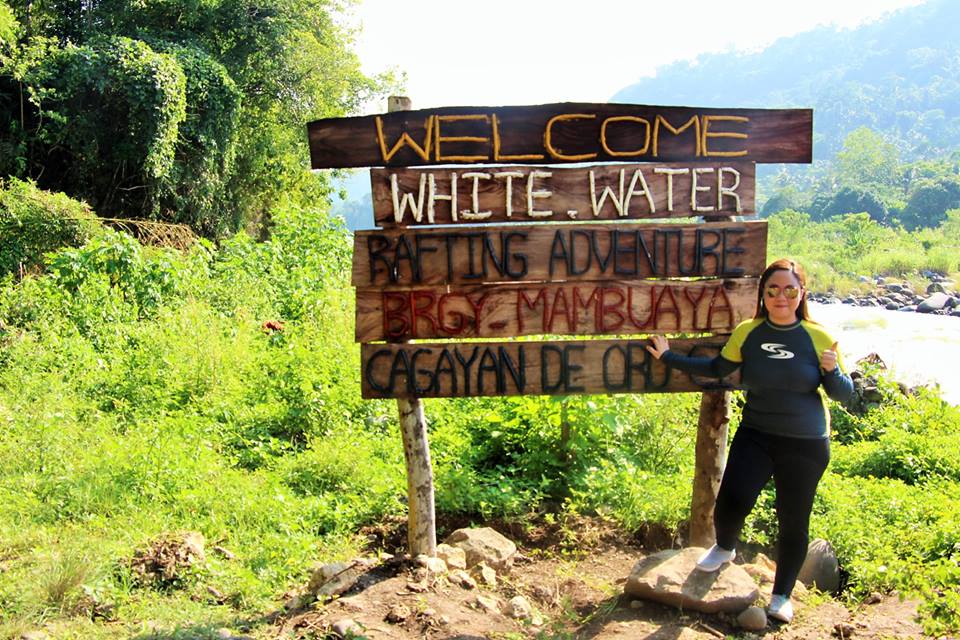 KC Curay – "What an incredible experience! I still couldn't believe I was able to survive that. I've always been afraid of the water cause I drowned in a water falls when I was little, but when I experienced water rafting, everything changed! I wanna do it again. The rafting trip was so fun, challenging, exciting and there were plenty of emotions I could not explain. Overall, it was one hell of a roller-coaster ride that was thrilling and amazing at the same time! Once you've tried it, you can really call yourself a bad-ass gal! I highly recommend Great White Water Tours because they always prioritize safety, have extraordinary guides and they make sure their clients end up happy and satisfied. I give you two thumbs up!"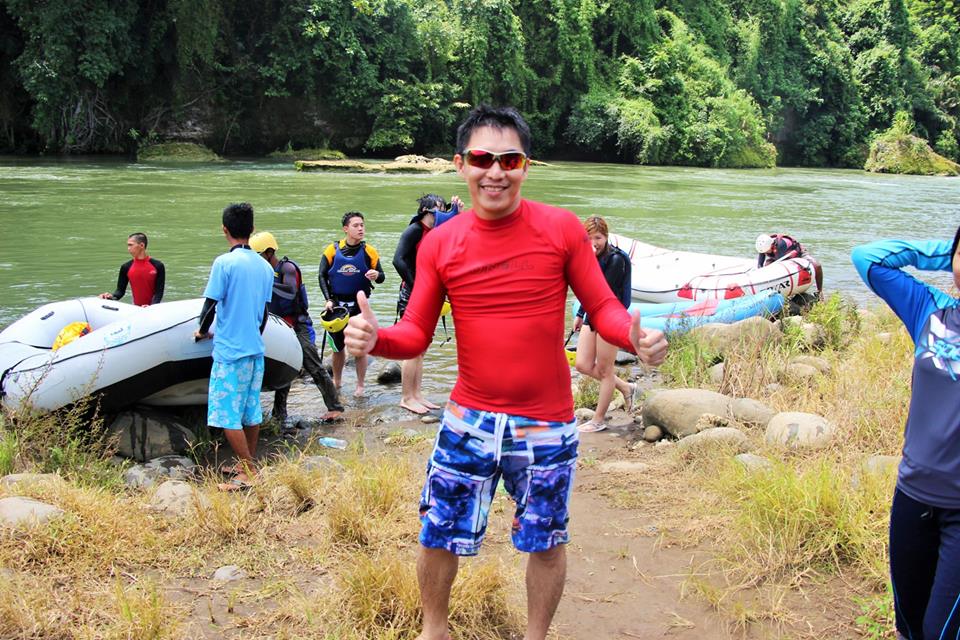 Alvin Curay – "Words can't describe how I feel. I've always been a daredevil and always love to try new, extreme activities but white water rafting gave me a new high. It gave a whole new meaning to thrill-ride, heart-pumping action which one can never forget."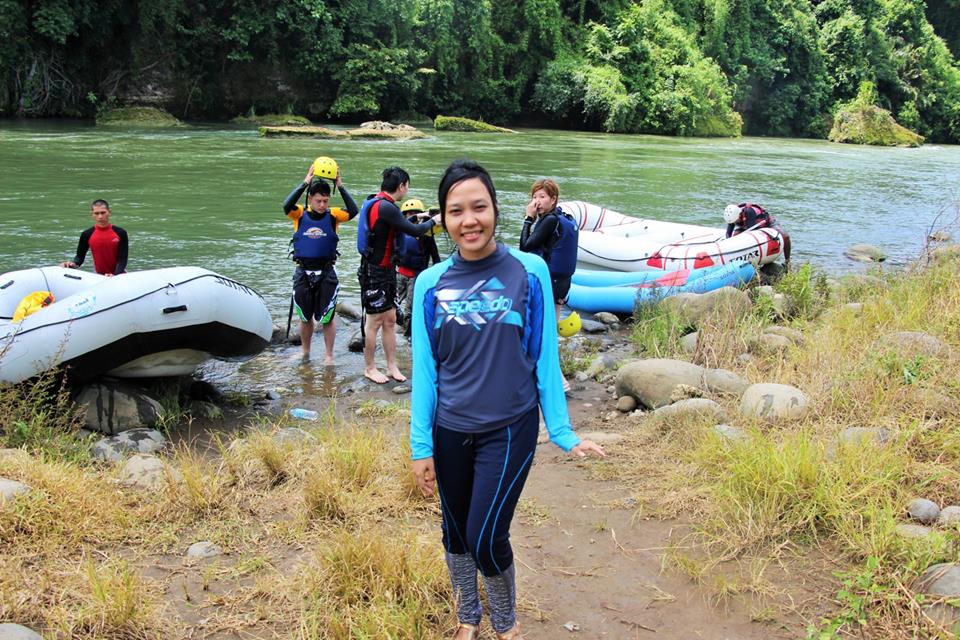 Yani Lea Briones – "I was really nervous when I stepped inside the raft but as soon as we went through the first rapids, the tension instantly turned into an adventurous and accomplished feeling! I was wondering my whole life how it feels to go white water rafting, Great White Water Tours provided me the answer. This kind of adventure is safe, fun and leaves you an awesome feeling you will hold dearly."
Jeffrey Badal – "At first, I was really tensed. But as we came to the actual experience, I really enjoyed it a lot. Meeting new people that you get to enjoy the ride with, funny tour guides, challenging rapids, and enjoyable still waters that you can jump out of the raft, swim freely (thanks to the life vest) and feel the refreshing coolness of the water and the beautiful scenery around. I will never forget this once in a lifetime adventure in my entire life. Thank you Great White Water Tours and About Cagayan de Oro for the opportunity. Thanks!"
Nicole Javier – "My experience with Great White Water Rafting Tours was truly satisfying and mesmerizing to the point that I will really love to go back and invite my family and friends. Honestly, as a first-timer, I was really afraid but as I tried to conquer my fear, it turned out to be the best adventure I've encountered in my whole life. I really enjoyed the nature's view, the splash of the water, the swimming time, and of course their service precisely to our guide (Kuya Dodong) as he made us laugh our hearts out and let us try some exciting exhibitions. We really appreciate his efforts reassuring that there will be a consistency of fun and feel safe at the same time. Thank you and more power to Great White Water Rafting Tours! 'Till next time! Cheers! :)"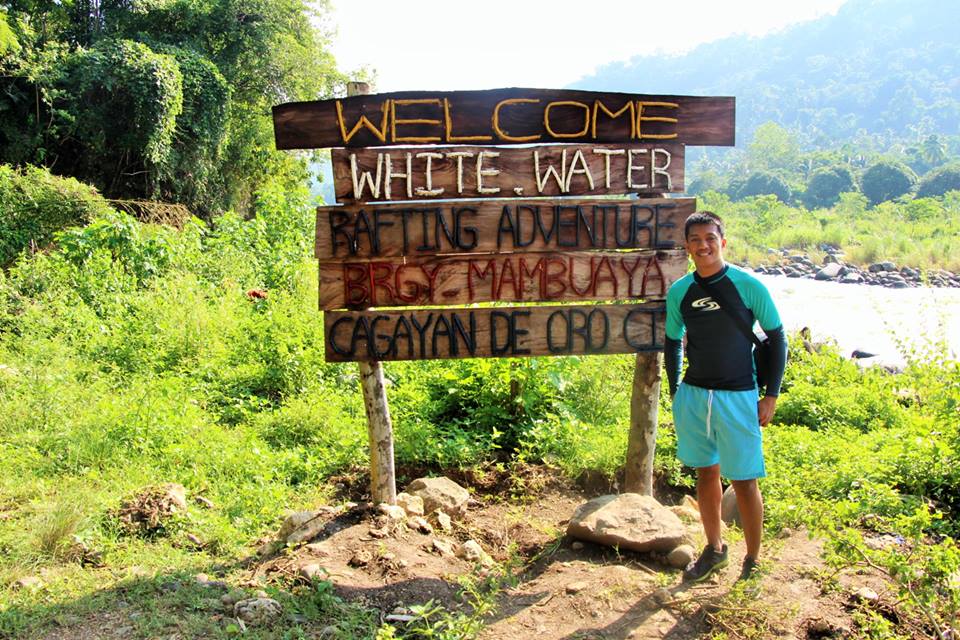 Victor Naive – "Thanks guys for the awesome and breathtaking rafting experience.It was my first time by the way. I had fun. I love the weather. I would definitely come back for more."
The Rafting Guides
All the rafting guides at Great White Water Tours stand out because they are only recruited from families who live along the Cagayan River and know the "lay of the land" like the back of their hand. This practically translates to maximum safety since these guides know every inch of the river and land area. Of course all guides still undergo the process of training and certification from the Department of Tourism and accreditation from the Philippine Red Cross. All guides also undergo a mandatory annual refresher course. Great White Water guides can handle an average of around 100 participants on a single trip. Though not often, it does happen especially during corporate team building events. The largest number the company handled to date in a single day was 200 participants.
Promos and Events
Great White Water Tours is one of the organizers for the first ever Rafthon 2015 as part of the Higalaay Festival this year. This will be the first ever competition in the whole world that involves rafting, marathon, and biking; a triathlon-like event of sorts except white water rafting takes the place of swimming and it is a team event rather than an individual event.
They have an ongoing promo called 5 + 1 wherein a group of six participants gets to pay for only five, and this covers both the short and long courses. They also have a Rafting + Zip Package wherein you get to do rafting in the morning and then ziplines in the afternoon at the Dahilayan Nature Park.
For the Future
Hopefully upon the approval of the City Tourism Office, a much advanced rafting course lasting more than 5 hours mainly for experienced rafters, especially for those from other countries, may be offered. The target for this to come to fruition should be around next year.
In the coming years, Great White Water Tours is hoping to make a bidding to host the regularly held World Rafting Championship, and international white water rafting event. They are also hoping that the city government and the Department of Tourism can pitch in for the bidding process since this international event will have considerable costs. On the other hand, the city is more than capable of handling the influx of participants and tourists given the more than adequate number of hotels and tourist facilities now operating in the city.
Many foreign tourists who have experienced river rafting in their own countries and in others regularly state that the white water rafting experience in the Cagayan River is definitely world class. In fact, everyone who has experienced white water rafting often say that "you are only a Cagayanon if you experience white water rafting." Perhaps it's time all Cagayanons do so, and with a company known for its high standards in white water rafting. After all, Aga Muhlach, Rowell Santiago, Gloria Macapagal-Arroyo, Julia Montes, and Ryan Bang could never go wrong after experiencing it with Great White Water Tours.
For Inquiries and Bookings
For inquiries or if you want to book your rafting trip with Great White Water Tours, you can visit their website: www.riverraftingcdo.com or go to any Parasat Cable TV office. You may also contact them at: 0916 483 3324 for more information.
Get social with Great White Water Tours by following them on:
Instagram: @riverraftingcdo
Twitter: @cdorafting
Facebook: Facebook.com/riverraftingcdo