30 Aug

The Philippines Just Dumped the Use and Issuance of Hajj Passports Permanently!

On Tuesday, August 30, the issuance and use of the hajj passports has been suspended for Muslim pilgrims in the Philippines.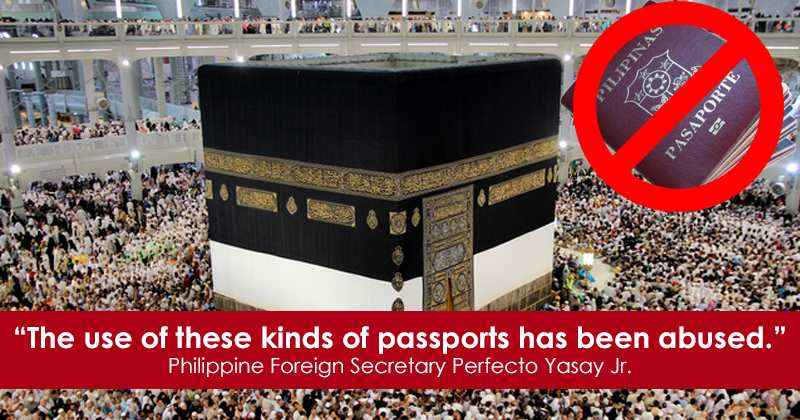 Philippine Foreign Secretary Perfecto Yasay Jr said in a statement, "The use of these kinds of passports has been abused."
This decision has been made after 177 Indonesians had been detained for carrying fake Philippine passports. The passport they've used? Yes, the Hajj passports.
"This has really been the source of these fraudulent transactions and corruption," Yasay said during the congressional budget hearing.
The hajj passport is a special travel document issued to pilgrims to Mecca. In the Philippines where Muslim presence is common, the validation for the applicants on this kind of passport has been "reduced to the barest minimum the requirements for identification, the requirements for proof of Philippine citizenship," said Yasay.
Yet, with this privilege, "the use of these kinds of passports has been abused."
As for the Indonesians, they are now detained. They were caught by the Philippine authorities at the Ninoy Aquino International Airport on August 18, as they attempted to leave for Saudi Arabia to perform the hajj, a mandatory Islamic pilgrimage to Mecca for Muslims.
What alarmed the immigration officials who held their tickets and passports is that they cannot speak any Filipino or Filipino dialect as they are about to check-in into their Philippine Airlines flight.
With the permanent suspension of the Hajj passports in our country, this kind of illegal activity will now be prevented.