25 Oct

Halloween 2016 Events and Promos in Cagayan de Oro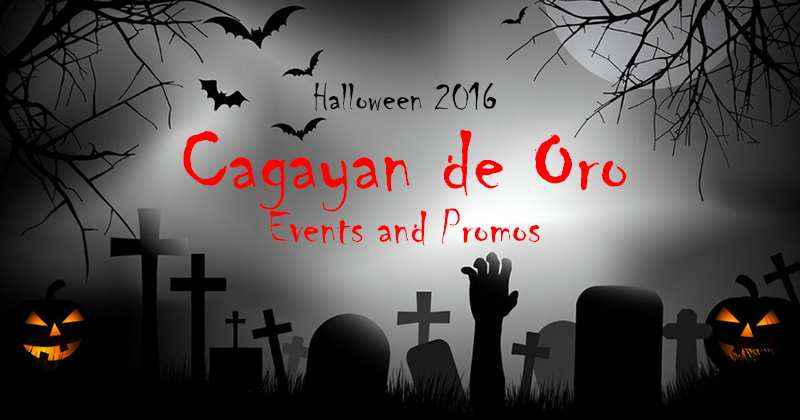 We're on the last week of October, which means Halloween is approaching.
Halloween, which is traditionally celebrated every 31st of October, is part of the three-day observance of Allhallowtide or the triduum encompassing the Western Christian observances together with All Saints' Day (All Hallows') and All Souls' Day. It is the time of the year to remember the dead which includes martyrs, saints, and all faithful departed Christians.
Also, it as a time for trick-or-treating, attending Halloween costume parties, decorating, playing pranks, visiting haunted attractions of horror house booths, carving pumpkins and make them into jack-o\-lanterns, watching horror movies and telling scary stories.
This said day is being celebrated globally, and the Philippines is just one of the countries that actively celebrates it annually.
Since October 1 is a SPECIAL NON-WORKING HOLIDAY, sure the whole Philippines will get themselves dressed for the Halloween parties they'll be attending, prepped up to fill their own trick-or-treat baskets up with sweet chocolates and candies.
Specifically here in Cagayan de Oro, there are some establishments that have organized their own mode of celebrating Halloween. Here are the Halloween 2016 Events and Promos in Cagayan de Oro.
Halloween Trick or Treat Skate Jam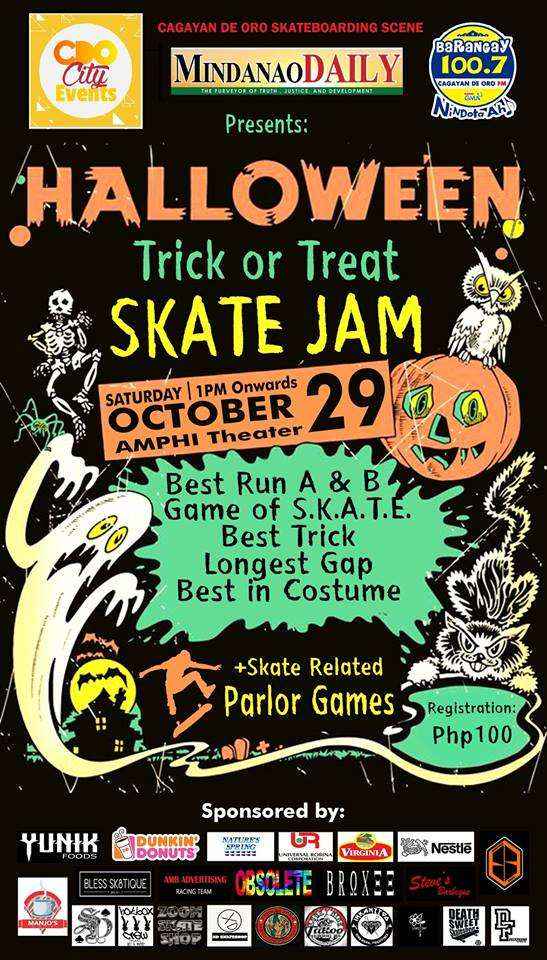 Are you up for a skate jam? See all of the best skaters in the city while dressed in their Halloween costume this coming October 29, 2016, Saturday, 1:00PM onwards at the AMPHI Theater.
There will be skate-related parlor games and best-of-the-best awards such as Best Run A & B, Game of S.K.A.T.E., Best Trick, Longest Gap, Best in Costume.
A registration of P100 is required for you to be able to join the spookiest Skate Jam in Cagayan de Oro.
Spooks and Thrills at SEDA Centrio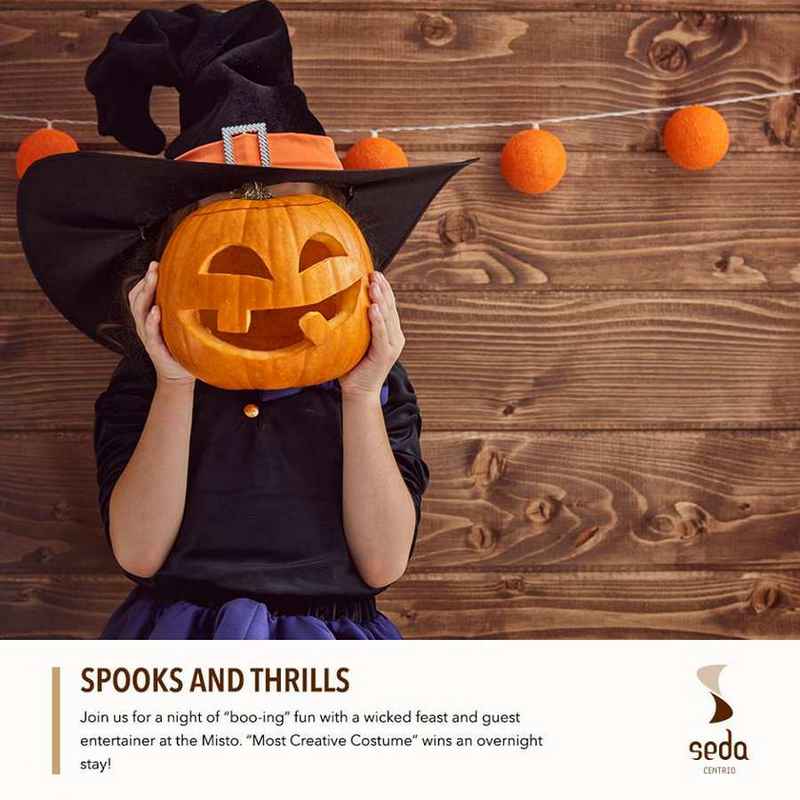 Enjoy a night of "boo-ing" fun while indulging a wicked feast with a guest entertainer at SEDA Centrio.
At night's end, the one with the "Most Creative Costume" will win a prize, and that's an overnight stay!
SEDA's Halloween Dinner Buffet will be on October 29, 2016, Saturday, 6:00PM to 10:00PM at Misto.
Rates are P699 nett per person, P349.50 nett for kids aged 7-12 years old, complimentary for kids aged 6 years and below.
Post Halloween Cat Costume Party at MEOW Resto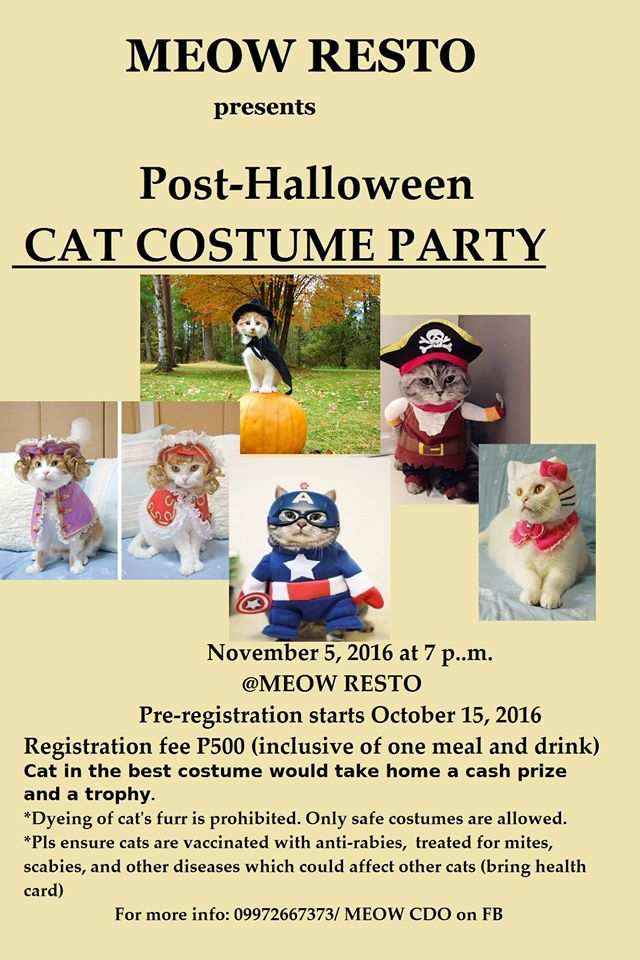 Do you own a cat? Do you think it is ready for Halloween? Then join MEOW Resto's post Halloween Cat Costume Party which will be on November 5, 2016 to start at 7:00PM.
The pre-registration has already started last October 15, 2016 with a fee of P500 inclusive of one meal and drink.
A cash prize and a trophy will be given to the cat with the best costume.
Mechanics:
Dyeing of cat's fur is prohibited allowing only safe costumes.
Please do ensure that your cats are vaccinated with anti-rabies, treated for mites, scabies, and other diseases which could affect other cats (bring health card).
Spooktacular Halloween Party at Stargate Dream Vacation Resort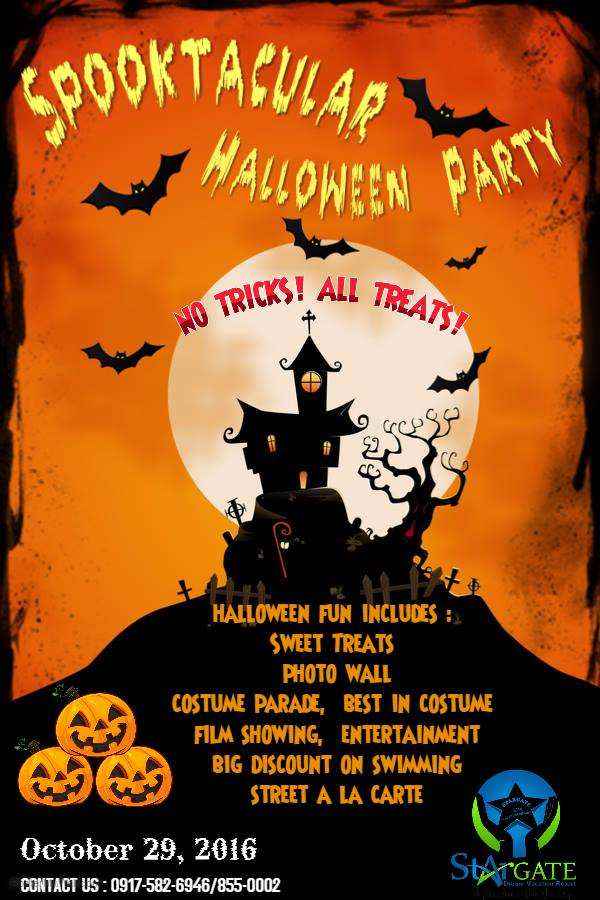 How about spending Halloween at a resort? Stargate Dream Vacation Resort invites you to join their Spooktacular Halloween Party come October 29, 2016. The one with the Best Halloween Costume will become the Halloween Star of the Night, winning an exciting prize.
other Halloween fun includes sweet treats, photo wall, costume parade, film showing, entertainment and street a la carte.
Entrance fee will be at P50 consumable on foods and drinks with pool fee at P100/person instead of P150/person.
Halloween Trick or Treat at SM City Cagayan de Oro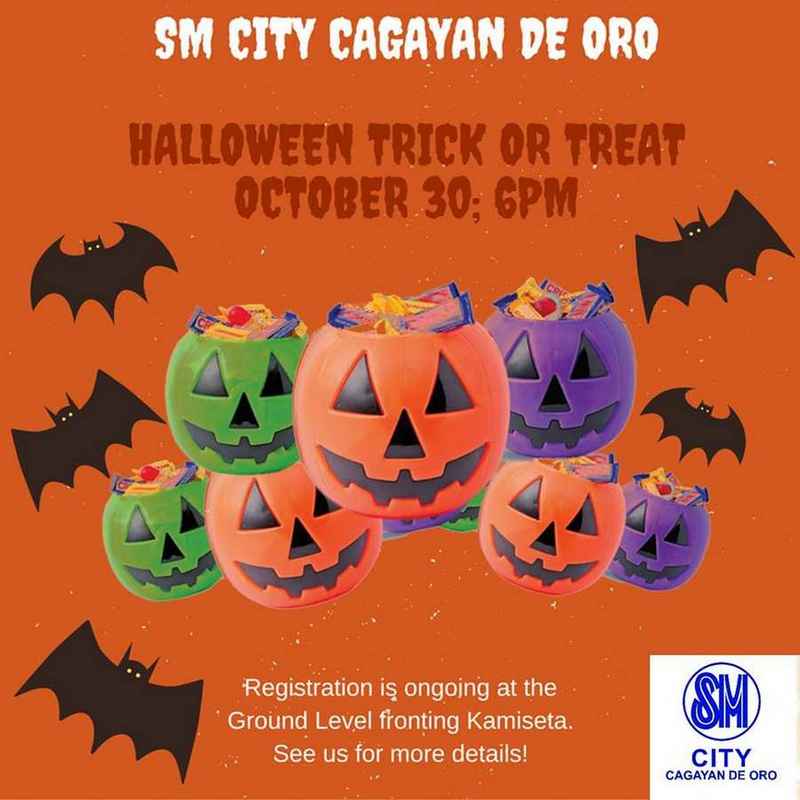 Celebrate the spookiest and wackiest Halloween with SM City Cagayan de Oro and have tons of fun.
Be part of the best Trick or Treat and Halloween Costume Contest this October 30 at 6:00PM. You can register for the Trick or Treat at the registration booth located in front of Kamiseta. Know more details here.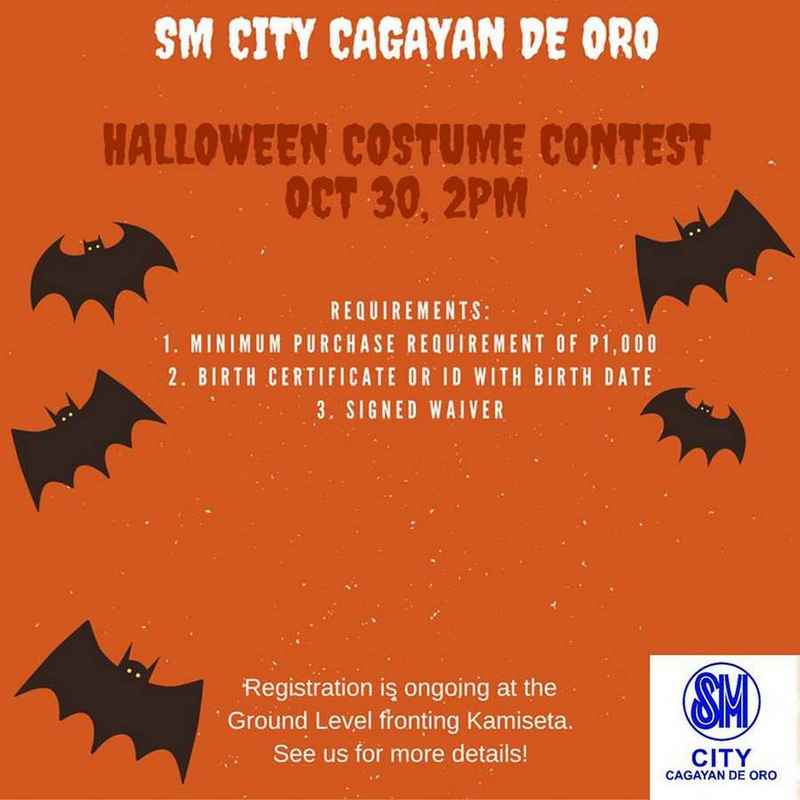 Here's what your 4 to 12-year-old kid needs to prepare for the Halloween Costume Contest which will be on October 30 at 2:00PM.
If you have no time to visit their registration booth, learn more details here and submit the requirements at the ground floor fronting Kamiseta.
Halloween Rafting Promo by 1st Rafting Adventure
How about water rafting? Enjoy 6+1 FREE pax promo only for November 1 and 2 from 1st Rafting Adventure.
For bookings and reservations, you can call 09173255544 or (088) 856-3514.
Dino Quest Halloween at Ayala Centrio Mall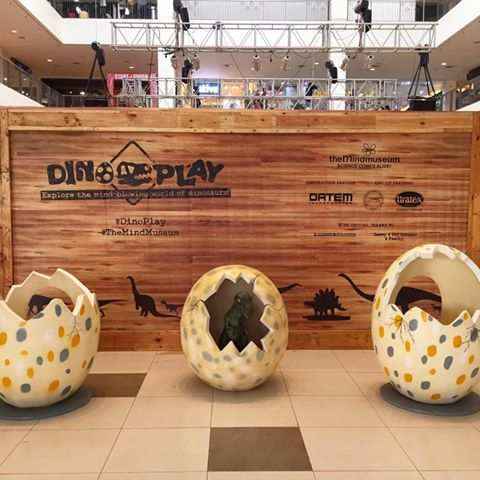 Bring your whole family and together, explore the awesome world of dinosaurs in an exhibition filled with hands-on activities for young kids and kids-at-heart. Enjoy digging fro dinosaur bones, examine real fossil remains and you can even make your own dino fossils, and many other activities. Starting on October 25, 2016, it will run until November 3, 2016 at the Activity Center. Entrance fee is FREE but the access will be on a first come first-serve basis.
And on October 30 is the Dino Quest Halloween, 10:00AM to 5:00PM at the Activity Center. It will be a whole day of fun dino-inspired activities with take-home souvenirs, games, and cool talks by The Mind Museum resident scientists.
In order to get a pass, be one of the first 250 shoppers to present P1000 single receipt purchase dated October 24-30, 2016 from any Centrio Mall store. the entrance pass will give you access to the Dino Quest Halloween activity plus a free lootbag, happening on October 30, 2016, 10:00AM to 5:00PM at the Activity Center.
One single receipt is to one child and one guardian only. This is open to kids from ages 3-12 years old.
Bandihadong Wakwak from Boy Zugba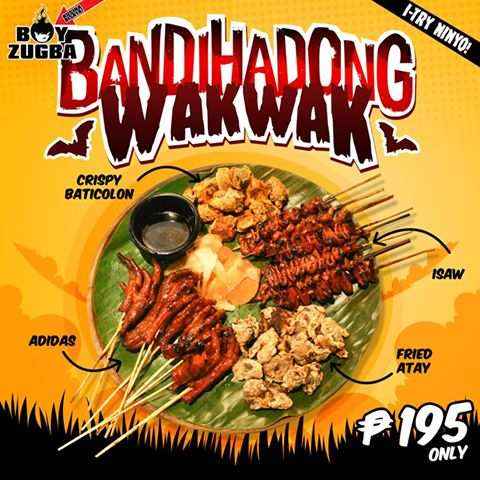 Just right for Halloween is Boy Zugba's Bandihadong Wakwak. A dish which is composed of fried atay, crispy baticolon, adidas, and isaw.
This is already good for sharing. Only for P195.
These are just few of the events and fun activities happening this Halloween Season in Cagayan de Oro. Choose from the list above which suits your personality and which is cool for the gang! We are sure that these will give you a spooky yet a memorable Halloween. But most of all, let's take time to honor our beloved departed family or friends by offering them prayers.