08 Aug

Hidilyn Diaz Wins Silver Medal in Women's Weightlifting, the First Philippine Olympic Medal in 20 Years!

On August 8, Monday, for the first time in 20 years, the Philippines got its first Olympic medal, thanks to Hidilyn Diaz who grabbed a silver medal in the women's 53-kg weightlifting division of the 2016 Rio Olympics in Brazil.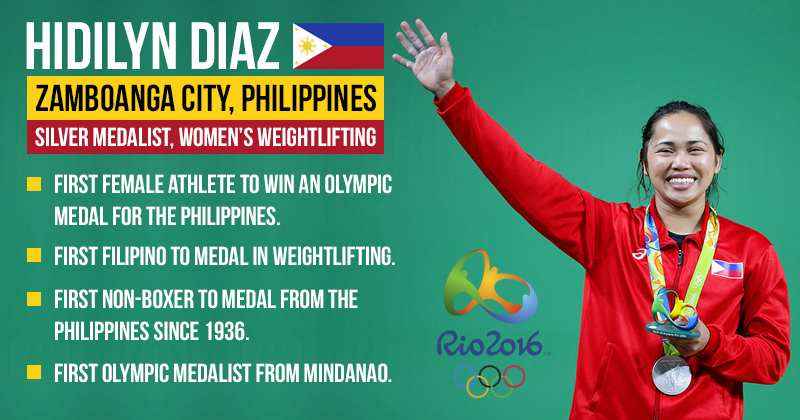 Diaz is a native from Zamboanga City, and having this medal tagged under her name, she is now officially the first female athlete to win an Olympic medal for the Philippines. She was also the first Filipino to medal in weightlifting, the first non-boxer to medal from the Philippines since 1936, and the first Olympic medalist from Mindanao.
Diaz recorded a total weight of 200 kg and got the silver medal, edging out Korea's Yoon Jin Hee, who took the bronze with 199 kg. Above them all is Hsu Shu-Ching of Chinese-Taipei who got the Gold medal, recording a total weight of 212.
In the first event, the snatch event, Diaz lifts only one out of three attempts and tallied just 88 kg for the sixth place.
On the clean and jerk lift, Diaz recovered marvelously; lifting 111 kg and then 112 kg on the second attempt, but failed to secure the 117 kg on her third attempt.
China's Li Yajun is the favorite to win the Gold after her impressive performance in the snatch event but failed to perform at the same level in the clean and jerk lift.
Prior to Diaz's journey in Rio, she trained and maintained proper diet and body conditioning in China for 58 days in preparation for the event.
The win did not only come with raw talent but with passion and full determination that she can grab the medal she aimed to have.
Diaz is now planning to accept the scholarship at Lindenwood University in Missouri, USA, and decided to leave the Air Force.
The last medal that the Philippines have nabbed in the Olympics is way back in 1996 when Mansueto "Onyok" Velasco got a silver medal in the men's 48 kg. light-flyweight boxing category at the 1996 Summer Olympics in Atlanta.