29 Aug

The 3-Hour Hostage Drama During Cagayan de Oro City's Fiesta Celebration

On Sunday, August 28, at the height of the Fiesta Celebration in Cagayan de Oro City, a 3-hour hostage drama happened in the Misamis Oriental Provincial Jail as Jomar Itong of Cabanglasan, Bukidnon, has been killed by a member of the Special Weapon and Tactics (SWAT) team after he started the hostage situation and attempting to stab his hostage who is known to be Vicente Libona.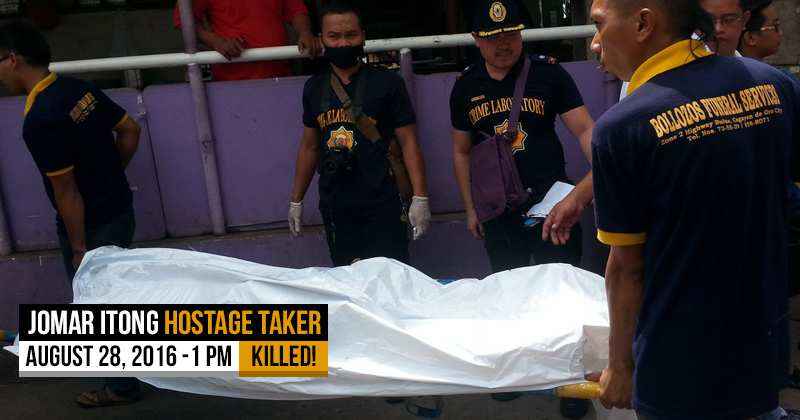 The hostage situation started at 10 am in the morning and ended at 1pm in the afternoon. Based on a statement by City Police Director Superintendent Ronnie Francis Cariaga, Itong died with multiple gunshots in his body. The suspect has been fired four times after he tried to stab Libona when the police break their way inside the jail compound.
According to Cariaga, "Itong was showing emotional stress and had become unreasonable. When our policemen entered the compound, he started hurting Libona."
Libona also shared the story about Itong's emotional problem. He said, "He asked that his parents and brothers should visit him. He was agitated last Saturday night."
Prior to the hostage drama, Libona found Itong planning to electrocute his fellow inmates using a live wire. Fortunately, Libona successfully persuaded Itong to stop it.
Libona did not expect what happened next. He said, "All of a sudden he grabbed me and pointed to my chest two improvised weapons that he fashioned into knives from the clothes hanger."
As the hostage drama continued, Itong started to stab Libona multiple times. This alarmed the policemen and forced them to enter the compound.
Though they are instructed not to hurt Itong and to carry pistols only, not high-powered firearms, the situation demands them to fire gunshots to Itong. If they let the stabbing continue, Libona might be killed.
Libona sustained chest wounds, while Itong has been killed due to multiple gunshots.