14 May

House Committee OKs Bill Giving Provisional Franchise To ABS-CBN Until October 2020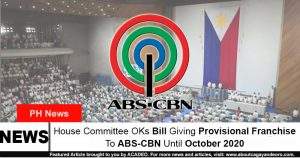 Mga higala! The House of Representatives Committee of the Whole has approved House Bill No. 6732, a bill that gives ABS-CBN a provisional franchise until October 31, 2020.
This bill, named "An Act Granting the ABS-CBN Corporation A Franchise to Construct, Install, Operate and Maintain Radio and Television Broadcasting Stations in the Philippines, and For Other Purposes", was filed by House Speaker Alan Peter Cayetano and other lawmakers.
"Through this measure, we hope to strike a balance between the immediate needs of the people amid this crisis and the duty of Congress to ensure accountability to our present laws."
For more details:
https://news.abs-cbn.com/news/05/13/20/speaker-cayetano-files-bill-giving-abs-cbn-provisional-franchise-until-october