24 Jun

Ichini Yusoph to Host Modern Calligraphy Workshops in Cagayan de Oro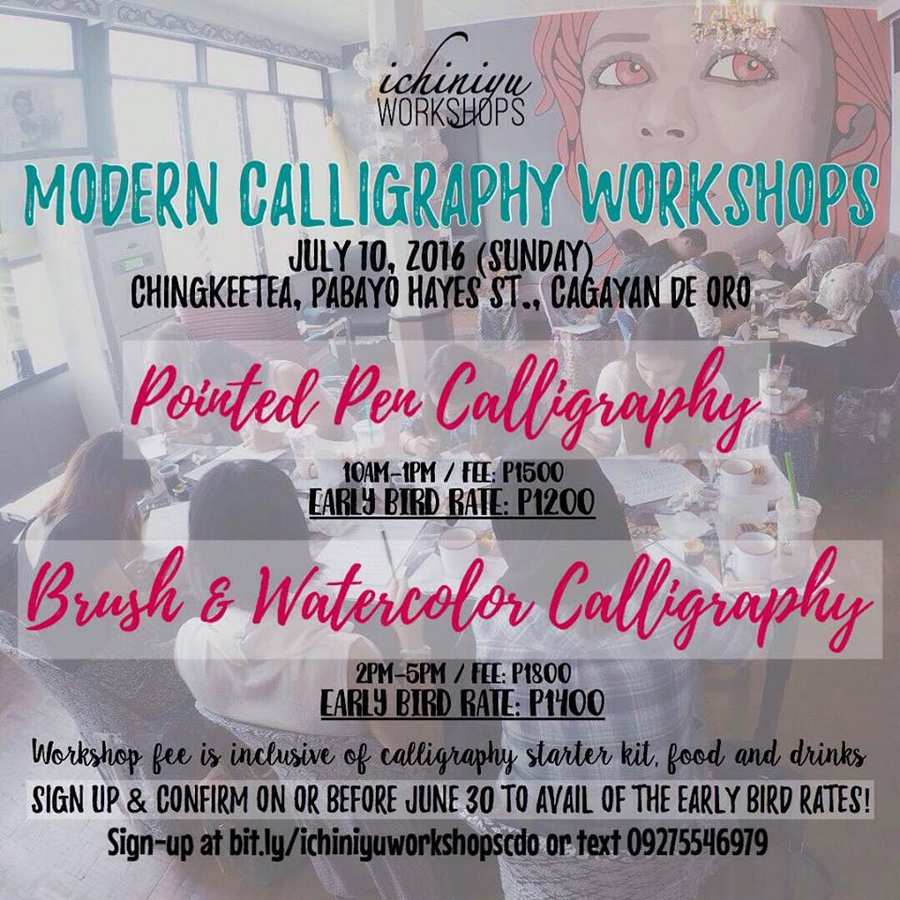 This coming July 10, 2016,  Ichini Yusoph, a registered nurse, crafter, makeup artist and a calligraphy enthusiast from Manila, is going to conduct Modern Calligraphy Workshops in Cagayan de Oro, to be held specifically at ChingkeeTea Main Branch, Pabayo Hayes St. here in the city.
The said workshops will feature two sessions, one for Pointed Pen Calligraphy and the other for Brush and Watercolor.
1. Pointed Pen Calligraphy Workshop
Time: 10AM – 1PM
Description: A workshop designed for those who are interested to learn and explore the art of beautiful writing using a pointed nib. This beginner's class will teach you everything you need to know on how to get started on your calligraphy journey. It will cover the fundamentals of calligraphy: understanding what modern and pointed pen calligraphy is, learning the basic calligraphy tools and how to care for them, pressure-release exercises, thick & thin strokes, basic strokes to create letter forms and write words in pointed pen calligraphy.
Workshop Fee: P1,500
Early Bird Rate: P1,200 (until June 30)
Includes: All workshop materials (calligraphy guide, worksheets, 2 pointed nibs, pen holder, 1 jar of ink, pencil) and snacks
2. Brush & Watercolor Calligraphy Workshop
Time: 2PM – 5PM
Description: A beginner's workshop designed to those who want to learn and explore the wonderful world of modern brush calligraphy. Students will learn about the different tools used in brush & watercolor calligraphy, pen exercises & drills and basic strokes to create letterforms. This class will train you to be comfortable in using brush pens, water brushes or simple round brush to achieve the beautiful thick and thin strokes in calligraphy. You will also learn different watercolor techniques you can incorporate in your lettering and calligraphy artworks.
Workshop Fee: P1,800
Early Bird Rate: P1,400 (until June 30)
Includes: All workshop materials (calligraphy guide, worksheets, 2 brush pens, 1 roundbrush, 1 waterbrush, Simbalion 36-color watercolor palette, 1 pack Canson watercolor paper) and snacks
Slots are limited so might as well reserve yours! In order to join and be able to reserve a slot for the workshops, fill up this form.
More about Ichini Yusoph
It was in August of 2014 when Ichini started learning calligraphy. She took it as a hobby at first which eventually grew on her. Ichini was inspired by her fellow Filipino calligraphers namely Gail Madalag, Katia Naval, Alessa Lanot, Anina Rubio and internationally-known calligrapher Dao Huy Hoang. And aside from hosting calligraphy workshops, she also organize other arts and crafts classes, from paper cutting, rubber stamping, dreamcatcher making, leather crafting, to beauty & makeup class.
For more inquiries, call or text 09275546979 or send an email to ichiniyu@gmail.com. To get a glimpse of her works, visit her account on Instagram @ichiniyu.