10 Aug

LOOK: IITians Successfully Build Low-Cost Ventilator

Mga higala! Dr. Sherwin Guirnaldo of the Mindanao State University-Iligan Institute of Technology (MSU-IIT) together with 3 graduating mechanical engineering students– Vince Pulmones, Karl Leo, and Diether Vamenta Cabahug, have successfully built a working prototype for a low-cost and easy-to-build ventilator!

The team has recently finished their MSU-IIT Open Source Easy Ventilator or MOSEV, an emergency ventilator with features and functions fully compliant to the minimum capability required by the Department of Science and Technology (DOST):
Intermittent Mandatory Ventilation mode (volume control)
Accurate Tidal Volume Control (700mL max)
Inspiration Expiration Ratio Control
Respiratory Rate Control
End of Inspiration Hold Control (from 0.5s to 1s)
Assist control Mode (Volume control)
Assist Control sensitivity
FiO2 can be varied consistently (at least during IMV mode) from 0.9plus down to 0.21
Alarm: Power failure, Overpressure, Leakage
It has also been tested and approved by local doctors.
This ventilator only costs around P50,000 to make while premium ventilators currently on the market cost hundreds of thousands to millions of pesos.
For more details, check the images and posts below: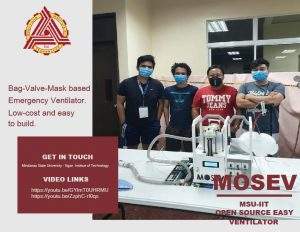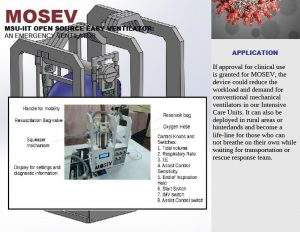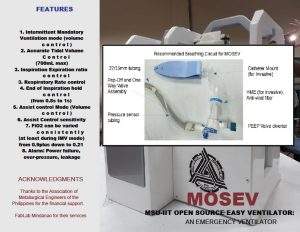 Amazing, right? Let's congratulate them higala!