03 Oct

3 Indonesian Hostages Released by Abu Sayyaf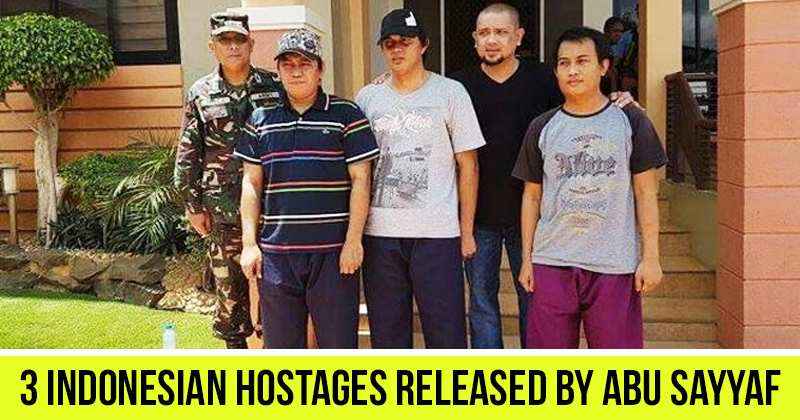 Three Indonesian hostages were released from the terror group Abu Sayyaf (ASG) as announced by the Armed Forces of the Philippines (AFP) on October 2, Sunday.
The Indonesian hostages were identified through their passports namely, Ferry Arifin, 26, Edi Soryonu, 27, and Mohammad Mabrur Dahri, 27.
They were brought to Camp Teodulfo Bautista Station Hospital in Jolo for medical examination and debriefing.
These Indonesians were kidnapped from Simisa Island in Sulu last June 22, they were the crew members of the tugboat "Charles," said the Western Mindanao Command (Wesmincom).
They were released at a hidden location in Sulu on Saturday evening to the Moro National Liberation Front (MNLF), according to the Wesmincom.
Sulu Gov. Abdusakur "Toto" Tan II stated, "The release of the kidnap victims is an offshoot of the ongoing military operations to sustain pressure against the ASG and the assistance of the MNLF."
On behalf of the government, President Adviser on the Peace Process Jesus Dureza showed gratitude to the military forces and the MNLF for their efforts upon freeing the hostages.
MNLF Chairman Nur Misuari hand over the three Indonesians to Sulu governor before noon on Sunday, Dureza said in a statement.
Dureza stated, "These recent breakthroughs were a convergence of efforts that President Duterte initiated — getting the cooperation of the MNLF, the local governments, the stakeholders, and the AFP through their ongoing military operations in the area."
Brig. Gen. Arnel dela Vega, commander of AFP-Joint Task Force Sulu stated during a press release, "relentless military operations will continue until all remaining hostages are released".
A total of 16 hostages including nine Indonesians, six Filipinos and a Norwegian, who were freed since July as the military tightened their operations against Abu Sayyaf.
Five Malaysians, four Filipinos, two Indonesians and one Dutch are still held captive by the ASG.
News Source: CNN Philippines