23 Jun

Interschool Chess Tournament Results! – Ancheta and Canino Carried Their Schools in Victory!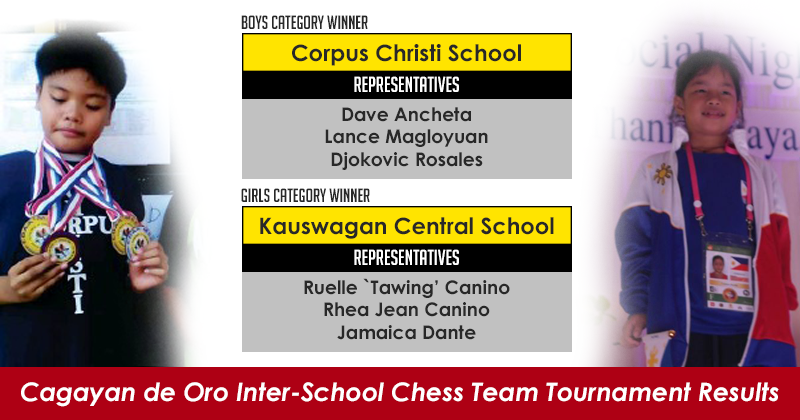 On Sunday, June 19, at the Activity Center of Gaisano City Mall, Corpus Christi School grabbed the top spot of the Sun.Star Cagayan de Oro Inter-School Chess Team Tournament boys category, while Kauswagan Central School won the girls category.
The tournament is composed of 15 games played on three boards.
Newly-crowned Asean under-8 champion Ruelle `Tawing' Canino led Kauswagan Central School to victory with 13.5 match points. Her fitted supports are her older sister Rhea Jean Canino and Jamaica Dante.
Sun.Star General Manager Leonides `Jack' Biantan praised the small but terrible Canino, saying, "Gamay kaayo nga bata hawod man diay moduwa."
WCCS A finished second led by Former Palaro achiever Lorebina Carrasco II (team gold), Althea Nicole Borres, and Liera Jane Abejuela with 11.5 match points.
Bulua Central School captured the third spot with 6 match points behind the trio of Alyza Maestrado, Jamaica Amora and Kaye Carlyn Maestrado.
Corpus Christi girls however finished 4th, gaining only 4 match points after playing without their top board player, Catherine Baclayo. The school has been represented by Joy Almojallas, Jameela Macatoon and Richilly Cuizon Balase.
But the highlight of the tournament is Corpus Christi's boys category where they swept the tournament and walked away with the award easily.
More impressive to know is that their veteran chess player and kiddie standout Dave Ancheta had a support from beginners, Lance Magloyuan and Djokovic Rosales.
Tournament arbiter Lorenzo `Jun' Cuizon said, "It's amazing how they won the championship in impressive manner despite nga mga beginners pa kaayo ang back-up ni Ancheta."
Chess trainer in Barangay 23 chairman Jaime Joshua Frias II also added, "Exciting kini nga development kay forthcoming na ang Mindanao Milo Little Olympics unya ato na'ng makita nga adunay mahitabo nga tight rivalry sa elementary level."
West City Central School B, manned by the trio of Jogavin Garcia, Mark Torres and Joseph dela Rama, gathered 8 match points to snatch the second place.
City Central School A's Paulo Labradores, Paul Andrew Romanda and Ralph Labradores finished third with 6 mathc points.
Iponan Elementary School, Bulua Elementary School B and Camaman-an Elementary School followed as runner-ups.