01 Sep

Intisari Mulia International, Inc. (IMI) – A Healthy Cooking Oil Alternative and Practical Solution for Cooking

How and Where It Began in the Philippines

Saji Oil is just one in an impressive lineup of products under the flagship of FELDA (Federal Land Development Authority) Holdings Bhd., Malaysia's largest manufacturer, distributor, and plantation holder of palm cooking oil. In the Philippines the main distributor of Saji Oil and its other products under Saji Brand Food Products is Intisari Mulia International, Inc. (IMI), being established only in 2012. IMI falls under Delima Oil Products of Malaysia, the cooking oil subsidiary of FELDA Holdings.

In 2013, IMI finally set up shop in Cebu City in an attempt to initially penetrate the Philippine market through the Central Visayas. After only a year of operation in Cebu, IMI received the top award as the "Most Outstanding Appointed Distributor for Overseas Market." Because of this, IMI decided to expand to the rest of the Visayas. It recently opened offices in Bohol and Dumaguete. All this in spite of not yet having penetrated the Metro Manila and Luzon markets, making IMI's marketing move in the Visayas and Mindanao a classic move in swaying away from the traditional "Manila and Luzon first" move.

Cagayan de Oro as the Center of Mindanao

In Mindanao, the initial penetration into this market started only last year in Cagayan de Oro. This choice is a geographically sound strategy since CDO is nearer in proximity to the Visayas and makes it the perfect central jumping off point to all corners of Mindanao. In terms of the BIMP-EAGA (Brunei, Indonesia, Malaysia, Philippines – East Asia Growth Area), Cagayan de Oro is seen as the doorway into Mindanao for EAGA trading connections.

FELDA and Delima through IMI eventually plans to set up the biggest palm oil plantation and manufacturing plant in the Philippines in Mindanao, possibly near Cagayan de Oro, so that Saji Oil and its other food products will no longer be imported into the country, making these products even more affordable than they already are now. IMI is also proud to market Saji Oil as a 100 percent HALAL approved product from Malaysia.

IMI Practices Good Business Values
IMI makes sure that it practices good accountability by working closely with its people and valued clients to meet all commitments.
A premium is placed on maximum focus on its customers that way Delima Holdings and FELDA does to its client base in Malaysia. Philippine customers and partners come first in almost all aspects with IMI.
IMI people are empowered to make fast and timely decisions for quick action.
IMI takes pride in going the extra mile since it is the only cooking oil product in the Philippines to undergo a food service marketing distribution system.
IMI encourages all its people to support each other through good teamwork since everyone benefits from the hard work.
What Makes Saji Oil Different from the Rest of the Herd
Saji Oil is a different kind of cooking oil, made from stearin-free palm oil, making it the healthiest alternative in contrast to other cooking oil products in the Philippine market. Saji Oil is a new player in the food service field in the Philippines. In spite of this, it has proven that within a short span of time, it has penetrated more than 10 percent of the cooking oil market in one area of the country alone.
While there are other cooking oil products that purport to be a healthy alternative through the use of vegetable shortenings, corn, and even palm oil, Saji Oil uses only pure palm olein, the liquid fraction of palm oil. Saji Oil has completely eliminated the solid fraction of palm stearin; this is the fraction that crystallizes and hardens when cooking oil has cooled down after cooking or when subjected to cold temperatures because stearin is mostly made up of hard vegetable fat. Also, because Saji Oil is completely palm olein, it only takes a slight rise in cooking temperatures to heat up the oil, thus saving on LPG or electricity costs in the long run.
In terms of health benefits, cooking oil using solely palm olein makes it a major inhibitor of atherosclerosis. This is because palm olein contains high concentrations of medium-chain fatty acids and these are burned for energy and not stored as fats. They also enhance immunity and reduce the risk of cancer.
The Woman Behind the CDO Marketing
The interview team of aboutcagayandeoro.com was fortunate to have interviewed the head of marketing for IMI in Mindanao, Ms. Neshel Dela Vega Cipriano. A native of Malaybalay, Bukidnon and has a degree in Accountancy. IMI and Saji Oil is her first employment opportunity after she was taken into the accounting department. Four months later, she is spearheading IMI's marketing efforts, and she is the main reason why Saji Oil has penetrated deep into the city's food service industry.
Events and Future Plans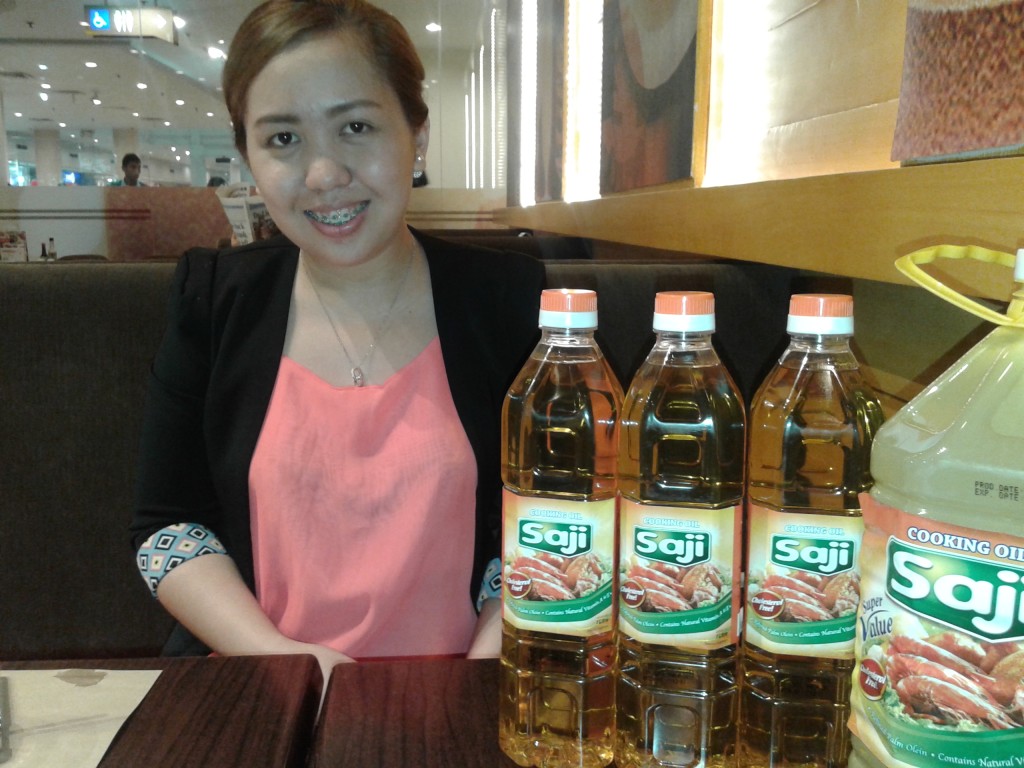 In Cagayan de Oro City, since 2014, IMI has been actively participating in the KUMBIRA Culinary Show and Competitions in partnership with COHARA (Cagayan de Oro Hotels and Restaurants Association), and will continue to do so for future KUMBIRA shows. At present, in its short starting stint in the city, IMI has already penetrated more than 10 percent of the cooking oil market and has become the main distributor of cooking oil, shortening, and margarine to the majority of bakeries and almost half of the hotels and restaurants in the city.
Through aggressive marketing and promotion strategies, IMI eventually plans to partner with major culinary schools and organizations in the city to create cooking competitions in order to discover the talents of promising local chefs and bakers while promoting the use of Saji products in these competitions. Local culinary schools in CDO are already exclusively using Saji Oil products and are very much open to the holding of future culinary and baking competitions.
Because of the affordability of Saji Oil as a better health alternative, IMI is targeting the whole spectrum of consumers (Class A through D), so that everyone can avail of better health products for an improved eating and consumer lifestyle.
IMI looks forward to being able to educate the majority of the people in Cagayan de Oro on the experience of the maximum health benefits and quality of using Saji Cooking Oil. Eventually, IMI envisions doing this to the entire archipelago as well as to become the foremost provider of innovative consumer products and services in the entire Philippines, and eventually in Southeast Asia.
Conclusion
Intisari Mulia International, Inc. (IMI) is currently making it big in Mindanao with its premium oil products like Saji oil, shortening and margarine. Soon, it will make its name known in Visayas and Luzon as well. This only goes to show that the company has captured its market through its high quality products that are sold at very reasonable prices. In the future, the company will launch its other well-known products and will definitely become one of the top companies in the Philippines when it comes to oil-based products.