11 Apr

iPrep Play And Learn Offers The Most Highly Anticipated Summer Activities For Toddlers

Calling all parents of children age 18 months to 5 years old! It's all about fun learning this summer in Cagayan de Oro's premier toddler and pre kindergarten center! iPrep Play and Learn is inviting you to enroll your children in their summer program!

If you don't have any productive plans for your children this summer aside from bringing them to beaches and zoos and giving them gadgets to play, then enrolling them to iPrep could be the best treat you can give to them! iPrep offers two classes for this summer: Complete Summer Adventure
and Read to Lead.

COMPLETE SUMMER ADVENTURE is for children 18 months to 4 years Old. This class exposes and involves your children in fun activities about Science and Technology, Engineering, Craft Arts and Math (STEAM). They will also enjoy the Music, Cooking and Film Showing sessions.

This class is highly endorsed to parents who would like to boost their toddlers' confidence and social skills as well as develop their critical thinking. So, if you want to unleash your children's multiple intelligence and unlimited energy, this class fits them to a T!

On the other hand, READ TO LEAD class is for children 3.5 to 5 Years Old. It is for parents who need help in giving their children the best, stress-free language practice according to their
individual paces. Activities are engaging and fun, guaranteed to not only develop the soon to be kindergarten's reading power, but more importantly to ingrain their lifelong love for reading!

Sign up is to this program is very flexible. Option to enroll in FULL, HALF, EVERY SATURDAY and PER SESSION sessions is offered designed to accommodate busy summer schedules and family vacations.

So parents, give your children the best summer playing and learning experience they deserve. Give them the iPrep Play and Learn experience! And together, let us beat the dreaded summer slide! Here is an infographic of what summer slide is and how to combat it: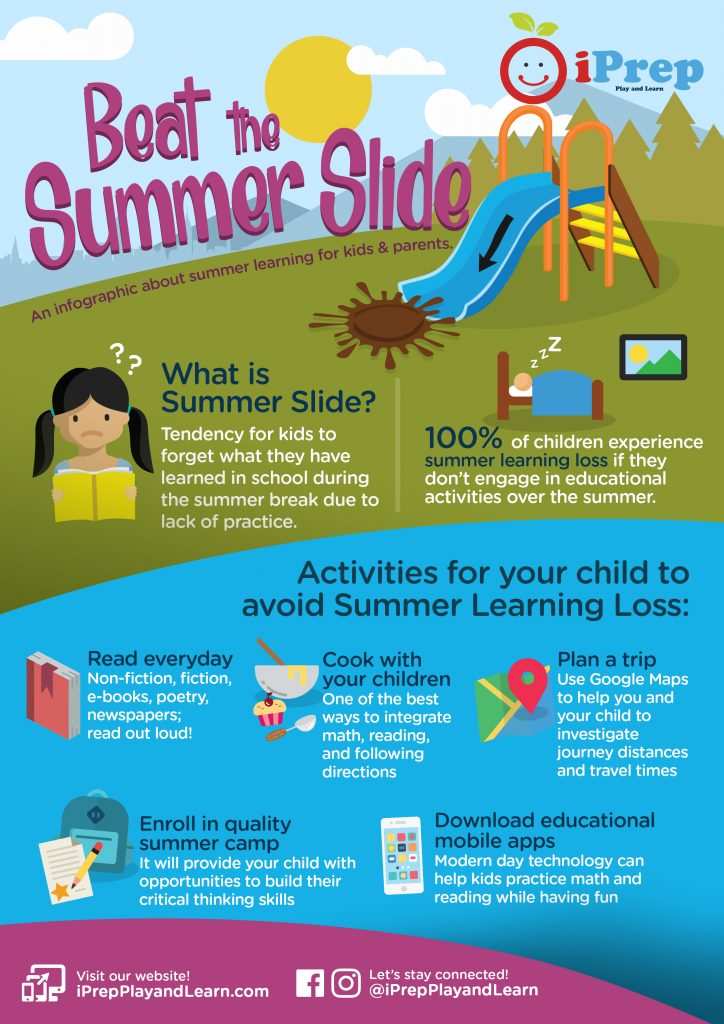 So, what are you waiting for? Enrol now! iPrep Play & Learn Summer classes begin April 14 and ends May 19.
Slots are very limited thus it is recommended to enroll your children the soonest. For your inquiries and reservations, you may contact or visit them in any of their three branches:
iPrep GUSA : 2nd Level, RVC Bldg (across CUMC),
San Pedro, Gusa, Cagayan de Oro
Contact ‭0995 354 6523‬
iPrep BORJA : Brgy 9, Rivera Bldg., Velez JR Borja St., Cagayan de Oro
Contact 0945 214 4280
iPrep NAZARETH :
8th St., Nazareth, Cagayan de Oro
Contact 0927 416 5190
Open Mondays to Saturdays – 8:30am to 5:30pm.