08 Sep

ISCAHM International School for Culinary Arts and Hotel Management

ISCAHM is a well-recognized name and world-class school today for the international culinary arts, pastry arts, and the hospitality industry. They have become a name synonymous with great teaching and learning, developed and staffed only by top international professionals in the industry. ISCAHM now carries the most unparalleled record of graduating students who excel in all aspects of the culinary/pastry arts and hospitality industry, both here in the Philippines and abroad.

What brought ISCAHM to Cagayan de Oro is the invitation from COHARA for Chef Norbert Gandler, the school's Executive Director for Culinary and Pastry Arts Education to be one of the judges for KUMBIRA 2015.

On the business side, ISCAHM is actually looking to open a branch in Mindanao, the final two choices being Cagayan de Oro City and Davao. In spite of the school's distance, students from all over Mindanao – most especially Cagayan de Oro City and Davao – travel to Cebu just to enroll for the culinary courses. It would seem that the school is strongly considering this city as a stronger contender due to the lack of any international culinary school, the strategic geographical location, and the full support of COHARA.

The Roots of an International Culinary School Began from a Dream

Mr. Hansjorg Schallengberg, a Swiss, and Chef Norbert Gandler, an Austrian, originally founded the Institute of Hotel and Restaurant Studies in 2002 on their dreams to pass on their culinary and business experiences and knowledge to a new generation of hospitality industry professionals. In 2003, this dream became a bigger and further reality with the establishment of the International School for Culinary Arts and Hotel Management (ISCAHM) Katipunan Avenue in Quezon City. Since then, ISCAHM has branched out to Cebu in 2012 and Pampanga in 2014.

It was also Hansjorg's and Norbert's dream to serve the needs of the growing trends in the food service industry, restaurant business, and hotel and tourist industry.

The Unique ISCAHM Experience

ISCAHM can boast of having the best and most impressive faculty roster of chefs, pastry chefs, and hotel executives coming only from 5-star international hotel chains and cruise liners from Switzerland, Austria, Germany, Sri Lanka, Canada, and the Philippines. All its foreign and local industry veterans are hired with at least a 25-year experience in their field.

Some of these foreign professionals are in fact now living permanently in the Philippines as expatriates after a long stint in other countries. Filipino chefs hired by ISCAHM also came from long stints in other countries before being sought out or applying to the school. Even the teaching assistants have to be graduates of the school since outsiders might not be able to cut it with the more experienced chefs.

From all the culinary and pastry courses offered, the focus is mainly on Western European cuisine and dishes with a few Asian dishes from Japan and Thailand because they are recognized as international standard cuisine. Interestingly, Filipino and Korean cuisine are not recognized as international standard and therefore are not taught in ISCAHM.

Because there is no minimum or maximum age limit for culinary enrollees, all students are treated in a professional manner. No considerations are given for age since in reality the professional culinary world outside the school can be cutthroat at times and this is a reality that ISCAHM educators impart to all their students.

ISCAHM is proud to be one of the culinary school choices for American Armed Forces veterans who have served overseas and opt for schooling after leaving the service using the G.I. Bill. Even wives of American war veterans are enrolled in the school being beneficiaries of the G.I. Bill.

Courses generally offered are:
Diploma Courses (12 months or 6 months) –

Culinary Arts and Kitchen Management with Australian Certificate III
Pastry and Bakery Arts and Kitchen Management with Australian Certificate III
NC II Certificate in Cookery
NC II Certificate in Bread and Pastry Production

Short Courses (Session-based)

Culinary Arts
Pastry Arts
Flavors of Asia
Bread Baking
Sausage Making
Cupcake Course
Restaurant Concept and Entrepreneurship
Food and Beverage Service NC II with Bartending
Bartending
Hotel Housekeeping
Household Services NC II with Kitchen
All 12-month, 6-month, and session-based courses receive the most intensive and realistic training, hands-on, and examinations.
Tuition fee for the 12-month and 6-month courses includes:
Cost of ingredients
2 sets of uniform (chef's jacket, pants, apron, and toque)
1 pair of imported kitchen clogs
Knife set
Student meal starting on the 2nd month onwards
Student Manual
400 Hours OJT (within city limits only where campus is located)
 The Focus of the Interview
The team from aboutcagayandeoro.com was fortunate to interview Ms. Floreda L. Loren, the Cebu campus marketing officer. A native Boholanon, Loren as she prefers to be called, graduated from Tourism at the University of Bohol and is presently taking up her master's degree in Tourism in Cebu. She was employed as a tourist coordinator for a prestigious company before being taken in by ISCAHM.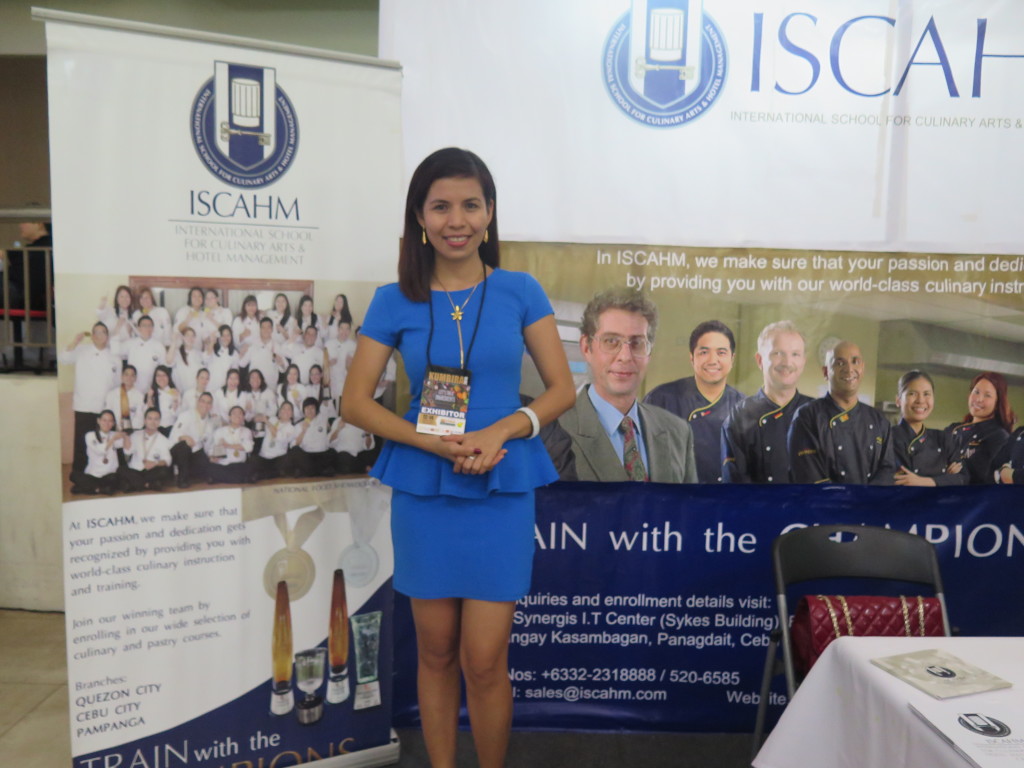 Aside from the marketing aspects of her job, she also monitors and updates the enrollment of foreign students, as well as providing job assistance to fresh graduates. The school often invites registered and licensed job agencies. It is not uncommon also for job agencies to contact the school inquire about graduates.
She is also tasked with keeping track of alumni. For instance, Cebu-based graduates are already known to be working with Qatar Airways, the Qatar royal family, and various establishments in Australia, UK, New Zealand, and the U.S.A., proving that ISCAHM fresh graduates are already internationally competitive.
Recognitions and Awards
ISCAHM has an impressive lineup of awards for both culinary recognition and competitions. A few worth mentioning is the school being the Overall Champions in the 2013 Chefs on Parade, 2012 Philippine Culinary Cup, and 2011 National Food Showdown. It also received the National Award for the Most Outstanding Culinary Arts School in the 2014 Philippine Marketing Excellence Awards.
The school is internationally recognized by the Culinary Solutions Australia International and the World Association of Chefs Societies. The former provides the basis for all the school's curriculum and selected certification. In the Philippines the school is recognized and is part of TESDA-registered technical and vocational courses and short lifestyle courses.
Hayden Kho, Marvin Agustin, Sunshine Cruz, and Ara Mina are just a few of the celebrities who have enrolled in the past with ISCAHM.
ISCAHM may only be considering setting up shop in this city, but its name is already recognized by many familiar with the culinary arts and hospitality industry, proof of this being the number of students coming from all over Mindanao. Since the school is also open to options for franchising, perhaps in the near future some enterprising business owner may open ISCAHM in Cagayan de Oro so as to serve the growing culinary trends for individuals and businesses all over Northern and Southern Mindanao. If not, Cagayanon can only hope that the school's founders will see the greatest benefits in opening a branch in the "City of Golden Culinary Arts."