26 Aug

Jalalon's Almost Triple Double Performance Secured Arellano University's 7th Straight Win!

Cagayan de Oro City's Jiovani "The Bus Driver" Jalalon is dominating the college basketball in the Philippines! With his near triple-double of 21 points, nine assists, with eight rebounds, he helped the Arellano University Chiefs' got its 7th straight win at the expense of the Emilio Aguinaldo College Generals in an exciting 83-74 win.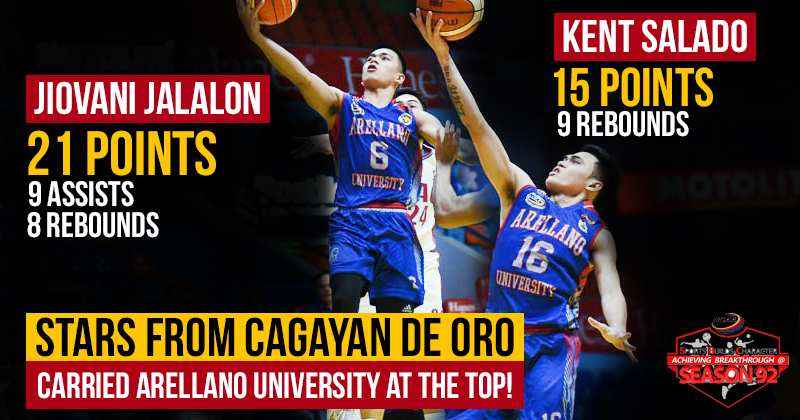 The Chiefs' are now tied with the league-leading San Bed Red Lions at the top spot in the 92nd NCAA seniors basketball competition. Both of the teams are holding a 10-2 record. About 3 weeks ago, the Chiefs are just 3-2 while the Red Lions are 9-0. Just recently, San Beda experienced a slump of a 1-2 performance this week, after the All-Star break.
Fellow Kagay-anon Kent "The Conductor" Salado also played a great game for the Chiefs with only one rebound shy of a double-double, recording an impressive 15 points and nine rebounds stat-line.
The Chiefs' held the Generals without any field goals made in the last 3:42 minutes of the game. But despite the strong performance to close the game, Cheifs' head coach Jerry Codiñera said in a statement, "Marami kaming mga mental mistakes and mental lapses noong huli."
"I'm just being thankful na we were able to do that feat for the school and siyempre it feels good kasi yun nga first time and I hope tuluy-tuloy at hindi magsawa ang mga bata sa panalo," Codiñera added.
The consecutive wins that the Chiefs' have gathered this season just proves that Cagayan de Oro City's pride, Jiovani Jalalon is not a fluke! The future is indeed very bright for him and Cagayan de Oro City is for sure very excited to see him enter the Philippine Basketball Association this year or in 2017.