04 Oct

18th Jollibee Branch in Cagayan De Oro is Now Ready to Serve You!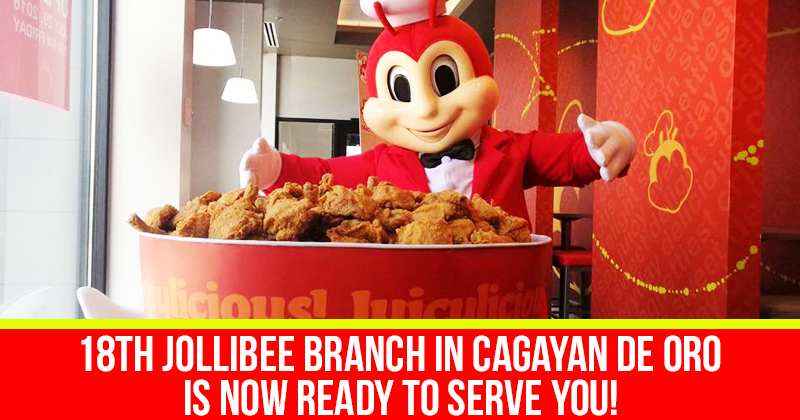 On October 1, Saturday, the all-time Filipino favorite fast food, Jollibee Food Corporation opened its 18th company-owned food chain in Cagayan de Oro City. It is located near Cogon public market, along Osmeña Street.
Jollibee now has 113 branches across Mindanao.
The newly-opened branch was blessed by Father Pedro Sombilon.
The ribbon cutting ceremony was led by City Mayor Oscar Moreno together with the Jollibee heads namely, Ana Aluyen, regional business unit head; Leslie Domingo, operations director of District 1; Mike Matias, engineering head, and Benjamin Yap, store development manager.
To make the toast unique and with branding, everyone toasts with chicken joy instead of typical glasses that are used for a toast.
Jollibee mascots were also present during the opening, they even had a special performance. These mascots represent all its best-sellers namely, Mr. Yum for its burger, Hetty for spaghetti, Popo for french fries, Twirlie for sundaes and Jollibee for Filipino dishes.
The new branch can accommodate 150 customers, opens from six in the morning until ten in the evening.
Jollibee is known for its crispylicious, juicylicious fried chicken, yum burgers, french fries, spaghetti and more recipe that captivated the hearts of the Filipinos.
Its officials said that their key to success has always been the customer's satisfaction.
City Mayor Moreno stated during his speech, "Jollibee has become very popular. In Virginia (USA), I was surprised kay naa diay Jollibee didto. I am thankful that you're here in this City."
He added, "This is Cagayan de Oro City. This is your City. This is your Jollibee City." The mayor mentioned that opening more stores in the city is always a good opportunity as it opened its store, it employs 70 shifting crews.
The branch in Cogon offers a promo for every customer, for every purchase of their menu line-up, a customer has a chance to win amazing prizes.
The promo entitled "Jollibee Go Juice Raffle Promo Part 2" gives customers a chance to win more than one million worth of gadgets. To get a raffle coupon, customers should purchase any value meal or breakfast Value with Go Juice upgrade.
The promo runs from October 1 until November 30, 2016, only.
News Source: Sun.Star