19 Apr

Junno Deli Café and Gastropub – If You're Into Dutch-Fusion Food This is the Place to Go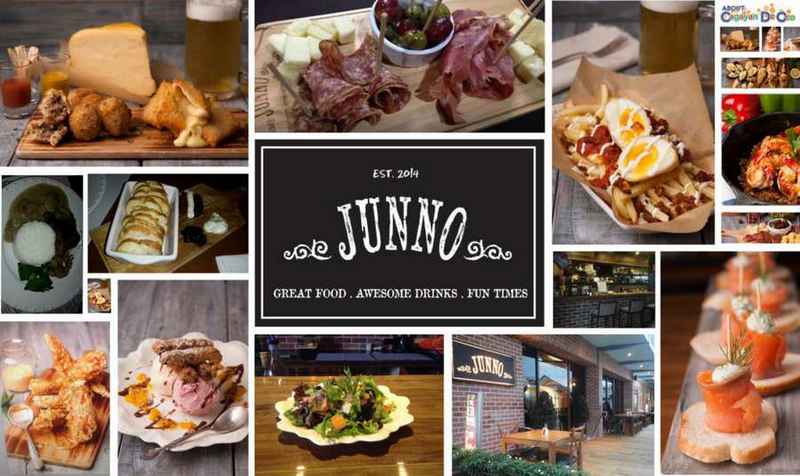 As the name implies, they're a cross between a restaurant serving British food and a drinking pub hole Londoners usually call a gastropub. They became more than a blip on the Kagay-anons' food radar when they introduced the first week-long fine dining event featuring a 6-course gastronomic British cuisine. It was a sold out affair, and ever since then more and more customers have been flocking to the British inspired place serving delicious Brit dishes at surprisingly affordable prices.
You might want to really look closely for Junno inside the Lifestyle District since it is located almost at the rear of the area. It's a nice and cozy place with the ambiance of eating in an Italian restaurant, minus the Italian language and the spaghetti. Well, it's actually a Dutch place, but Italian is the first impression that people get. It's a nice place for intimate settings or small group gatherings just to talk. Generally, the ambiance is pretty good and when you're inside you drown out the noise from the nearby Lifestyle District open stage area, a great idea if you're not into too much noise and loud music. The wall décor and furniture is actually very British and will make you feel like the inside of a London gastropub.
Aside from the good food, this is probably one of the few places in the city that sells San Miguel Draft Beer and a wide selection of wines, other beers, wines, and other liquor drinks.
Many will swear to the restaurant's bestsellers such as Bitterballen and Kaassouffle and Patatas Bravas.
Other customer favorites are the following; Salumi Platter, Gambas and Fritatas.
For their dessert best-sellers they have a unique dish called the Fried KitKat with Ice Cream. Diet begone, the steaks on their menu are actually "to die for."
The Porterhouse Steak is really worth a go.
A breakfast favorite from those staying at the nearby hotel is the Antipasti Bread served with 4 different types of jam.
The Feta Greek Salad is very well mixed; not too sweet and not too tangy.
Their 4-piece chicken makes for a good fast lunch if you're working at the offices nearby.
Many will swear that the food at Junno tastes almost as good as the food served at the TGIF restaurant at the mall, but more affordable. This is probably the reason why you'll see a mixed crowd of fine diners and late into the night you'll see a variant crowd having a few drinks and some food to go with it.
Junno Deli Café and Gastropub has been the venue for the local celebration of Social Media Day for three years now every June 30. Last year, Mayor Oscar Moreno graced the celebrations with a brief meal at the place together with Cagayan de Oro's blogger crowd.
Junno Deli Café and Gastropub is open from 10:30 a.m. to 12:00 midnight and you can call them on (088)880-2592. They're located inside the Lifestyle District along Corrales Extension, right in front of Capitol University.