25 Mar

Kagay-anon Lawmaker Urges Telecom Companies To Reduce Call, Text, & Data Charges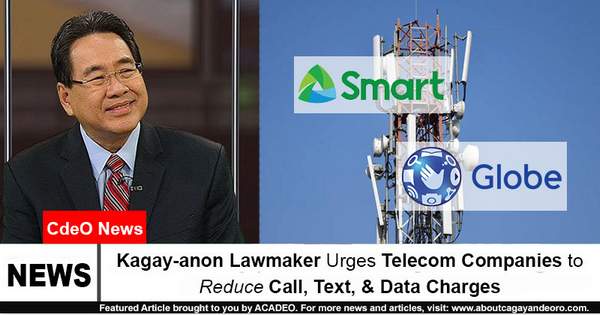 On Monday, March 23, 2020, Cagayan de Oro City 2nd District Representative Rufus Rodriguez urged telecommunication companies, including Globe and Smart, to reduce the charges of their call and text services, as well as their broadband and data internet use, and fees amid the coronavirus crisis..
Since LGUs implemented the community quarantine to prevent the spread of the deadly coronavirus, people don't have a choice but to work from and stay at home. And in order to communicate with the outside, they resort to using their mobile phones and online platforms.
The rate reduction should last for 30 days and as a compensation for this, there will be a surge in the volume of calls and texts. Also, an increase in data and broadband internet use.
Rodriguez added that as a part of the telcos' corporate social responsibility during this time of health emergency, they should consider the rate reduction.