26 Jun

Kagay-anon Creates Online Shopping Site With POS To Help Online Sellers During COVID-19 Pandemic

Mga higala! Logicbase Interactive, a Cagayan de Oro-based company, has created an online shopping site together with its point of sale (POS) system– MoneyCache, to help the city's dedicated online sellers and business owners during the current COVID-19 pandemic!

As we all know, this pandemic has caused various difficulties in operating physical stores and has forced some establishments to close due to the public health threat.

Some have opted to sell and continue providing services online, but this doesn't make things easier.

And, that's where MoneyCache can swoop in to save the day.

The MoneyCache POS can be used as a mobile app and a web-based system to record and monitor transactions, inventory, sales, employee management, and generate reports, from the comfort and SAFETY of your HOME!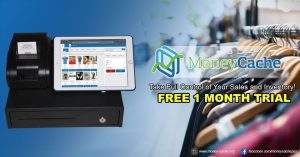 Registering to MoneyCache POS will then provide you with a FREE ONLINE STORE that you can customize and can then be browsed by customers.
Check out the screenshots and posts below:
With this POS and online store, you can continue delivering products and services while minimizing you and your family's exposure to the deadly coronavirus.
Interested? Get your FREE account now! Fill up this form:
And send a direct message to: facebook.com/moneycachepos.
You can also visit: money-cache.org or watch the video below: