07 Feb

Kagay-anon Athlete Wins 2 Gold Medals On Brazilian Jiu-Jitsu Tournament @ New Jersey USA

Mga higala! RAZER JIEREL SOMO-SAMSON, a Kagay-anon martial artist currently living in New York, won 2 gold medals in a Brazilian Jiu-jitsu Tournament held at the Secaucus Recreational Center in New Jersey, USA, last February 3, 2019.

Razer prevailed in both the Gi and No-Gi category, and all his fights were won via submission.

He was then promoted from White Belt to Blue Belt after the said tournament. See his fight video and photos below: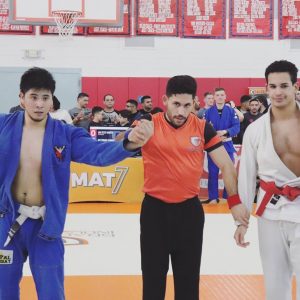 Razer Jierel Somo-Samson is 23 years old and was born on February 22, 1995. He is from Barangay Bulua, Cagayan de Oro City. His parents are Rodolfo Samson and Julie Somo-Samson.
He is the grandson of the owner of Somo Funeral Homes.