29 Jul

Kagay-anon Rey Nambatac's 4th Quarter Heroics Lifts Letran over JRU!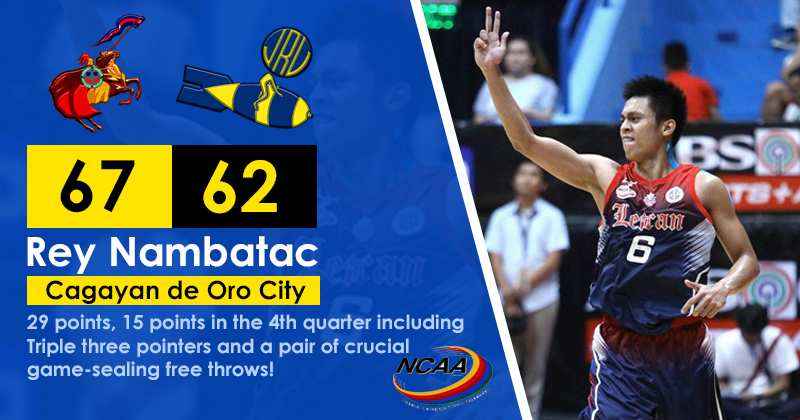 Cagayan de Oro City's Rey Nambatac scored 15 points in the 4th quarter of Letran's match against Jose Rizal University, giving him a total of 29 points in the game. This helped Letran to get an impressive 67-62 victory over the bombers.
His heroics happened after Letran has been defeated by Perpetual Help last week. But, if we can still remember, it was also last week where Nambatac also scored 40 points for Letran in their win over San Sebastian.
Nambatac's onslaught came in the fourth quarter. They were down 44-45 to JRU, but his 15 points of the team's 22-point 4th quarter points are enough to dispose the heavy bombers.
He dropped 3-point bombs to the bombers, sinking them in a 10-2 run in the closing moments of the game. The triple threes and clutch free throws of Nambatac in these crucial minutes of the final quarter sealed their win over JRU.
Letran Knights Head Coach Jeff Napa said, "We did things as planned. We were able to correct our mistakes from our previous games."