25 Sep

Kasalang Filipino 2015 Cagayan de Oro – 10th Philippine Wedding and Tourism Fairshow
What Kasalang Filipino is All About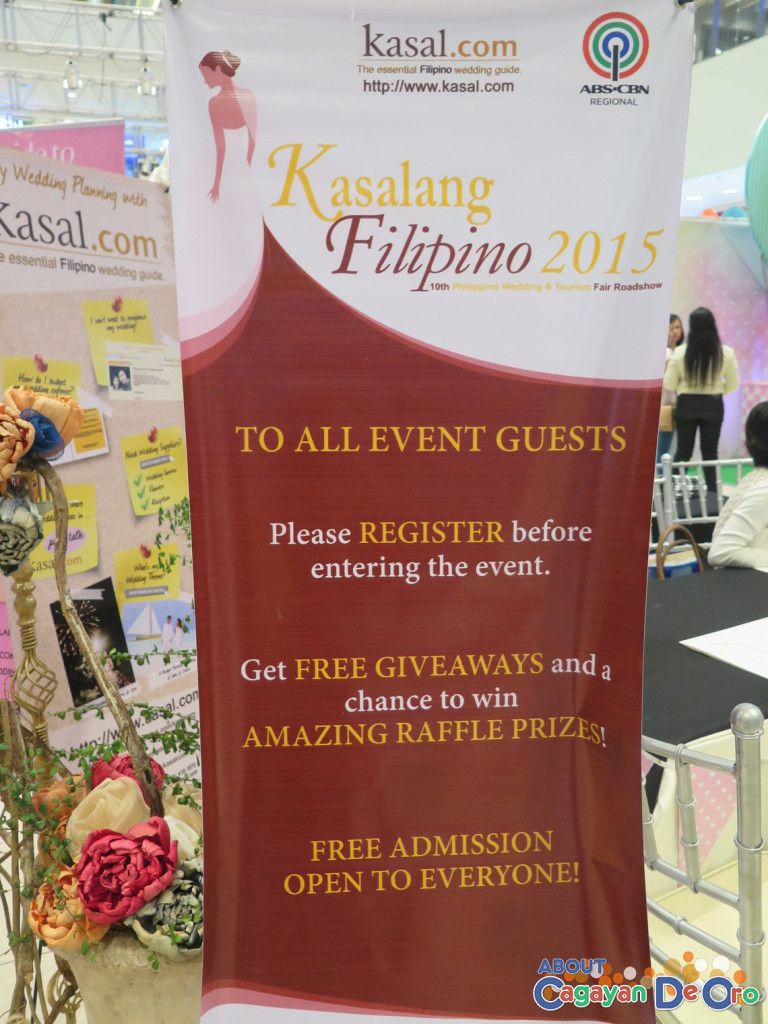 Filipino weddings are serious matters for engaged couples, but there's also no reason why the seriousness of the matter has to completely erase the fun of the occasion. In fact many engaged couples today, especially from the millennial generation, are always looking for ways to put the "fun" into weddings because, after all, this occasion should be the happiest in the couple's married life.
This is the main concept behind a recent event called Kasalang Filipino 2015 Cagayan de Oro, an annual exhibit and fair of different suppliers for wedding occasions for Northern Mindanao. It was held last September 18 – 20, 2015, at the Activity Center and 3rd Floor Foyer of the Ayala Centrio Mall. The gorgeous exhibits and activities in the 3-day show is actually the 5th leg of Kasalang Filipino 2015 with the objective of promoting the local wedding and tourist industry in key cities in the country. Tradeshows are slated for Angeles, Davao, Imus, Subic, Bacolod, Baguio, Manila, Lucena, and Dumaguete.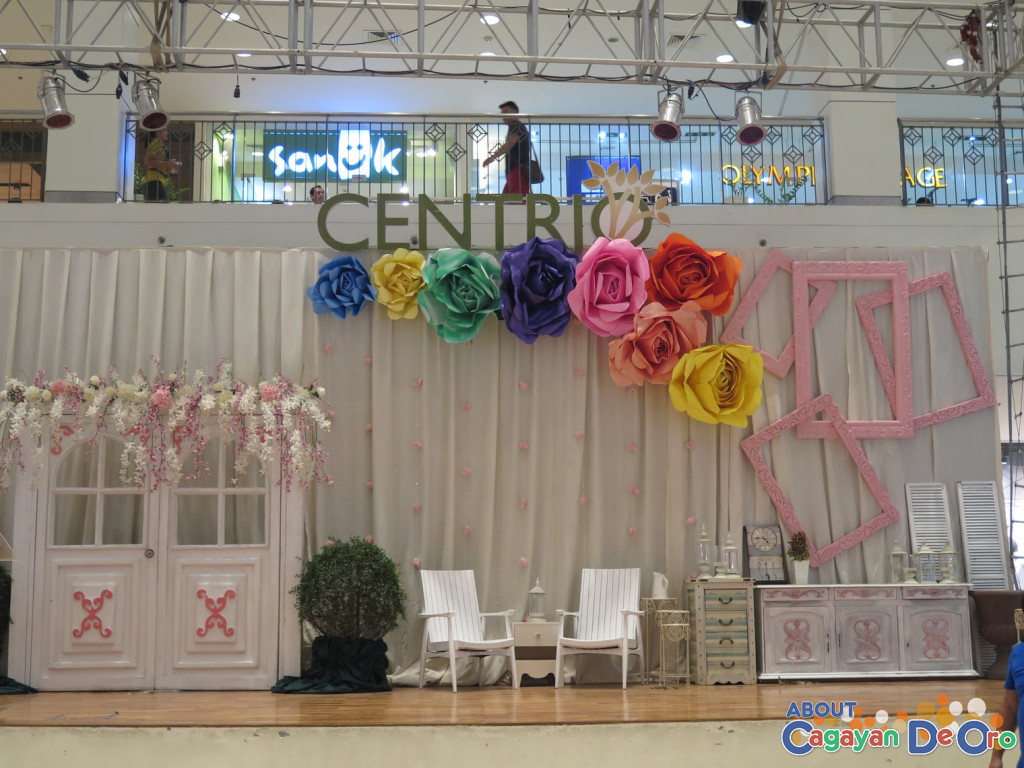 Kasalang Filipino 2015 is the brainchild of kasal.com, an online wedding resource owned by WebPhilInfo.com, Inc., the same company that owns localdirectbusinessdirectory.com, biyahengPinas.com, and trabaho.com. Since its creation in September 2001, its 10 years of operations has since seen over 25,000 couples registered from all over the country as well as from Filipino couples from the USA, Canada, the UK, Australia, Singapore, and even in Oceania. The wedding site has an average of 500,000 page views per month and has over 13,000 wedding suppliers listed and registered.
Kasalang Filipino 2015 Cagayan de Oro was created in partnership with Professional Organizers Unlimited, Inc., Roel Yap Floral and Event Stylist, ABS-CBN, Tupperware, the Lifestyle Network, Ever Bilena beauty products, Wedding and Portrait Photographers of the Philippines (WPPP), The Food Magazine, Metro Home and Entertaining, Metro Weddings, The Manila Times, Business Week Mindanao, Sun Star Cagayan de Oro, Business Mirror, Cagayan Times Lifestyle Weekly, Mindanao Daily News, Dunkin Donuts, Blaster Pro Audio Services, Dragon Fireworks, Designers' Assembly, Randy Santos Hair and Make-up, Jacks' Table and Chair Rental, Oro Fashion Designers Guild (OFDG), DJ RB/Kyle, DJ Cocoy B/Julius B, Wolfram Works Videography, and Everbest Inc.
Kasalang Filipino 2015 AVP
In this video advertisement created by Wolfram Works Videography, the 45-seconder shows off what the show is generally all about as well as the different organizers, planners, and sponsors involved for the tradeshow.
The Participants
Local exhibitors at the trade show to show off their wedding connections and wedding tourism aspects included:
Other participants at the event include the following:
The Digital Eye (CDO)
Alain Adeva Hair and Makeup Artistry (Iligan)
Lenlen Anaya Makeup Artist (CDO)
Baking Divas – Nenita Tan (CDO)
Monster Kitchen Academy, Inc. (CDO)
Tranamarie Cakes (CDO)
Tita Mimi's Catering and Food Services (CDO)
Paras Beach Resort (Camiguin)
Joshua Guibone Fashion Design (CDO)
Amplified DJ's CDO
Cindy Obenita – Host (CDO)
Just Boys (CDO)
John D Pro Voice – Professional Hosting (CDO)
R Productions (CDO)
Bonchon Chicken (CDO)
Chali Beach Resort (CDO)
Pepper Lunch (CDO)
Pryce Plaza (CDO)
Lightworks Studio (CDO)
Louie Yee Photography and LCD Rental (CDO)
Rapidofoto (CDO)
Ravie Wong Wedding and Lifestyle Photography (Iligan)
Paperworks Invitations and Tinabuan Arts and Crafts (Lagonglong, Misamis Oriental)
Aye Navarro Photography (CDO)
Snap in a Box (CDO)
In its opening on Friday, September 18, Mayor Oscar Moreno, Vice-mayor Ceasar Ian Acenas, and Department of Tourism regional director Catalino Chan III were present for the ceremonies, as well as Vice-president for Weddings, Ayee Parojinog for Professional Organizers Unlimited, local partner of kasal.com. Roger Chua, president of kasal.com was also present at the opening ceremonies. Each VIP gave a welcome address for the event.
The Main Purpose of the Trade Show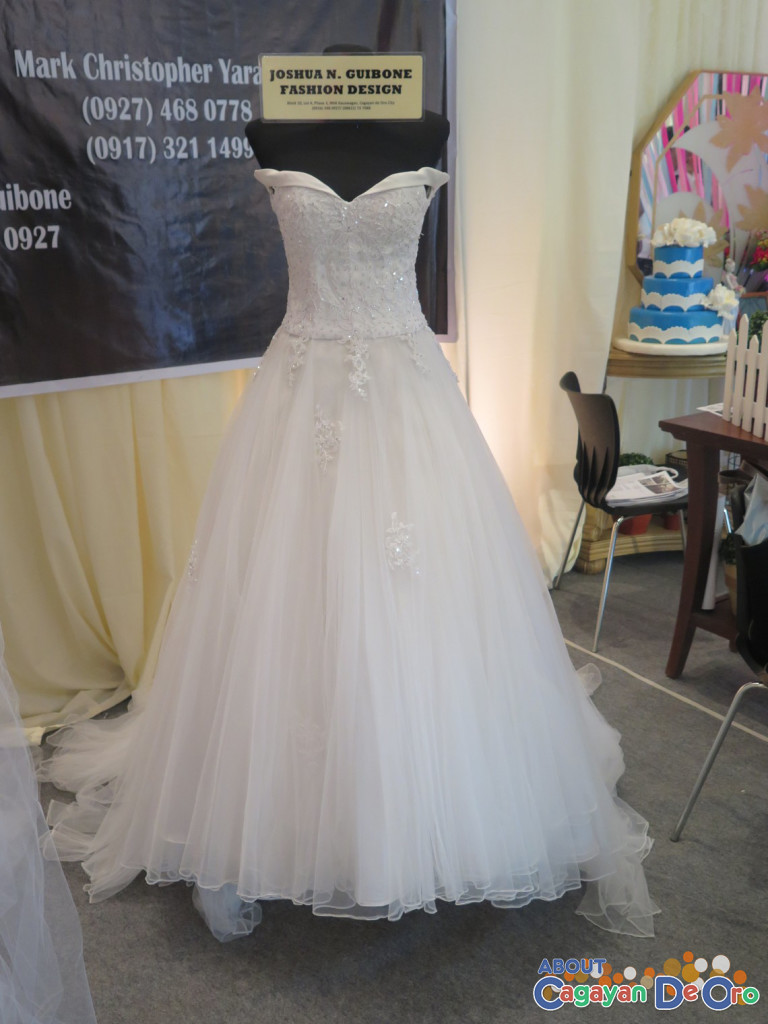 Kasalang Filipino is meant to promote local businesses and suppliers for wedding occasions. Around 10 years ago engaged couples and their families had to rely on wedding planners and suppliers from Manila and Cebu, and thus, some families simply resorted to self-planning the occasion. A decade later, wedding suppliers and wedding occasion businesses have sprouted up fast in the city, making Cagayan de Oro the central hub for wedding suppliers for Northern Mindanao. Definitely, local wedding suppliers are far more affordable and competitive since those from Manila and Cebu don't have to fly in to Cagayan de Oro, adding more to the already lavish expense. The tradeshow is also meant to highlight new things and trends in the wedding industry. The vast number of wedding suppliers and other wedding occasion businesses also means that people now have different options to choose from, whether in terms of design and planning or simply price-based.
The fair and tradeshow also encourages engaged couples from other provinces to invest in their wedding in Cagayan de Oro, thus making the city a hub for wedding tourism. The vast array of wedding planners, singers, DJ's, suppliers, invitation printers, venue providers, hotels, restaurants, fashion designers, makeup artists, jewelry firms, photography and video providers, cake and pastry businesses, and catering services in the city only goes to show that CDO is indeed a booming center for the wedding tourism industry.
The fair and tradeshow was further highlighted by a Wedding Table Setting competition by Tupperware, a Bridal Makeup competition by Ever Bilena, video reels of actual weddings, mini-concerts by local singers, and a couple of bridal fashion shows.
Random Shots from the Fashion Show
Conclusion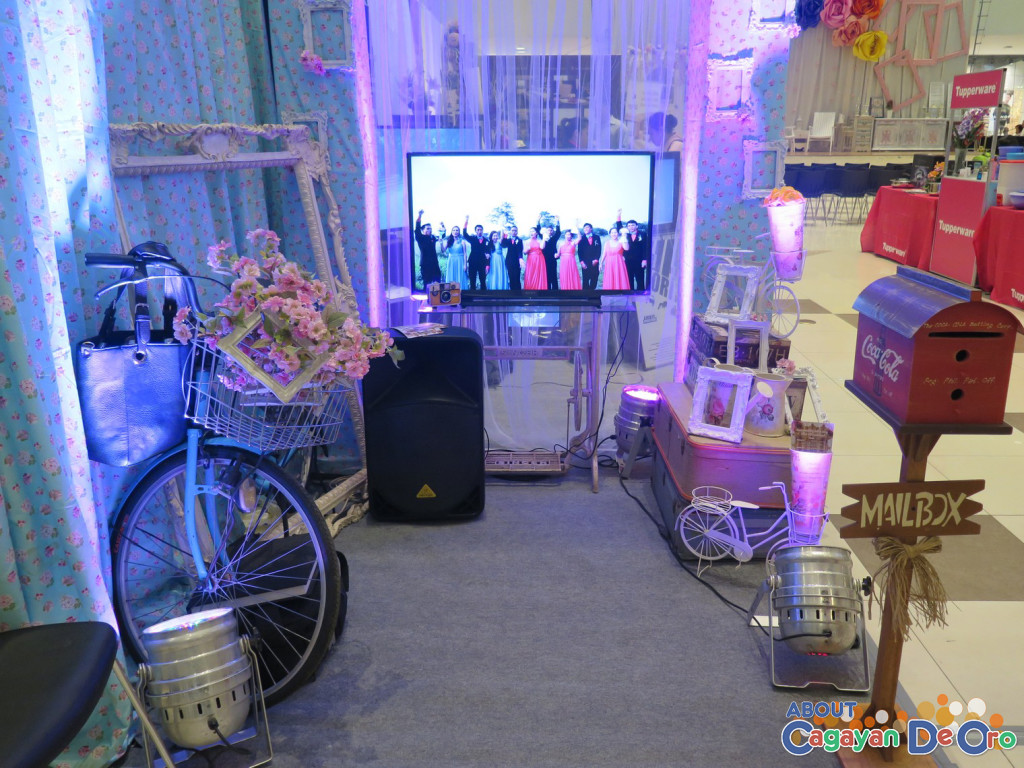 Kasalang Filipino 2015 in Cagayan de Oro was a must-attend event for all engaged couples and anyone else contemplating planning out weddings in any form. It gave local wedding suppliers and businesses the opportunity for exposure as well as highlighting Cagayan de Oro as the hub and center for wedding businesses and wedding tourism.