15 Aug

3 Killed and 8 Injured Military Troops during Their Anti-Drug Operation in Cotabato

Sunday dawn at Midsayap, North Cotabato, there were three killed and eight injured soldiers during an anti-drug operation by the Philippine military.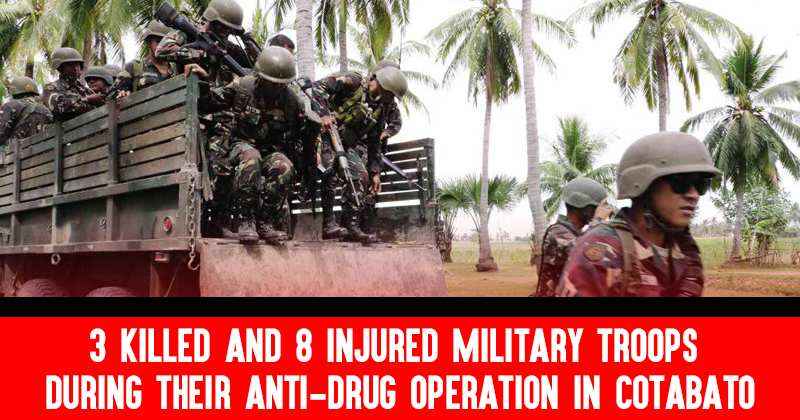 The clash commenced at Barangay Nabalawag at 4:30 a.m. when government forces were to serve a warrant of arrest to Moks Masgal alias Commander Madrox, leader of "armed lawless elements" said Col. Noly Samarita, commander of the Army's 602nd Brigade.
Killed men were, PO3 Darwin Espallardo of North Cotabato PNP, Corporal Jose Miravalles and Pfc. Jaypee Duran from Division Recon Company and a military guide.
During the six-hour combat, four followers and brother of Masgal were also killed.
According to the chief of the Cotabato provincial police, Senior Superintendent Emmanuel Peralta, Daib Malimbas, a civilian resident of Nabalawag was also killed during the shootout. He added that Masgal was once a sub-leader for the Moro Islamic Liberation Front (MILF) with about 50 armed members and was also involved in distributing illegal drugs in the borders of North Cotabato and Maguindanao.
Eight government forces who sustained minor injuries were under medication at Camp Siongco hospital said Capt. Joan Petinglay, spokesperson of the 6th Infantry Division. Petinglay said, "It is a joint operation and the targets were heavily armed."
Units from Philippine Drug Enforcement Agency (PDEA) operatives, North Cotabato police, military and the 6th Infantry Division Recon Company were fired upon by armed men, initiated the firefight.
Morning comes, Masgal and his men were forced to retreat into the Maguindanao marshland as two MG-520 attack helicopters take charge.